New UCC Hurricane Harvey recovery worksite opens in Port Arthur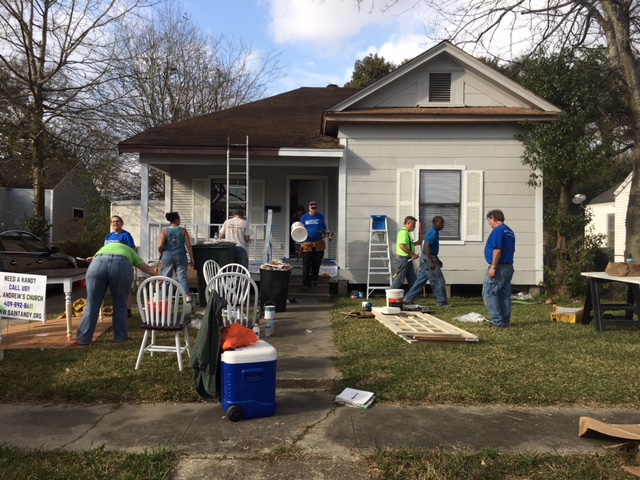 When Hurricane Harvey flooded 17 of 19 affordable housing units managed by the Southeast Texas Community Development Corporation (SETCDC) in Port Arthur, Texas, tenants fled and stopped paying rent.
As renters, they got little disaster recovery assistance from FEMA.  Neither was SETCDC granted federal or state money to help with repairs.
Three tenants "were in really bad situations," said SETCDC's President, the Rev. Matt Hopson, "so we needed to get their units done first. We depleted SETCDC's reserve to purchase building materials. I helped subsidize repairs out of my personal income."
Matt, his wife (the Rev. Dr. Rhonda Hopson), their two sons and brother Herman provided labor. Until UCC Disaster Ministries offered support, they didn't know where they would get the resources to rehab the remaining 14 units.
"You get weary," Hopson said, "yet there was a peace I had that, 'God, You've always come through.'"
UCC Disaster Ministries' first achievement at its new worksite in Port Arthur, Texas, was to ready a WWII-era house (pictured)owned by SETCDC in Beaumont to accommodate volunteer work teams.
"When we arrived February 3, repairs had begun, but the house still needed new flooring throughout, plumbing in the bathroom and kitchen, and interior and exterior painting," said Ellen Matten. She and her husband Bill, UCC Penn Central Conference Disaster Coordinators, spent February in Port Arthur as UCC Partners in Service.
UCC Disaster Ministries provided the financial backing for materials and as it happened, St. Andrew's Presbyterian Church in Beaumont was lodging a 30-member work team from Iowa, and put it at UCC Disaster Ministries' disposal. That and a second, 10-member Presbyterian team from Pennsylvania got the job done in two weeks, in time for an ecumenical team arriving from Wisconsin February 18.
That 10-member team was sponsored by Mineral Point Congregational Church; Primrose Lutheran Church, Belleville, and Plymouth Congregational UCC, Dodgeville.
They hooked up the electricals in one house and hung drywall and did taping in a fourplex, a duplex, and a single, reported team leader Mike Edlinger, who added, "This is a project that definitely needs to be supported.   If we want to be proud of this country, we have to roll up our sleeves and do something."
The next work team is scheduled to arrive March 18 from Grace UCC in Two Rivers, Wis. Seven or eight more work teams are lined up so far through June, but many more work teams are needed, the Rev. Paul Longstreth, volunteer coordinator, said, "with all kinds of skilled and less-skilled but willing laborers to help get so many displaced persons back into their homes as soon as possible.
"The UCC has a strong and passionate history of helping heal those wounded in so many ways. We would be glad to hear from congregations that want to reach out and help in concrete ways."
See related UCC News story: Volunteers, hosts at UCC's new Harvey recovery site share skills, hugs, prayers
---
Related News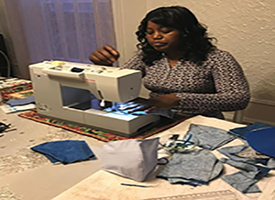 "It's so good making masks because it helps the community," said Sandra, a Congolese refugee...
Read More