Long-term disaster recovery volunteers meet for training
Imagine volunteering in a disaster-stricken community for a month or longer at a time. That is the commitment of 17 participants from three denominations, including 10 from the United Church of Christ, who are beginning an 11-day Disaster Project Leadership Training today (Sept. 27).
From across the country, they have come to Detroit, Mich., for workshops and hands-on practice at a Northwest Detroit Flood Recovery Project* work site in the many roles involved in helping disaster-stricken communities recover long term, a process that can take several years. The goal is to equip each volunteer with the knowledge, skills and tools needed to be successful in serving those various roles.
 
Designed in a way that mimics the experience that participants can expect to encounter when serving following a disaster, participants will learn best practices related to hosting, orienting and managing volunteer mission teams, guiding repair and rebuild work and supporting a local long-term recovery groups. Intertwined throughout the training there is a strong emphasis on servant leadership, flexibility, communication and teamwork as each one of these aspects are key to successful, meaningful outcomes when volunteering in disaster.
 
Serving as a Disaster Long-Term Volunteer is not suited for everyone therefore, the training allows for each organization to evaluate participants and for participants to do some self-evaluation and discernment as well.
Leading the training are representatives of UCC Disaster Ministries, Brethren Disaster Ministries (which has five participants in the Detroit training) and the Christian Church (Disciples of Christ) (with two participants).
Among the many topics they will cover: When Disaster Strikes: The Big Picture, Construction Management, Case Management, Volunteer Management, Ethical Guidelines, Minors as Volunteers, Responsible Frugality, Communication, Servant Leadership, Teamwork and disaster long-term recovery's goal: restoring people to safe, secure and sanitary housing.
* Helping people recover from Southeast Michigan's August 2014 flood disaster, which affected more people than any other U.S. disaster in 2014.
---
Related News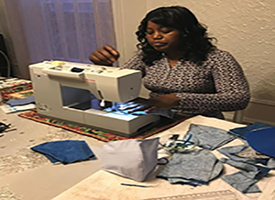 "It's so good making masks because it helps the community," said Sandra, a Congolese refugee...
Read More