In predominantly white UCC, interest in dismantling racism spikes after Floyd's death
Since the May 25 killing of George Floyd at the hands of Minneapolis police, the predominantly white United Church of Christ has seen a spike in interest among its members and congregations in learning to dismantle racism.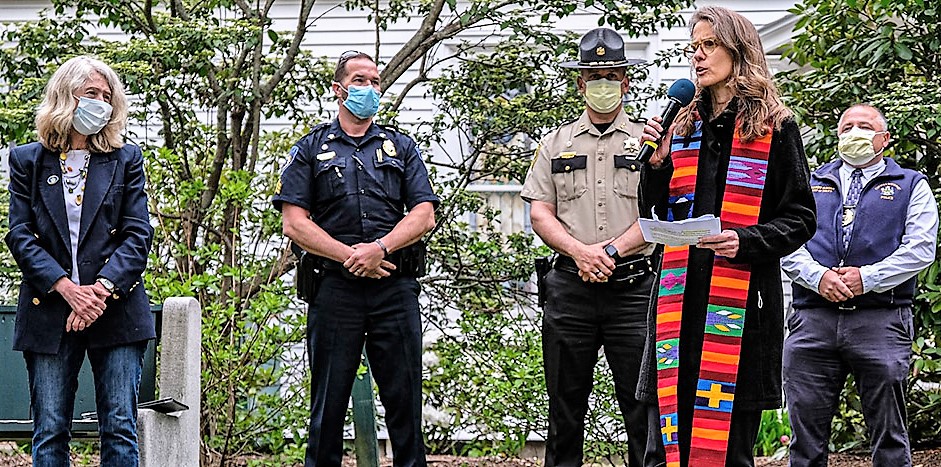 The Rev. Velda Love, UCC minister for racial justice, saw moderate increases in requests for study materials after two earlier violent deaths of Black people: the March 13 police killing of Breonna Taylor in Louisville, Ky., and the Feb. 23 shooting of Ahmaud Arbery by vigilantes near Brunswick, Ga., which was revealed in video footage released May 5.
She said discussions of those and similar deaths in spring UCC webinars – "The Cross and the Lynching Tree" and "And Still We Rise" – also prompted inquiries. "But it was the murder of George Floyd that sent the requests into overdrive mode," Love said.
Many white people – including Christians – may have dismissed, overlooked or ignored other accounts of the deaths of African Americans, Love said, but "George Floyd's murder was the shock and awe they could not deny."
New and existing resources answer demand
One sign of increased interest is demand for the downloadable UCC anti-racism curriculum, "White Privilege: Let's Talk." Orders for it via UCC Resources rose to 176 in June and 152 in July, up from 68 in the first five months of 2020 combined – and 228 for all of 2019. Clicks on the curriculum's own page at the UCC website are up, too: 400 from Aug. 25 to Sept. 24, for example, compared with an average of 135 since the page was created in October 2016.
Another answer to the demand has been a new, intensive version of Love's "Sacred Conversations to End Racism." The first such "Institute," offered in July and August, immediately reached its 60-person capacity. Seven-week versions this fall and winter are now also fully booked; registration is underway for a fall 2021 Institute. Love herself leads them online, with help from facilitators who have gone through a yearlong training.
"I'm very clear about the internal work and the life-long journey that is required to dismantle racism," Love said. "I'm also clear that participants who register and commit to the institute have no idea how intense the process is until they are in it. I believe they believe that after five weeks they'll be ready to 'do something' when the reality is they have only scratched the surface of digging into 500 years of entrenched structural racism. The undoing is hard work but necessary."
The long-term nature of the challenge is recognized by several local churches tackling the topic in congregational and community-wide study processes this summer and fall.
Coastal Maine: 'Ignorance of our own privilege'
In Maine's Midcoast region, one church using "White Privilege" is First Congregational UCC, Camden. The town is, "generally speaking, a highly educated, liberal enclave of many people who are active in politics, teaching, industry and business," said the Rev. Ute Molitor, the church's pastor (seen at the microphone in the top picture).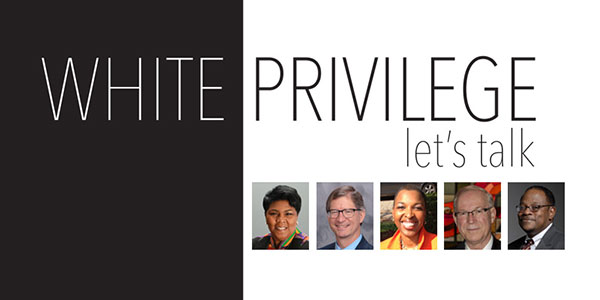 After a June 3 Black Lives Matter march on Camden's Village Green in response to Floyd's death – including supportive participation by law-enforcement – Molitor and two other community leaders organized nine conversation circles on race that drew about 70 participants from around town.
Now two dozen First Congregational members are studying "White Privilege" two Wednesdays a month, Sept. 23—Dec. 2. The series, described in detail at the church's website, is led by Molitor and church member Mimi Benedict.
The area has economic inequalities, "with McMansions and trailers in the same ZIP code," Molitor said. But it is predominantly white. "Because the town is, on the surface, so monocultural, it's harder sometimes to bring to life that racism is an issue," she said. "There's a tendency to think, 'It's not really an issue here; I'm colorblind.' Under that is our ignorance of our own privilege."
Molitor said she hopes the congregation's study – like the community-wide ones – will continue raising much-needed awareness. "This is a church that gives out a ton of money every year and is extremely generous. But it is another thing for us to have a wake-up call about what racism means – for our theology; for the symbolism we're using; if want to be allies and advocates, that we do that not from an ignorant or assumptive position.
"I think racism – it's its own pandemic. It has been for 400 years. There's so much pain and hurt. We need to address it as a country."
Southern California: 'I thought I was pretty hip'
At the opposite corner of the U.S. map, in a suburb of Los Angeles, workplace conversations following Floyd's death introduced Carla Ritter to a book that opened her eyes – Layla Saad's "Me and White Supremacy." It is now the basis of a study she is leading at her church, UCC Simi Valley.
"As a progressive Christian and someone in a multiracial family, I thought I was pretty hip to this," Ritter said. She is white, her adopted son is of Latinx heritage, and her congregation is "very much a justice-oriented church" in "a very conservative, very white area." Simi Valley has even been home to neo-Nazi activity, she said. While providing sanctuary to an immigrant family a decade ago, "we had protestors in front of our church for a whole year, with bullhorns," she said. "This is nothing new for us."
But Saad's book took Ritter's insights to a new level. She heard about it during employee meetings on racism offered by the government of Ventura County (she works for the county as a physical therapist). An African American colleague – the county's head of behavioral health – recommended the book. Ritter researched it online and watched a video of Saad speaking about it. "I was like, wow, this is the right thing for us," Ritter said.
With her encouragement, the church's book group took it up. "It's not really a study, it's more of an experience," Ritter said. Based on what was originally a series of Instagram posts by Saad, the book is "a 28-day challenge to people who are white," Ritter said. The group is using the book's prescribed method, including the writing of journal entries. The content, Ritter said, is "very much about your relationship with racism and white supremacy. It's meant to be personal, but in a space where we can be supportive. It's pretty intense stuff."
UCC Simi Valley's pastor, the Rev. Stacy Thomas, said she values the "inward journey" Saad's book helps people take "in a circle that is free of criticism but full of love and care." "My hope is that participants will really dive deep and learn more about themselves … and how they are interconnected with the community, with the church itself and with history that we have to confront," Thomas said. "Before we can start to dismantle the racist structures and systems that have been in place for over 400 years, we have to first look within and see our own biases and prejudices and how we discriminate personally."
Rural Ohio: 'It's just grown exponentially'
In the Midwest, Floyd's death prompted an anti-racism march June 1 in Mt. Vernon, Ohio, in what the Rev. Scott Elliott described as "very rural," politically conservative Knox County. "All I had to do was ask and clergy across the spectrum came out in 90-degree-plus weather to take action together," said the pastor of Mt. Vernon's First Congregational UCC. "It was remarkable." (Part of the gathering is seen in the photo at right.)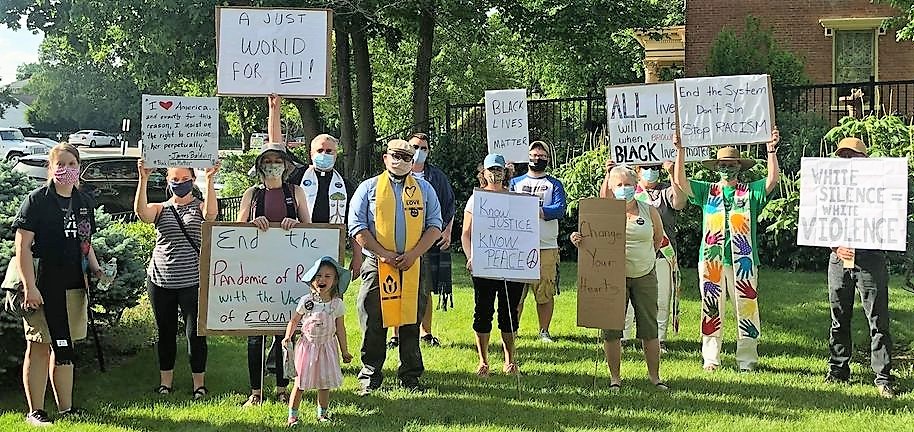 Groundwork had been laid by annual "Overcoming Racism" seminars for the community, started by Elliott and First Congregational, which itself began as an anti-slavery congregation in 1834. The first was held in 2016 after the church's Black Lives Matter banner was stolen. It used Jim Wallis' book, "America's Original Sin."
Since then, "it's just grown exponentially every year," becoming interfaith, raising awareness and even contributing to change, Elliott said. White residents have heard people of color describe local racism, past and present, including the fact that the town pool was once segregated. Community leaders formed Knox Alliance for Racial Equality in 2018. A local music and arts festival, long named for an originator of minstrel shows, this year changed its name.
The six-week 2020 series, held Aug. 24 through Sept. 28, had the backing of – and leadership and participation from – 25 community leaders, nine faith communities and two colleges.
Held outdoors, it used Richard Rothstein's "The Color of Law: A Forgotten History of How Our Government Segregated America" as its text.
Faith groups may differ on many things, but the consensus built in Mt. Vernon about openly opposing racism shows it can be done anywhere, Elliott said. "People say you can't do this in rural communities," he said. "But you can't find redder places than this."
'Forced to draw their own conclusions'
Violence against Black people has long been in the news and anti-racism resources have long been available, Love said. But the widely circulated May video of Floyd being killed "captured an eyewitness account of centuries of state-sanctioned violence against people of African descent," she said. "The visceral image of that white police officer with his knee on George Floyd's neck was an unmistakable horror that retraumatizes black people globally. The emotional triggers are painful, and the visceral images are intentional to reinforce white supremacy.
"Witnesses who claim to be followers of Jesus and belong to Christian churches—especially UCC congregants—were forced to draw their own conclusions about the ongoing racism that is structurally and systemically played out on and off camera."
"That churches are rallying and crying out for justice – that justice should roll down – it's wonderful," Molitor said. "It saddens me that it took a man's death that we all had to witness – a man's murder by police officers – to spark this demand for change at such a high volume."
---
Related News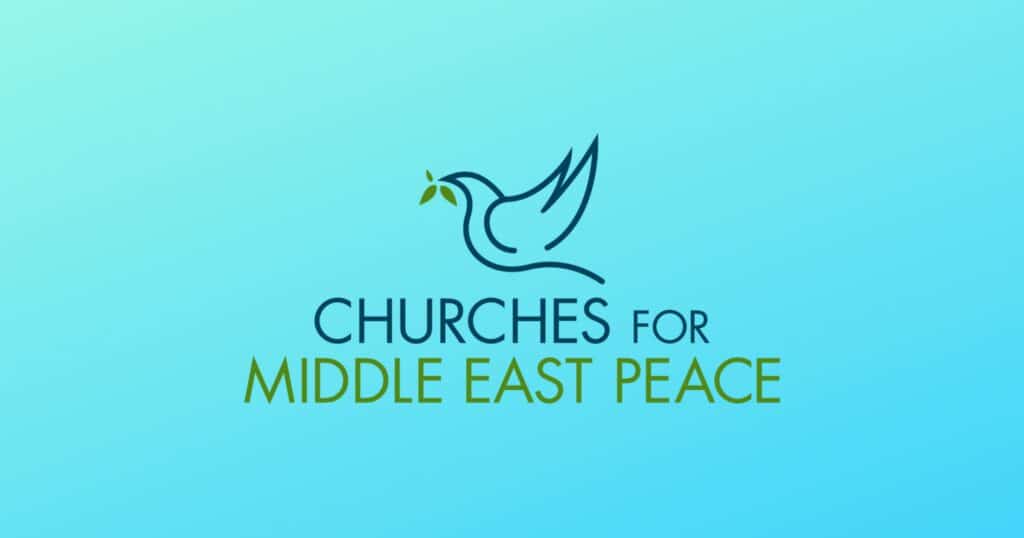 The following statement was issued Dec. 2 by Churches for Middle East Peace (CMEP), of which...
Read More