In an era of violence, UCC churches take protective steps
When the people of Cathedral of Hope, United Church of Christ, held a blessing ceremony for their memorial Peace Plaza on Sunday, Feb. 16, they also took a permanent step to keep violence away.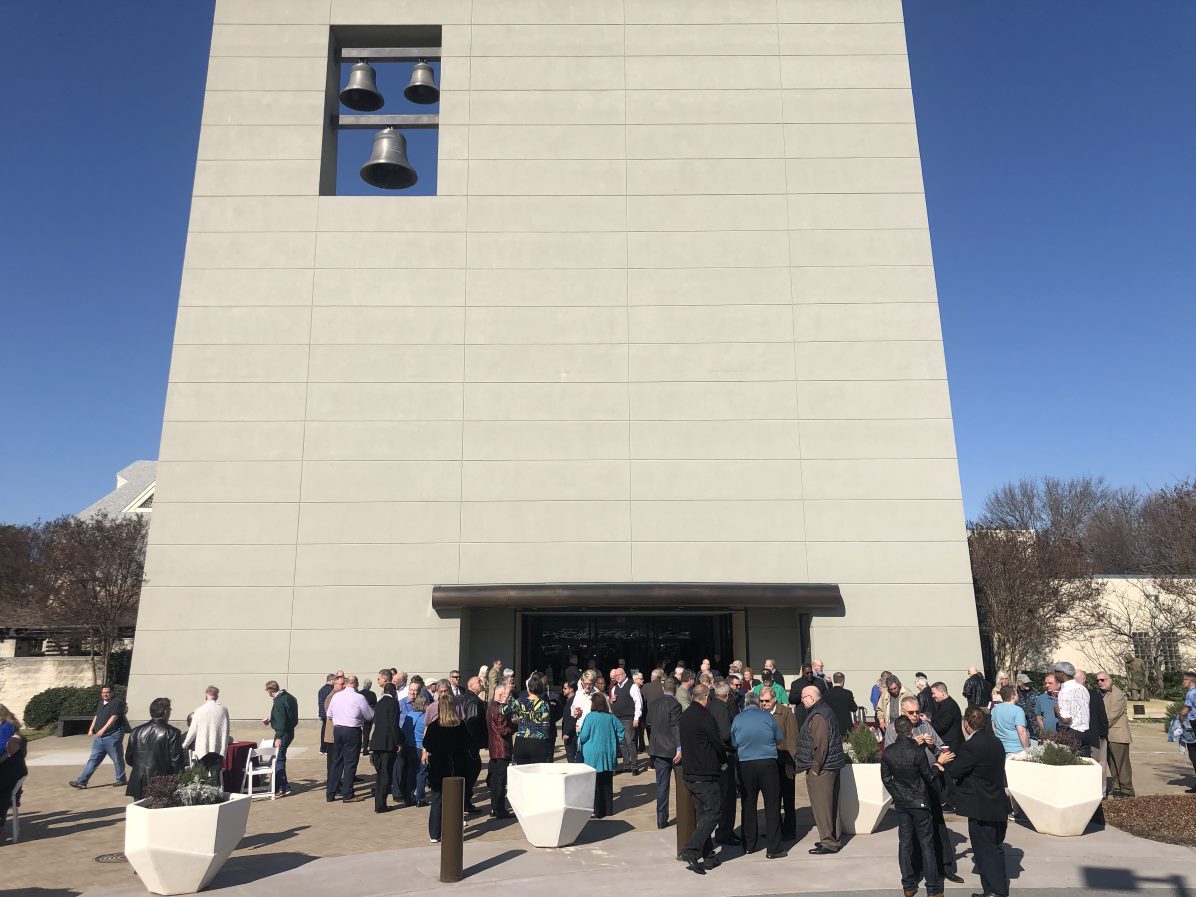 The new plaza, just outside the Dallas church's main doors, has bollards – a kind of sturdy post – and other physical features designed to keep violent intruders from driving vehicles through.
It's not the first security measure deliberately put in place by Cathedral of Hope – one of the largest LGBTQ-welcoming congregations in the United States – to prevent or limit violence. Security cameras, armed guards, usher training and door monitoring have long been in place.
In an era when shootings and other violent attacks have become all too common in houses of worship, UCC congregations and institutions, large and small, from Washington State to Long Island, N.Y., are taking precautions.
Some have invited U.S. Department of Homeland Security experts to tour their buildings and suggest safety measures. It's free.
Some have received government funding for security measures. Homeland Security has $90 million budgeted in fiscal 2020 for safety grants for nonprofits, including churches.
A recent webinar on safety in churches, offered by the UCC Insurance Board and featuring a Homeland Security agent, drew some 500 participants. (See related article.)
In Cleveland, an active-shooter preparedness training called ALICE (for "alert, lockdown, inform, counter, evacuate") is part of orientation for all employees at the UCC's national offices.
Grants for planning, equipment, training
"We're a congregation that's used to being picketed," said the Rev. Neil Thomas, Cathedral of Hope's senior pastor since 2015. "We have long history with protestors. One story – I was not here for this – is that the Ku Klux Klan came into worship one Sunday and sat there with their hoods on."
At a Dallas-area clergy meeting with Homeland Security officials, Thomas heard about the safety assessments they offer and the federal grants available to houses of worship for security planning, equipment, training and exercises. "I invited them to tour the building and highlight the areas we needed to change," he said. Blocking off a driveway that ran near the front doors was one recommendation. The solution was the Peace Plaza, made possible by a generous gift from the estate of the late Gwen Taylor, a longtime Cathedral member.
The church also installed security cameras, using a $100,000 grant it applied for and received. In addition, armed guards patrol the building, inside and out, every Sunday. "We do not allow backpacks or large bags into the sanctuary," Thomas said. "They go in a locked room. People can pick them up afterwards."
Ushers and greeters review active-shooter training quarterly, via YouTube. On Sundays, they do security and hospitality all at once. "When you arrive at the building, you're going to be engaged, at some level, by four people before you go in to worship – welcomed, invited in, loved-on, encouraged to say hello," Thomas said. "The information from Homeland Security is that the likelihood of someone carrying out an attack if they have been encouraged to make eye contact is reduced by 75 percent."
Never used to feel it was needed
A much smaller church that attracts occasional protests because of its social stands – including its opposition to local white supremacists – is Veradale UCC in Spokane Valley, Wash.
Unlike the 1,000-plus member Cathedral of Hope, Veradale has about 30 people in worship each week. But they are just as deliberate about security. Like the Cathedral, Veradale keeps a single entryway open on Sunday mornings for the sake of monitoring – and its worshipers receive periodic reminders throughout the year of where to go if they need to evacuate for any reason.
Members never felt such measures were needed in the past, said Veradale's pastor, the Rev. Genevieve Heywood. They have not armed themselves, as have worshipers at a local megachurch that trains its members to use guns. "We've chosen not to be that kind of church," Heywood said. However, conscious of church shootings in recent years, Veradale has become deliberate about locks, alert systems and greeters' and worshipers' awareness. "I think we're pretty well protected," Heywood said.
The Congregational Church, UCC, of Patchogue, N.Y., has a similar Sunday approach.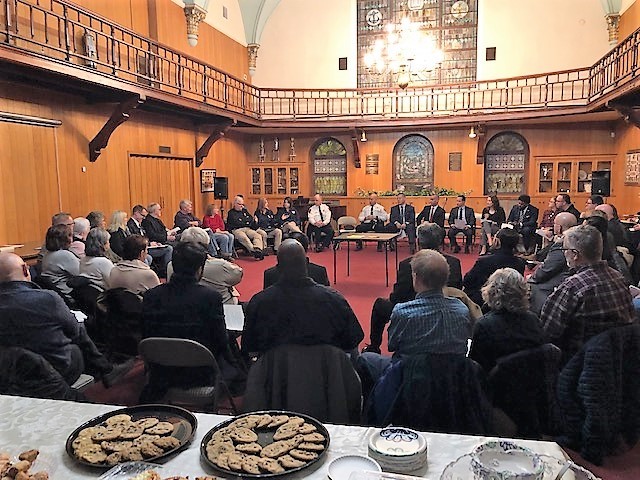 "Our custodian stands by the front door," said the Long Island church's pastor, the Rev. Dwight Lee Wolter. "Our ushers sit on benches in profile so they can watch the sermon and enjoy the choir and also have full view of the front doors so they're aware of who walks in all the time. The nursery and Sunday school are in communication with pastors, and it's all in code."
Call button in the pulpit
Planning has even broader advantages, Wolter said. "Safety doesn't just pertain to active shooters or people walking into a Hanukkah party with a machete," he said. "What if there's a bank robbery in the city and the police say, 'Do not leave' – and it's a Sunday morning. Who in the church issues the order of 'shelter in place'? That's something that should be determined in advance. Or if there's a fire, is there an evacuation plan? What about elderly people with walkers or on oxygen?"
Anticipating combative but unarmed intruders is equally important, Wolter said. When the Patchogue church had difficulty with a disturbed and disruptive person, it filed an affidavit with the local police, and they issued the pastor a button he can quietly push in the pulpit to call them directly.
Wolter, who has attended Homeland Security and police trainings on church safety, said building local relationships with such officials is essential. To spread the word, he organized a January public forum, "An Ounce of Prevention: Safety in Our Houses of Worship." Some 40 people came, including law-enforcement officers, Republican and Democratic politicians, and laypeople and clergy from several Christian, Jewish and Islamic traditions. Mutual concerns and available resources were shared.
"People did not want to leave this event," Wolter said. "At the end they were eating cookies and laughing and exchanging cards and getting scheduled for a Homeland Security walk-through."
Churches as 'soft targets'
There can be resistance to some of these concepts. "I think there's some unconscious shame, that if we bring this up there's something wrong with us," Wolter said. "It plays into denial. It's as if there's something shameful about broaching the subject." At the "Ounce of Prevention" forum, according to Wolter, one participant remarked, "This is so fear-based and negative. I came here thinking we were going to be talking about how we were going to stop hate speech. When are we going to get to peace and love?"
Wolter's answer to that concern is that churches are, as Homeland Security puts it, "soft targets." "Evil is opportunistic," he said. "It preys on the vulnerable." If churches do not take protective measures, but still claim they are safe spaces, "We have broken the covenant with our people – especially the elderly and children," he said.
At Cathedral of Hope, Thomas has a similar answer to those concerned that security measures inhibit a church's welcome. "We actually would reverse that and say the reason why we do this so we can welcome people," he said. And it doesn't have to ruin the feeling of church. Each time an incident of violence in a house of worship makes the news, "I get emails from people saying, 'Have you thought about having security?'" Thomas said. "I say to them, actually we have armed officers every week, but they just don't notice them – which is a good thing."
---
Related News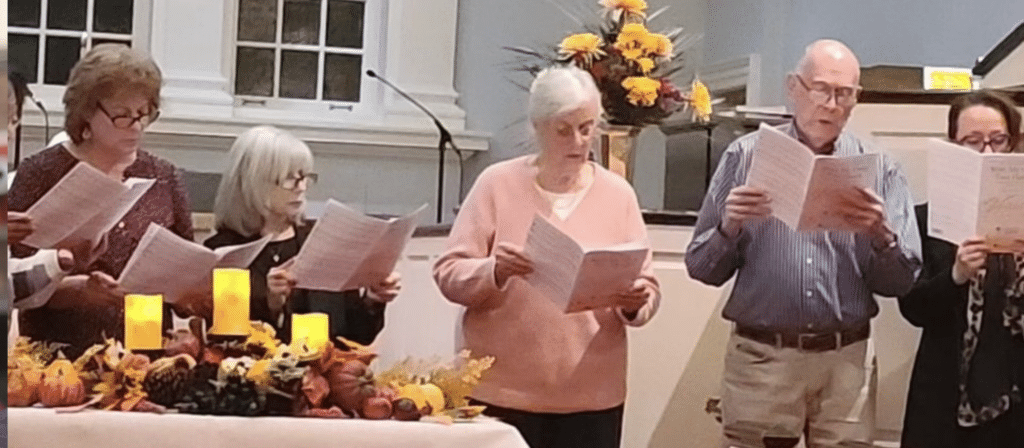 Many United Church of Christ congregations across the country participated in interfaith...
Read More