Ibram Kendi at General Synod: 'We cannot face racism with tunnel vision'
"'Race neutral' is the new 'separate but equal.'"
These were the words of Ibram X. Kendi, author of How to Be an Antiracist, who spoke to attendees at the June 30 fundraiser at General Synod 34 for the United Church of Christ's Join the Movement campaign.
In a conversation with Associate General Minister the Rev. Traci Blackmon and Join the Movement campaign co-chair the Rev. Starsky Wilson, Kendi spoke at length about the Supreme Court's recent decision to strike down college affirmative action programs.
Kendi pointed out that the Supreme Court went after the only admission metric that actually benefits people of color. Metrics such as preferences for admission based on legacy donations from parents and athletic scholarships that favor white athletes were not touched by the highest court.
"The premise is that the other admission metrics are equal for all students," said Kendi.
Facing multiple bigotries
According to Kendi, it is not a coincidence that the justices ordering affirmative action to be struck down are also stating that it is legitimate to have straight-only businesses. He said that people must realize how racism is enforcing other issues of injustice.
"The same justices are stating that those policies that are leading to racial inequity are legitimate and those policies that are leading to racial equity need to be banned," said Kendi. "We cannot face racism with tunnel vision. We have to build solidarity across different bigotries. These bigots enforcing racism, classism, sexism, homophobia are in solidarity. We who oppose these '-isms' have to be in solidarity, too."
Blackmon asked Kendi why he has worked so hard to translate his work for young people. He replied that it is not just that children are being directly harmed by policies such as the elimination of college affirmative action programs.
"Even as we imagine our young people are too young to be faced by bigotry, it's simply not true," he said. "Children are inundated by ideas of the superiority of whiteness. We have to protect them. We have to actively teach them their skin color and the shape of their eyes are beautiful. If we are not actively teaching them, it's equivalent to letting them walk across the highway. They are going to get hit. I love kids too much."
Liberation vs. saviorism
Another question the moderators asked Kendi was what he would imagine we need to say to the UCC, which is 84% white, in order to understand the complexities of being a multi-cultural, multi-racial Church.
"I think it is critically import for the church to be guided in this ministry by a liberation theology as opposed to a savior theology," said Kendi.
He went on to explain that liberation theology presupposes that Jesus was a revolutionary who came to inspire people to revolt and transform their conditions to liberate themselves from oppression. Thus, the job of the church is to serve as a meeting place for that revolution against oppression.
"The job of the Christian is to be consistently inspired by the revolutionary example," he added.
Savior theology, he explained, presupposes that Jesus came to save people from their uncivilized, backward ways, and the job of the church and the church leaders within that theology is to be a civilizing agent to save people from themselves.
"Savior theology largely operates in the church in assimilationist ideas," said Kendi. "Assimilationist ideas believe that white culture is not only superior but the standard. Assimilationists have historically made the case that black, brown, and indigenous people can be civilized and reach the pinnacle of white culture. That's created all sorts of problems."
Youth central to justice movements
In closing, Kendi was asked to offer a final word for young people. "I would say to young people that part of my faith that the forces of justice will win is because of my faith in young people."
He pointed out that young people have always been a central part of movements for justice, including the Civil Rights and Black Panther movements, because of their courage. As we grow older, he said, we become afraid, and we impose our lack of courage on young people.
"Fear is a product of our imagination. Young people recognize that," he said. "To believe that we can think outside of the box and smash patriarchy takes courage. Don't ever lose that and don't let any adult zap it out of you."
Supporting reproductive rights
While the conversation with Kendi was the highlight of the Friday night dinner, there were other special moments as well.
Special guests at the fundraiser included 48 youth and young adults who were able to attend due to the generosity of donors. Another special donation of $22,540 was raised collectively by the UCC Board for Join the Movement.
In addition to these donations, another highlight was a special guest. Dr. Caitlin Bernard, an Indianapolis doctor who provided an abortion to a 10-year-old and was later fined $3,000 for speaking to the media about the case, accepted the UCC's invitation to attend the dinner.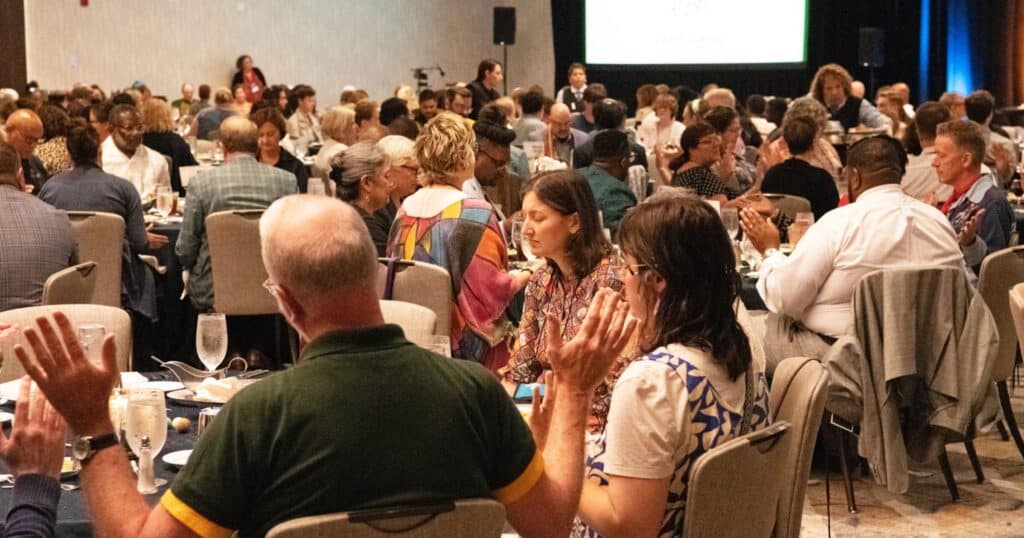 She received a standing ovation when Blackmon introduced her and shared that the UCC was going to "return" the money she was fined in the form of a $3,000 donation in her honor to the Hoosier Abortion Fund.
The Rev. Diane Weible, a General Synod newsroom volunteer, is a former journalist and the owner of Enkei-Resolutions, a coaching and consulting business focused on supporting churches and ministers.
---
Content on ucc.org is copyrighted by the National Setting of the United Church of Christ and may be only shared according to the guidelines outlined here.
---
Related News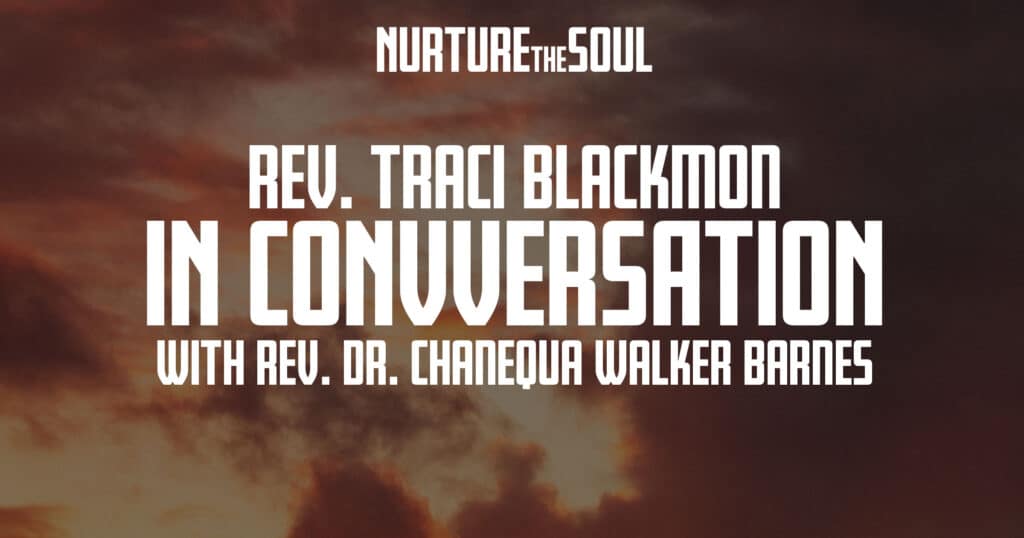 The impact of trauma and the need for self-care are vital -- and sacred -- topics for the...
Read More