'History will grind you into dust': UCC GMP blasts DeSantis appointees as New College faces 'authoritarian' takeover
The Rev. John Dorhauer didn't mince his words.
In speaking to the trustees of New College of Florida, the United Church of Christ General Minister and President recalled Martin Luther King's famous quote that "the arc of the moral universe is long, but it bends toward justice."
"The long arc of history will grind you into dust and they (the New College students) will win this battle and you will be remembered for the sycophants you are," Dorhauer said to the trustees during a public board meeting last month. "That's what history does."
Dorhauer's powerful admonition — his "moral outrage," as he put it — followed his participation at a Feb. 28 rally organized by New College students and their supporters.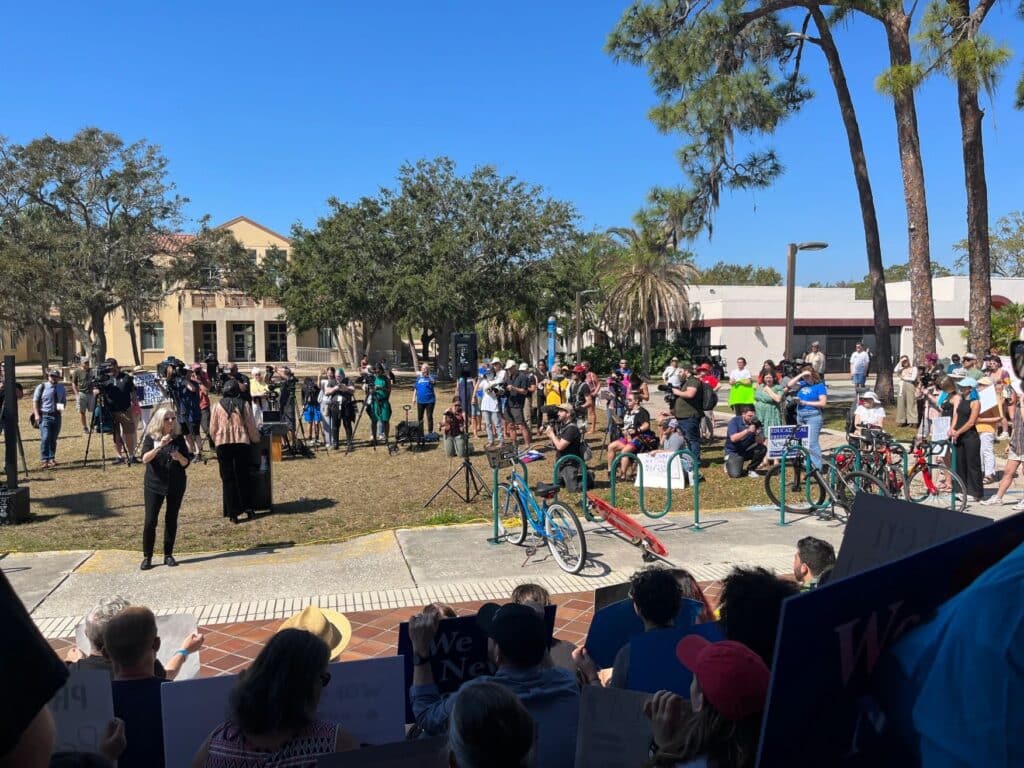 They protested cuts to DEI (diversity, equity and inclusion) programs and other ominous changes proposed or already enacted by the board in the wake of Florida Gov. Ron DeSantis's appointment of new hand-picked trustees — including right-wing activist Christopher Rufo, best known for helping invent outrage about critical race theory.
In 1960, the UCC helped provide the funds to found the small, public liberal arts college, now part of the Florida university system. More than 60 years later, the head of the UCC traveled to the New College campus in Sarasota, Fla., to lend his support for academic freedom and the future of the institution.
"I'm here to make a continuing promise that the community that you've created, we will be there to protect it, to defend it," Dorhauer said to the "beautiful, brilliant students of this campus" during the outdoor demonstration.
UCC rallies with students
The GMP was joined at the rally by UCC congregations in the area.
"Hundreds of UCC members from over a dozen local churches were there on campus to listen to student leaders, to demonstrate resistance before the new president and board, and to pledge their ongoing support to keep the vision and mission alive," Dorhauer wrote in a Mar. 9 Witness for Justice column. "It made me proud."
Among the locals present was a contingent from Lakewood UCC, located across Tampa Bay in St. Petersburg.
"New College has traditionally been a place which welcomed all students regardless of race, religion or sexual identity," Lakewood's pastor, the Rev. Kim Wells, said in a summary of the church's involvement. "The students have thrived there where they might not have in another college environment. … The number of UCC people in attendance and the passion and preparedness of the students filled us with pride and hope.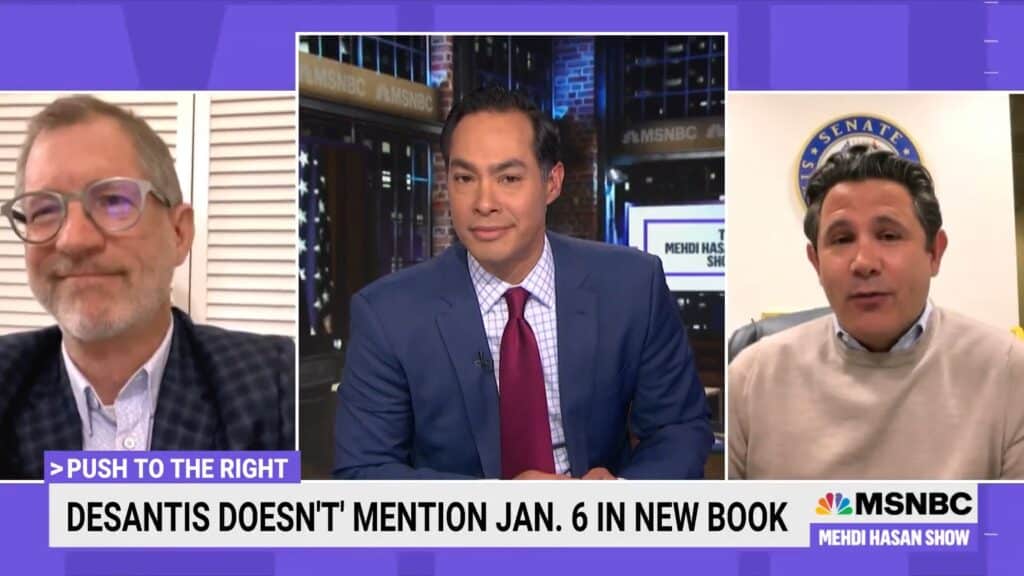 "To stand and be present with the students, families, alums and faculty was truly meaningful."
During a March 12 interview on MSNBC's The Mehdi Hasan Show, Dorhauer told guest host Julián Castro that the New College students are "incredibly brilliant, very bright, incredibly compassionate students that, in my world, are rock stars."
Gov. DeSantis's actions — and those of the college's new trustees – threaten the students' "futures, their hopes, their dreams, their lives," he added.
"It's absolutely frightening to them," Dorhauer said. "They have no idea where this ends or what's coming."
Future at stake
One of the college's alumni also fears what could be coming — for New College, for Florida universities and for other institutions of higher education across the country.
Adam Bresnahan, production coordinator for the UCC's Pilgrim Press, graduated from New College in 2011. He appreciated the well-rounded liberal arts education he received, as well as its low student-to-faculty ratio and close relationships with advisors and teachers.
"The really cool thing about New College, for me, is it's like Oberlin or Swarthmore, but it's not private; it's a public school," he said. "It really shaped me as a person."
Bresnahan said that, when he attended, the school produced more Fulbright Scholars per student any other in the country. In fact, he himself was a recipient — one of seven in a graduating class of 167.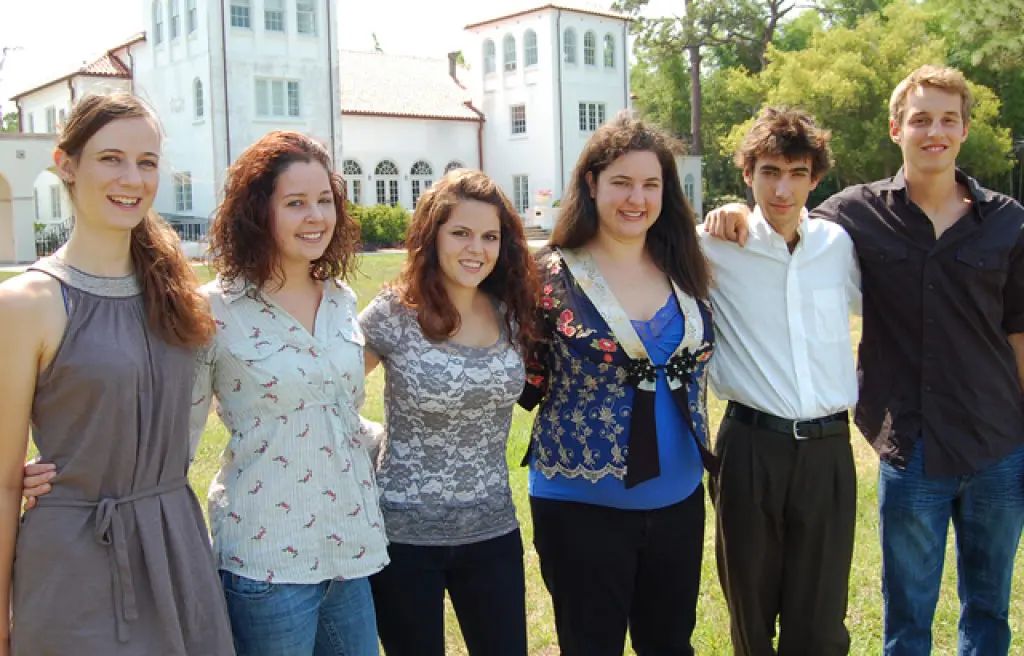 Now, he is concerned that the future of this small but mighty college may be at stake.
"It's really scary, because this is effectively a politician — the governor — taking over an institution that's supposed to be independent," Bresnahan said. "And they've moved really fast: they fired the president, and they're going to try to reshape the curriculum. … It's the type of thing authoritarian governments do."
He recently spoke about his worries with a friend from Germany, where Bresnahan lived for 10 years after graduating with a degree in German literature and language.
"He said this would never happen in Germany, because the universities there are independent," Bresnahan recalled. "It does not take much imagination to understand why the forced alignment of a university with a political party would be impossible in contemporary Germany."
'Grounding principles'
All of this is why Dorhauer, along with many others, have expressed outrage.
"As founders of a college that has, in the true spirit of our 'no matter who you are or where you are' mantra and fully in keeping with its founding principles, become one of the most richly and beautifully diverse campuses in the country, the United Church of Christ owes those students a robust show of support and advocacy," Dorhauer said. "We are both a part of their birthing story and aware of the larger implications of an effort like this succeeding in a religious and cultural context in which zealots want entire curricula rewritten through the filters of Christian Nationalism."
In a letter to their local newspaper, lay leaders of First Congregational UCC in Sarasota likewise spoke out, citing their own church's history with New College.
"In 1959, Rev. John Whitney MacNeil, our then-senior pastor, gathered business and religious leaders to form a diverse, nonsectarian institution that has always encouraged freedom of thought," read the letter. "… Today's New College board pushes a politically discriminatory agenda with actions that contradict the grounding principles — principles, in fact, fostering students' success academically and beyond."
Dorhauer, in his Witness for Justice piece, urged UCC members to keep demanding that these principles be upheld.
"Now, we must all take on the role of preserving what are our core values: inclusive excellence, extravagant welcome, changing lives, sustaining hope, courage in the struggle and unconditional love," he said. "No bully gets to take that away from us, or from those we love."
---
Content on ucc.org is copyrighted by the National Setting of the United Church of Christ and may be only shared according to the guidelines outlined here.
---
Related News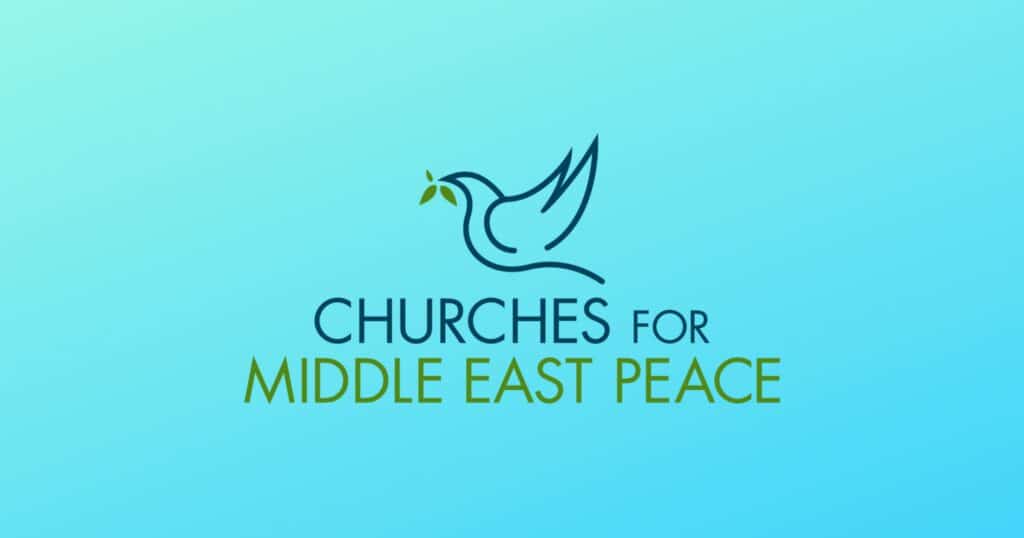 The following statement was issued Dec. 2 by Churches for Middle East Peace (CMEP), of which...
Read More