UCC GMP to join student protest at Florida college with Congregational roots overtaken by the governor
The United Church of Christ General Minister and President will be speaking at a student protest in Sarasota, Fla., next week in an effort to keep higher education from being influenced by politics and to support the diversity of a school the UCC helped found.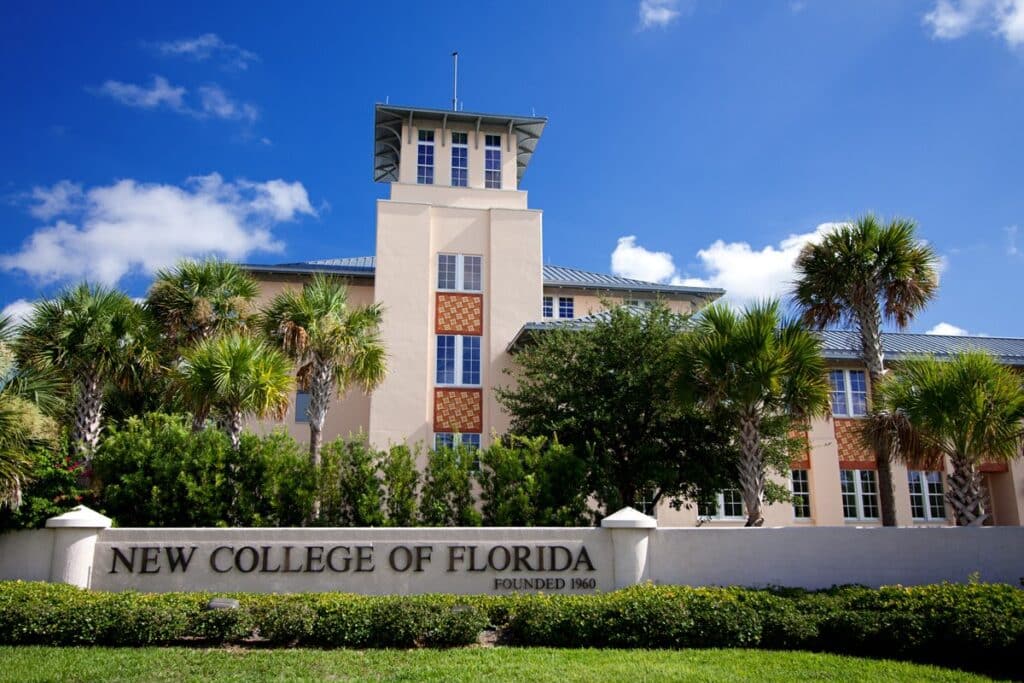 'College embodies many UCC values'
New College of Florida is a small state university that was founded after the Board of Home Missions of the Congregational and Christian Churches (later renamed the United Church of Christ) provided the initial funding to establish a four-year liberal arts college in Sarasota.
"New College of Florida is an institution that was created with the assistance of funding provided by the UCC in 1960," said the Rev. Evan Farrar, pastor of the Congregational United Church of Christ in Sarasota. "Since that time, it has grown into what the UCC envisioned — an institution that embodies many of the values we hold dear in the UCC — freedom of speech, academic freedom, freedom of thought, and a commitment to creating a diverse and inclusive community."
And that philosophy, to create a liberal arts and science university with individual degree plans on a diverse and inclusive campus, is what drew the students here. Last fall the honors college welcomed its largest freshman class since 2016.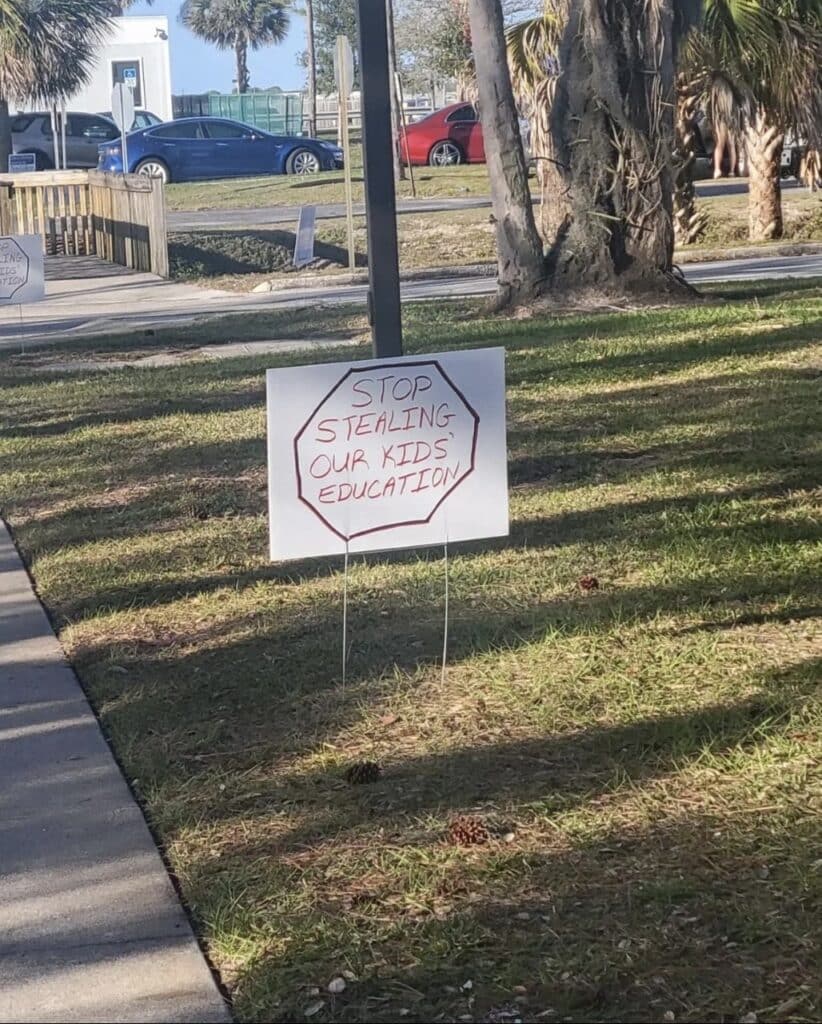 But Florida Governor Ron DeSantis has decided to recreate New College. Last month he appointed six new trustees to the school's 13-member board and they intend to remake the non-traditional university into their conservative vision of higher education. On February 13, New College hired a DeSantis ally, former Florida Education Commissioner Richard Corcoran, to serve as interim president.
Threats to diversity, inclusion
"These new trustees do NOT have New College's best interests at heart, especially considering the large population of LGBTQ+ students that we have," said Annika Fuller, a sophomore at New College and a Congregational UCC ministry associate. "In just a single meeting, these individuals have already fired the first female president that New College had, Pat Okker, who only served 18 months before this wrongful termination. It was evident that these new members had collaborated to find a new president, Richard Corcoran, a former Republican speaker (of the Florida House of Representatives).
"These individuals have made clear their intentions to dissolve any trace of diversity, inclusion and equity programs that we have on campus."
Fuller said this is causing a great deal of stress and fear among the student body of almost 700. The talk of transfer is common.
"A lot of individuals in my social circles are queer and this is the first place they've felt normal. That's being taken away from them," Fuller said. "The circumstances are very scary for people who don't have a support system."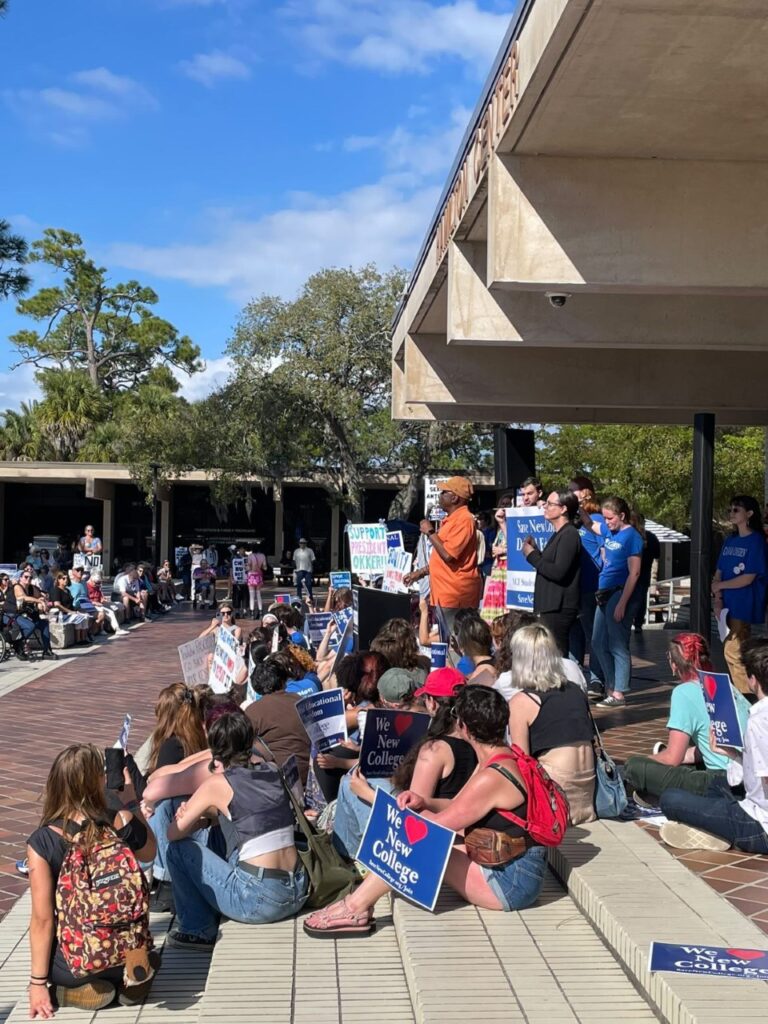 Promoting educational freedom
So Fuller said the young people are pushing back against the changes threatening their school.
The students organized the NCF for Educational Freedom group, held a protest before the first meeting of the new board at the end of January and are planning another for the next time the trustees meet Feb. 28. The group has gathered the support of parents, alumni and others in town, including all three UCC churches.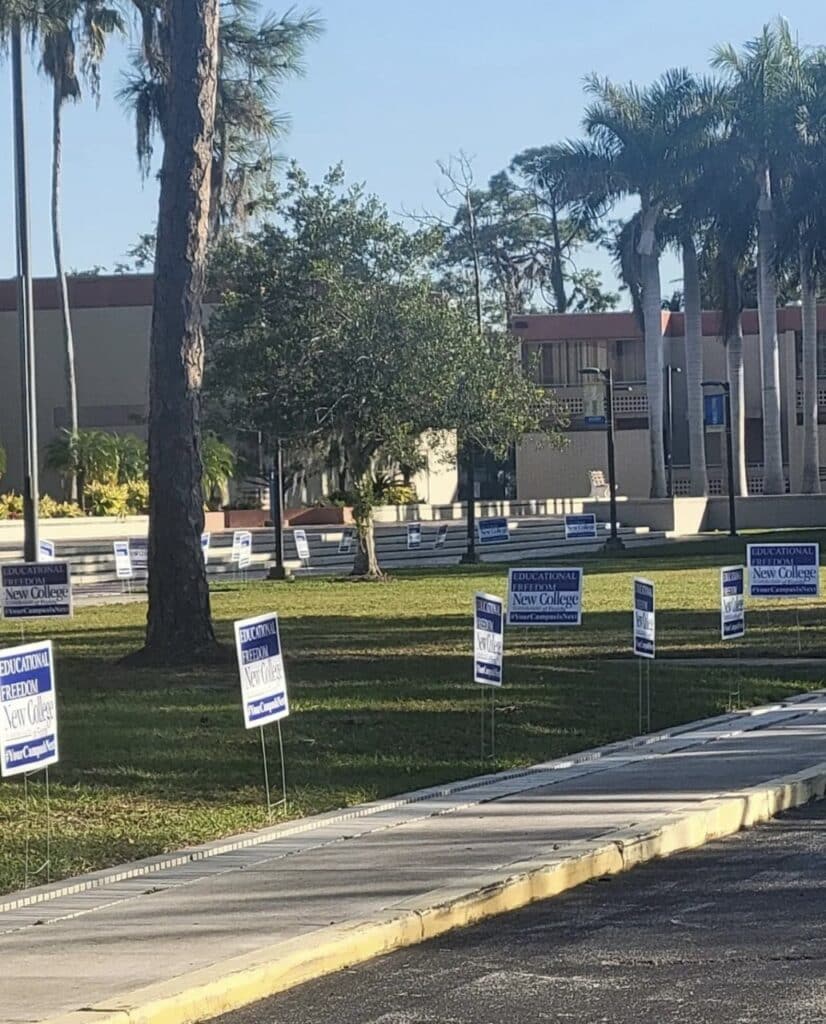 New College is just a ten minute walk from the space where Congregational UCC holds services, and Farrar said his church and the other two UCC congregations in Sarasota are troubled by what is happening on campus. So is Florida Conference Minister John Vertigan, who wrote a pastoral letter to the state's UCC churches, expressing concern about what was happening at New College and reminding them of the school's historic Congregational roots.
On Feb. 5, the Rev. Mary Alice Mulligan, who ministers at St. Andrew United Church of Christ, referenced Vertigan's letter in her sermon. "Our denomination helped start New College because we value education and encourage freedom of thought. We are rightly disturbed that education at a school we helped found is being restricted."
"We stand with the students presently at New College," said the Rev. Wes Bixby, pastor of First Congregational United Church of Christ. "Rev. Evan and I are both blessed to know a few of the New College students. Many of them are in a very difficult situation and are being overlooked.
"I don't want to forget that New College made a promise to the existing students to provide a safe space to learn and be who God created each to be. The students are now faced with a difficult choice — do I stay or do I leave. As a parent, this is heartbreaking to me."
Bixby also mentioned the "faculty and families that are really hurt by recent actions and the speed of decisions being made."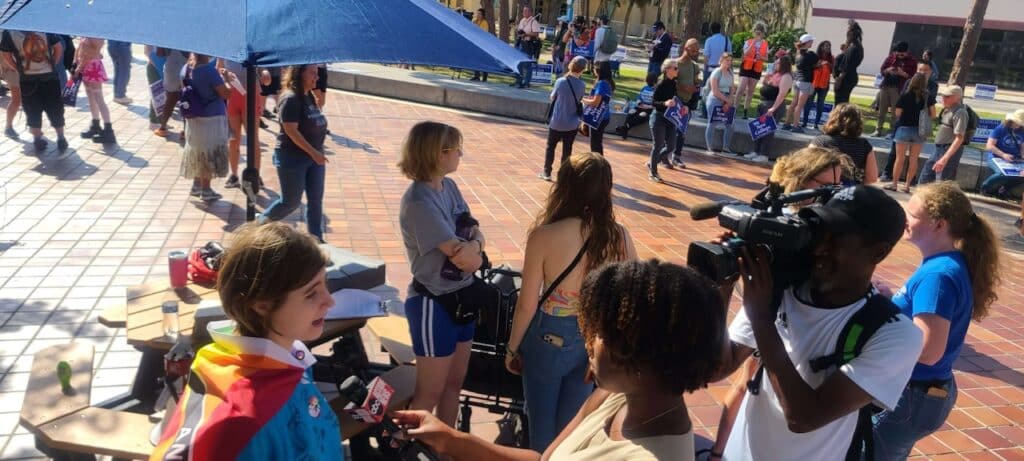 'Outpouring of support'
Libby Harrity, a Congregational UCC member, is involved in student government. She's the representative voice of the New College students as the Senate president of the school's student body.
"For over 50 years New College and its unique academic program have thrived in the face of those who may try to force it into the box that mainstream universities occupy," Harrity said. "The outpouring of support from the local community and also from the greater UCC has shown me, as an elected student official, the solidarity of our national community."
The Rev. John Dorhauer, UCC general minister and president, will join the students at their next rally on Feb. 28 and hopes to address the college board.
"I feel strongly that the New College Board of Trustees would benefit from hearing that the denominational commitment the UCC made over 60 years ago to fund a diverse college community with full academic freedom, is just as strong now as it was then," Farrar said.
"There is a great sense in the St. Andrew congregation that we must respond since our school is under threat," said Mulligan, noting that church members plan to be present on campus on February 28 to support the student walk out and demonstrate the UCC's concern. "We support Rev. Dorhauer and appreciate his willingness to speak on behalf of the denomination we love."
"Having John Dorhauer take the time to come out in support of New College and the resistance against fascistic limits on academic freedom throughout Florida is incredibly encouraging," Harrity said. "I can only hope that it clearly communicates to these trustees that they are going against the will of not just the students and faculty of New College, but the people of the United States as a whole."
"As a young queer individual with aspirations for a career in ministry, the implementation of these restrictive policies for selfish political gain is extremely disheartening," Fuller said. "The Board of Trustee's perversion of Christianity, and specifically the UCC, is outrageous and will not go unchallenged."
---
Content on ucc.org is copyrighted by the National Setting of the United Church of Christ and may be only shared according to the guidelines outlined here.
---
Related News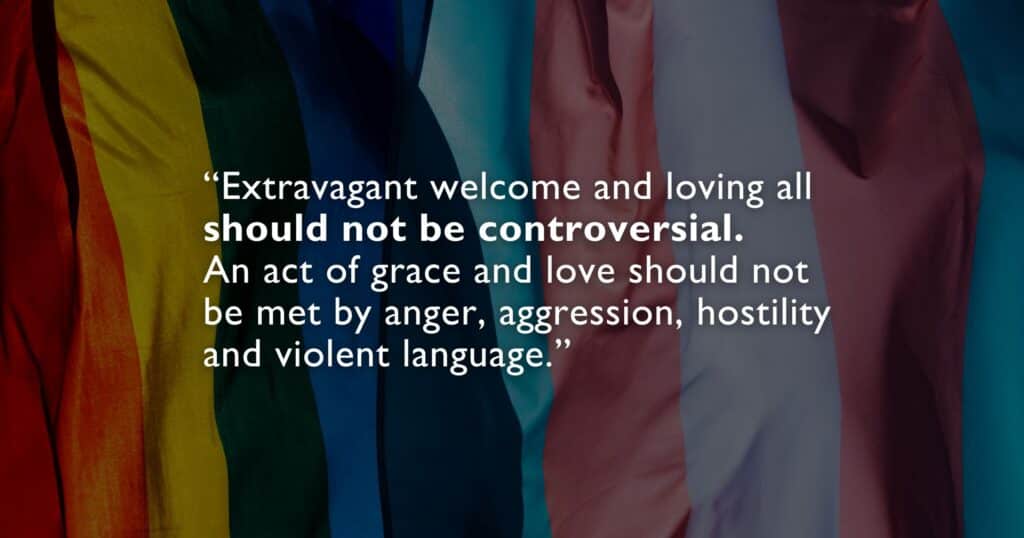 The United Church of Christ National Officers and the Conference Minister of the South Central...
Read More