Help Jordan help Syrian Refugees
    Photo Credit: Reuters/Muhammad Hamed
As the Syrian conflict enters its seventh year,an entire people have been uprooted and are in crisis. More than 1.4 million Syrians have crossed Jordan's borders since 2013, many of them ending up at the Zaatari or Alazrag refugee camp. Jordan has taken on the largest number of refugees despite being a country with minimal resources.
Access to the camps is difficult. Both are located off main roads, and the only way to get there is through rocky unpaved secondary roads across farmlands. The landscape causes them to be fairly isolated, resulting in these communities rarely receiving humanitarian help.
Organizations like the Orthodox Initiative are doing all they can to provide refugees in the camp with the essentials required to start a new life away from home. However, these organizations are all reaching full capacity.
Although years have passed, in terms of work, refugees aren't being employed. Even if the refugees try to find work, it is nearly impossible to find a job in a country like Jordan which already faces a severe unemployment problem.
The local citizens who themselves are without needed resources, began to retaliate against the organizations providing support to the refugees. This became a very sensitive situation because the locals in the area were in need as well. But once this information was brought forward, the Orthodox initiative became adamant to include everyone in the area with needs, taking care of the needs of the local citizens while providing aid to the refugee community.
The resources being provided include food parcels containing rice, sugar, cooking oil, tea, lentil, Freeka (wheat product), Burgul (wheat product), spaghetti, tomato paste, flour, popcorn, biscuits and fresh meat. In addition, the 100 families will also receive detergent and hygiene packs.
Ms. Jawaher, a teacher of the school in the Zaatari camp shared that since an emphasis had been placed on sanitation in the camps, their camp has become entirely free from litter and is cared for with pride.
The situation continues to be critical. The camps are over-crowded, and the resources as limited as they are, are being stretched to help as many folk as possible.
---
Related News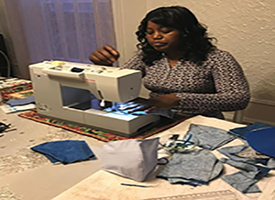 "It's so good making masks because it helps the community," said Sandra, a Congolese refugee...
Read More