The Green New Deal: A General Synod Progress Report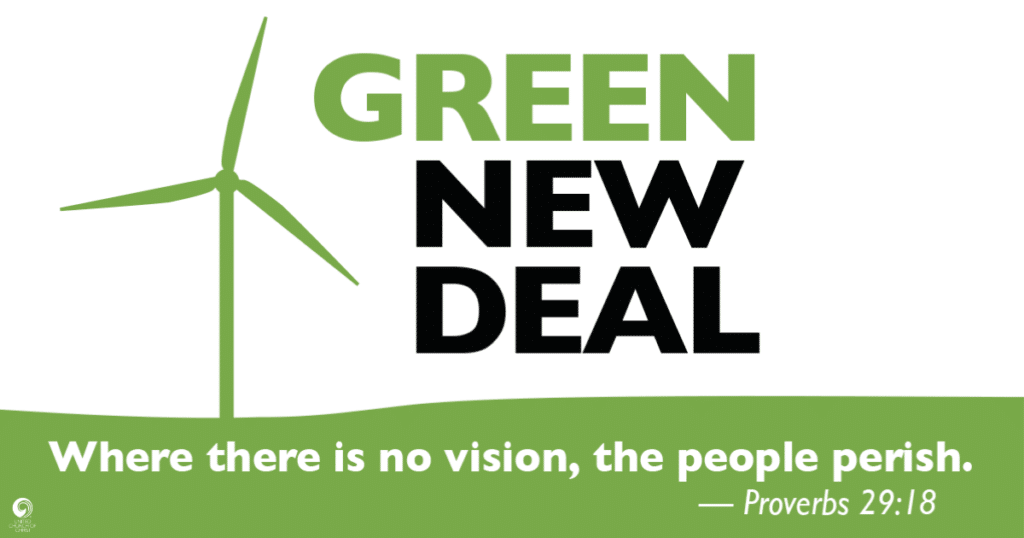 On June 24th of 2019, the UCC General Synod became the first U.S. Christian body to endorse the Green New Deal, a congressional proposal that lays out a plan for a 10-year national mobilization to address climate and inequality. After General Synod, a number of different entities within the UCC took action in support of the Green New Deal.
General Synod was immediately followed by a UCC Creation Justice Webinar featuring Varshini Prakash, the Executive Director of the Sunrise Movement, which has been the leading organization in the campaign for the Green New Deal. Prakash challenged webinar attendees to mirror the commitments of the Green New Deal in our own institutions.
In response to Prakash's challenge, the UCC's Council for Climate Justice, with its more than 70 members representing the diverse conferences of the UCC, issued a "Kairos Call to Action" which called upon churches to undertake an all-out mobilization to address the twin crises of climate and inequality over the course of the next ten years. This call to action was accompanied by 10 suggestions for how churches could respond. These responses included the following: "Through town halls, delegations, candidate forums, emails, and petitions, call upon elected officials and candidates for office to support the Green New Deal." (The National Setting of the UCC itself later hosted a congressional candidate forum that prioritized the Green New Deal along with the lead poisoning of children in Cleveland.)
The Wisconsin Conference of the UCC adopted the Kairos Call to Action at its annual meeting. It then created a Kairos Call to Action newsletter along with a series of webinars and other resources. The Penn Central Conference of the UCC pulled together all four of the Pennsylvania Conferences to conduct an online training featuring the Kairos Call to Action.
In addition to these conference actions, other examples of UCC support for the Green New Deal include:
If you have examples of actions to add about how your church, conference, or association has mobilized members to support the Green New Deal, please send them to the Rev. Brooks Berndt.
---
Related News
The good soil in Jesus's parable of the sower is someone with a soft heart that remains in...
Read More