Green New Deal Reading Challenge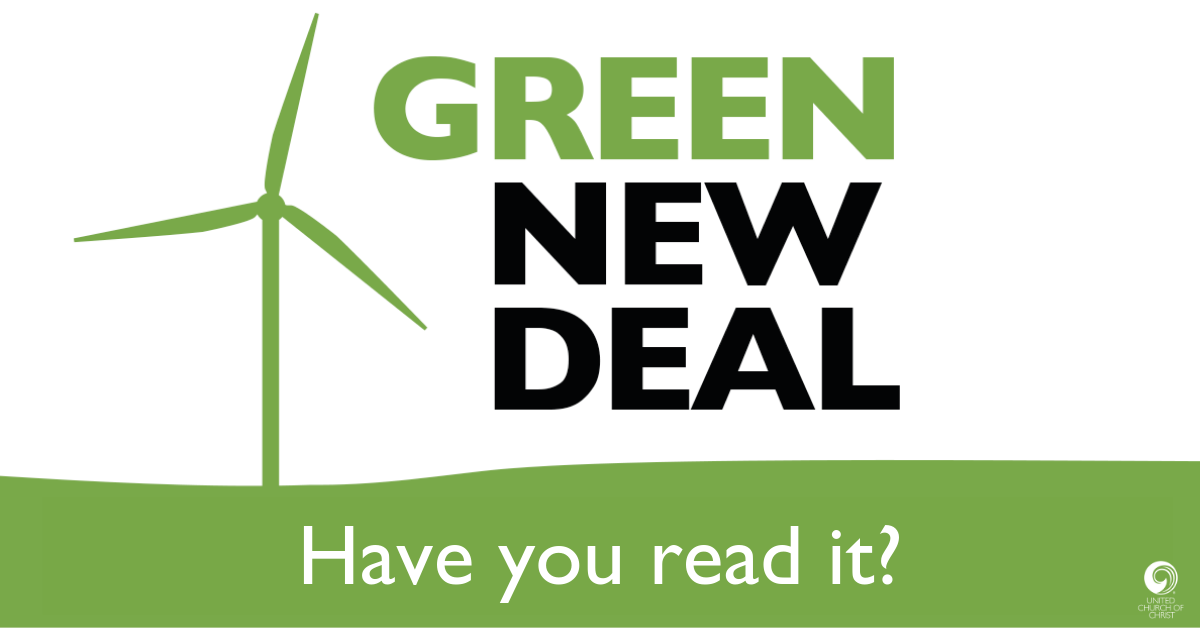 Have you read the Green New Deal? The United Church of Christ chose to endorse it at its General Synod. This vote has created a lot of interest among UCC members, myself included. When a neighboring church held a meeting to discuss what transpired at the synod gathering, my husband and I asked if we could attend as guests, and they warmly welcomed us in. After experiencing the dynamic discussion that ensued as we held in close covenant with one another, I felt a renewed admiration for our denomination and our ability to practice radical hospitality to the stranger and engage in civil discourse. I also chose to read the Green New Deal for myself.

During the discussion, it became quickly apparent that there were a variety of views on the Green New Deal. Some positive, some unsure, and others downright negative. The most outspoken came from a man who was a self-professed climate change denier. I was grateful for the two ministers who skillfully guided us through moments of tension and helped keep the discussion positive and open-minded. I was in awe of our ability as a faith community to sit down and really talk with one another about the concerns of our world.
At one point in the meeting, a woman proclaimed that there were many bad, bad, bad things in the Green New Deal. When I asked her what those bad things were, she did not have an answer. I suspected that like me she had not read the Green New Deal. By the end of the civil and respectful conversation, the man who denied climate change adamantly professed, "If airplanes are causing pollution, we should find new clean technologies for them!" I suspected that was the essence of the Green New Deal and committed to reading it when I got home.
I read it, and, indeed, it does state that we should seek out new ways to reduce pollution as much as technologically feasible. I suspect that a lot of the opposition to the Green New Deal has more to do with how people respond to the age, gender, and political party of the messenger rather than to the content of the message itself. While I dearly wish our society could get beyond that, I'm also left feeling grateful that I am part of a church association here in the US that provides a safe place to discuss differing viewpoints so that we as citizens can learn and grow. Have you read the Green New Deal? It only takes a few minutes.
---
Related News
Slavery in its various forms is an age-old institution, as old ashumancivilization itself, and...
Read More