From Glasgow to East Harlem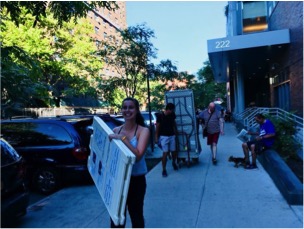 My name is Beth Morley, I'm 19, and I live in Glasgow, Scotland. This past summer I volunteered as a Summer Communities of Service intern in East Harlem, NY. I first found out about the program through Pastor Chris Lawrence, who is a family friend from the UK, who is all the pastor of Church of the Living Hope where I am volunteered. This summer at the Church of the Living Hope we have been leading a project called 'Faces and Places.'
The aim of the Faces and Places project was to bring people together in order to strengthen relationships within the community and continue working together towards an improved neighborhood. Over the past 8 weeks we brought people together as a community through the sharing of sports, photography, food, music, face painting, and arts & crafts.
Our activities have mainly been based in local parks and the senior center living facility. The SCOS orientation this year was based on improvisation and saying 'yes'; we have had to be flexible and improvise this summer to make the most of our time, I would have never been able to imagine how important the orientation would have been while going through the summer, I am appreciative of the entire journey. The training was especially helpful seeing as though this was the first year of the 'Faces and Places' project at East Harlem.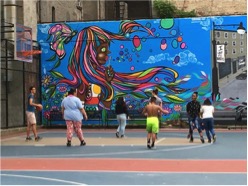 I believe strongly in the power of teamwork, and knowing I would be working as apart of this Faces and Places team was what first attracted me to this summer internship program. There are a total of 8 of us leading the Faces and Places project, we are supported by local high school students, the students dedication to this project was inspiring, they have been there to help us everyday. Our team is a diverse mix of ages, nationalities and experiences that has given us the opportunity to learn from each other whilst navigating the project and it's many complexities. We were all able to contribute individually and with this all of our passions allowed us to have a successful summer serving the community. 

I've learned more about the complexity of the social issues suffered in this neighborhood and its effect on people's everyday lives. I realized that the church could be one of the most important things in a community. Outreach programs are important but they require a lot of support.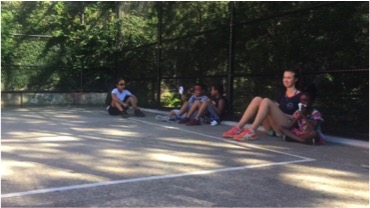 I have loved getting to know some of the local kids and families in the parks mainly through making arts and crafts, face-painting and playing volleyball. For me, being able to create a space in the park where kids of all ages-especially young girls-could feel confident to try a sport like volleyball was a real achievement and proved a great way to meet and socialize with lots of kids. We have also been organizing events that are more accessible and appealing to the local senior residents. It has been lovely talking to them in both English and (broken) Spanish and establishing connections between the center and our site that will hopefully continue to grow in the coming years. We have hosted BBQs and cookouts for over a hundred people, that included all ages, we sang songs in Spanish with seniors who have not been back to their home countries in decades. 
I didn't come America with any expectations; I believe that with projects like 'Faces and Places' we have to measure our success and our achievements in a different way. The ideas, motivations, interactions, attitudes and visions surrounding our project all matter, I believe that we did our best to help connect this community and strengthen the relationship between the church and the community. Throughout this time we have tried our best to support each other and bring people in this neighborhood together in a summer-long celebration of community life. Our achievements lie in the strengthened connection between our host site and community members, in the process of trial and error to discover what is possible here, and in leaving those who remain at our site after the summer more confident and supported in the continuation of this work.
---
Related News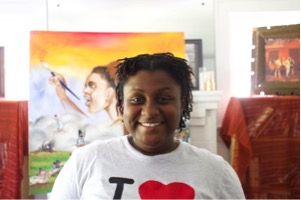 Being an intern at QC Family Tree via Summer Communities of Service has been one of the most...
Read More