Franklinton Center hosts disaster work teams
Franklinton Center Director Vivian M. Lucas (center) with her colleagues Wayne White, facilities supervisor, and Diana Allen, Office Administrator and Hospitality Assistant. Jon Wallace photo.
When faced with a need, offer the resources you have – and do it with style!
That's what the Franklinton Center at Bricks in rural Whitakers, N.C., did last month when it got an urgent request to house Mennonite Disaster Service volunteer work teams about to start coming to help the area clean up from Hurricane Matthew.
The center, a covenant partner of the United Church of Christ, quickly made rooms available in its newest building, along with three meals a day for up to 15 people at a time – all for free – until Dec. 17, when work will be suspended until the new year.
To help defray the cost of hosting work teams, United Church of Christ Disaster Ministries has approved a $3,000 solidarity grant for the center.
Franklinton Center Director Vivian M. Lucas said the center is accustomed to hosting and training visiting groups on social justice issues – more than 50 from across the U.S. in the past year – and also serves its socially and economically distressed county with multifaceted literacy and food justice programs.
This "transformative conference and retreat center" partners with UCC Justice and Witness Ministries to weave rural justice, hunger issues, environmental racism, and workers' rights into its programmatic focus.
But it had not hosted disaster recovery work teams before. 
Princeville residents' ruined belongings. Vivian M. Lucas photo.  The center is about 25 minutes' drive from historic Princeville, N.C., the oldest town in the United States incorporated by freed slaves, in 1885.
"Hurricane Floyd caused enormous damage in 1999, then Hurricane Matthew ravaged the town again," Lucas said. "People lost businesses. Schools have not yet reopened; the children are being transported to schools elsewhere in the county. Of the town's 2,000 residents, only 400 have been able to return.  The rest remain displaced from their waterlogged homes."
The Mennonite volunteers are working in Princeville, mucking out water and mud and removing moldy clothing, furniture, drywall and insulation from flooded homes, "necessary before rehabilitation of the homes can start," Lucas said.  "On the streets, you see piles and piles and piles of personal belongings.
"When the first work team showed up on our doorstep, we were happy because it gave us a way we could contribute," she said. "Hospitality is what the Franklinton Center does best. We provide a hot breakfast and dinner and a bag lunch, comfortable beds and hot showers."
A volunteer removes waterlogged material from a house. Jon Wallace photo.
This fall, the Franklinton Center has hosted teams from Virginia, upstate New York, Pennsylvania and Florida. 
Lucas said the center expects to continue to host work teams from various denominations until Princeville's recovery is complete. In addition to accommodations in the newer building (2007), the center also has an older dormitory-style building that, with a bit of refurbishing, will be ideal for future work teams, she said. Future work teams will be assessed a reasonable fee to cover costs. 
The center is in consultation with the UCC Southern Conference, UCC Disaster Ministries, the county emergency response office and Mennonite Disaster Service about the specifics.
"You have to have someone coordinating," she said.
Princeville is just one of the casualties in one of North Carolina's worst recorded disasters.  45 counties were designated for FEMA assistance, and 35 have either established or are re-establishing long-term recovery groups to help survivors with an estimated $6.5 million in unmet needs statewide.
Said UCC Southern Conference Disaster Coordinator and UCC Disaster Ministries Partners in Service volunteer Jon R. Wallace, "One of the most important considerations in disaster recovery is the priority for faith communities to collaborate with other faith communities and non-profit organizations.
"In the weeks ahead, as the UCC Southern Conference increases its activity in long-term recovery and rebuilding efforts in eastern North Carolina, the ministry of the Franklinton Center will be vital in housing and feeding volunteers … to bring peace and healing for the long term."
Click here to donate generously to the UCC's Emergency USA Fund to support Matthew recovery.
See also: In disaster recovery, the importance of the gift of space
And: UCC Hurricane Matthew response, from Caribbean to Carolinas
---
Related News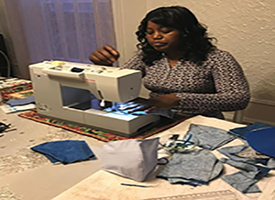 "It's so good making masks because it helps the community," said Sandra, a Congolese refugee...
Read More