Finalists announced for environmental justice award, to be presented at Earth Day Summit
This Earth Day, the United Church of Christ is planting seeds that will take root as an annual summit for environmental justice.
The first annual Earth Day Summit is on Saturday, April 22. The virtual event includes some other "firsts," one of them the presentation of the first Dollie Burwell Prophetic Leadership Award.
The award is named for the UCC church member who led a historic protest in 1982, taking on state sanctioned dumping of toxic cancer-causing chemicals in her Black North Carolina community. These actions have been viewed as central in launching a larger movement for environmental justice.
'You need collective action'
The Dollie Burwell Prophetic Leadership Award is unique because it recognizes a group engaging in collective action, rather than an individual. It is intended to showcase stories of congregations, ministerial teams or other groups in the UCC that have distinguished themselves in taking public action for environmental justice.
"Prophetic ministry is about a willingness to go public, centering justice and confronting those in power," said the Rev. Brooks Berndt, UCC minister for environmental justice. "To effectively do that, you need collective action."
The winner, to be announced at the Earth Day Summit, will be one of these three finalists.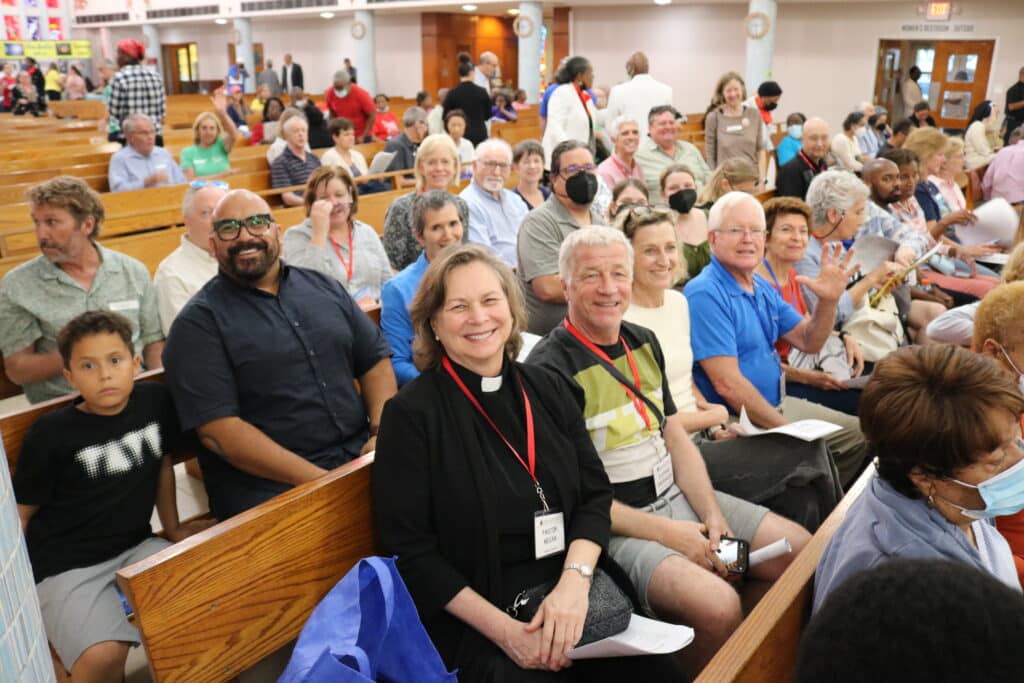 Coral Gables Congregational United Church of Christ
At Coral Gables Congregational United Church of Christ, more than 80 congregants joined an action in their Miami-Dade County, Fla., community to urge public officials to follow through on unfulfilled promises to increase the county's tree canopy.
The church's award application described this as an environmental justice issue because trees offer shade from extreme heat that can cause health problems and even death. The congregation came together with a countywide group of churches, synagogues and mosques called People Acting for Community Together (PACT), to request that the county plant new trees within 15 neighborhoods that have lower tree coverage and higher poverty rates, and they proposed that many be planted on public school land. County officials agreed to move these efforts forward.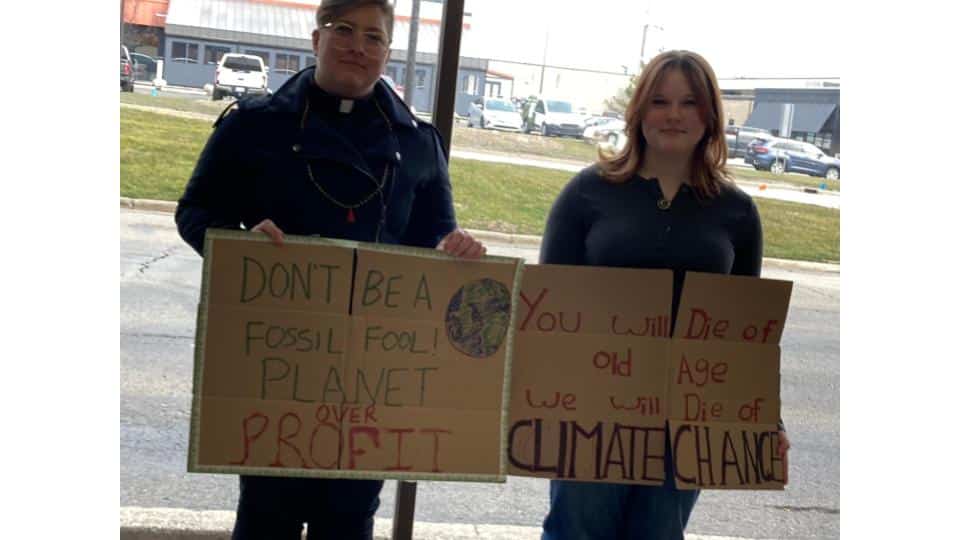 Great Lakes Creation Care Collaborative
The Great Lakes Creation Care Collaborative is an award finalist that took public action outside of banks with members planning to cut up their cards and close their accounts unless the banks divest from fossil fuels. The group, which includes participants from the UCC's Michigan Conference, Wisconsin Conference, Illinois Conference and Minnesota Conference, has held two liturgies/protests at Michigan banks so far this year with a third planned for April. The collaborative is coordinating its actions with larger movements like the Sunrise Movement, Customers for Climate Justice, and Stop the Money Pipeline.
Prior to taking public action, the Creation Care Collaborative held creation justice webinars and produced an Ash Wednesday to Earth Day Lenten Sourcebook.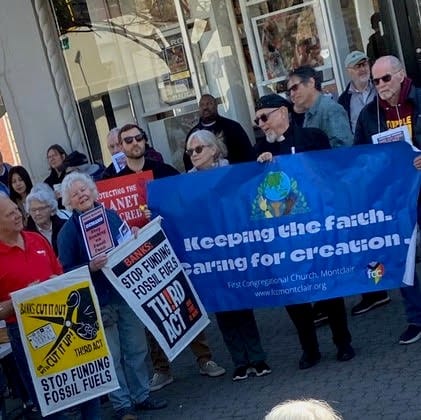 First Congregational Church of Montclair
On a sunny March day, half a dozen members of First Congregational Church of Montclair joined about 100 New Jersey climate activists to protest Chase Bank as the number one funder of fossil fuels in the world. Following a march, a delegation presented a letter at the bank branch encouraging fossil fuel divestment. It was part of a nation-wide demonstration organized by the group Third Act, a movement encouraging older adults to take action on climate change.
The congregation has taken other action this year as well – becoming a UCC Creation Justice church; protesting at the New Jersey State Capitol against seven pending power plants, in Newark and in New York City; educating church members about trash disposal; hosting Creation Justice student interns; and creating local interfaith partnerships. 
Stories of hope
Berndt said that honoring groups like these and their actions is one way to spread stories of hope and acknowledge the broader scope of environmental justice work taking place. "When we're giving out awards and honoring people, it's really about celebrating everybody in the UCC who's been active," he said.
The Burwell award is intended to honor a legacy of justice and inspire new action.
"A lot of what we do comes out of two things," Berndt said. "One is General Synod Resolutions, which focus on policy change, and the second is our history as a denomination that was central to the birth of the environmental justice movement through persons like Burwell, the Rev. Leon White and the Rev. Benjamin Chavis.
"This award is reflective of their public ministry legacy that continues. We want to encourage and honor, foster, promote and lift up that prophetic ministry."
Join the Summit
The Saturday Earth Day Summit, taking place April 22 at 11 a.m. ET, will feature a keynote address by the Rev. Jim Antal, a panel discussion with grassroots leaders, and a celebration of Creation Justice churches and climate fellows.
The two-and-a-half-hour online event is cohosted by the UCC National Setting, the UCC's Council for Climate Justice, Mayflower United Church of Christ and the UCC Minnesota Conference.
---
Content on ucc.org is copyrighted by the National Setting of the United Church of Christ and may be only shared according to the guidelines outlined here.
---
Related News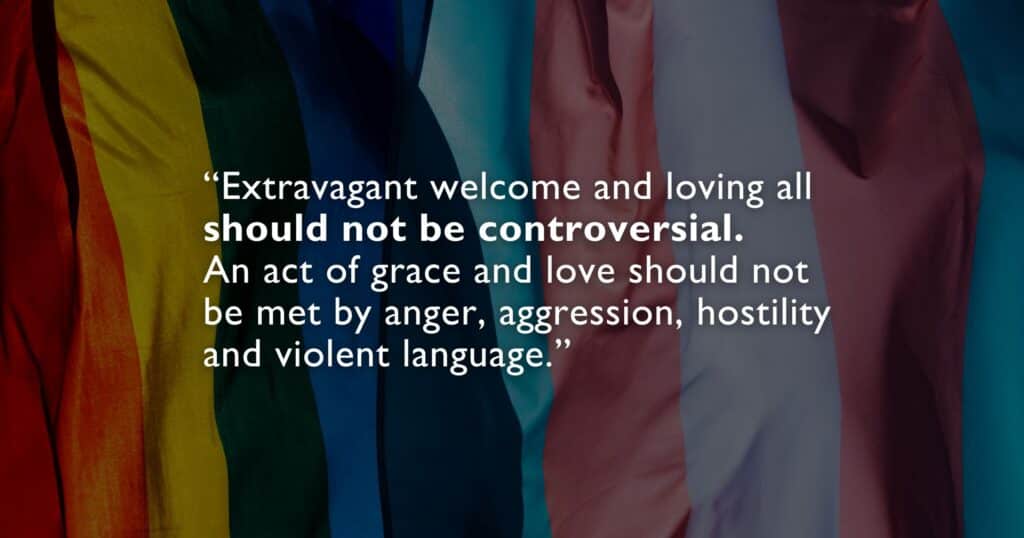 The United Church of Christ National Officers and the Conference Minister of the South Central...
Read More