Faith-based response to HIV and AIDS Getting Results
A range of faith-based activities are now being planned for the 2018 International AIDS Conference in Amsterdam, the Netherlands, July 23-27, 2018
The faith-based response to HIV and AIDS has become more visible and integrated. This is due, at least in part, to the increased engagement and coordination of faith-based representatives since the last International AIDS Conferences.
This year's conference will have a focus around how faith groups and leaders can, should and are building bridges to more effectively eliminate AIDS, with particular attention to marginalized groups. Tentative topics include: migration and HIV; children, adolescents and HIV; substance abuse and HIV; and people at the margins.
New scientific breakthroughs that reduce the possibilities of HIV being transmitted and lowering the death rate of AIDS has prompted unprecedented hope that the world can achieve the UNAIDS goal of "zero new HIV infections, zero new AIDS deaths, and zero discrimination." The partnership of faith communities with public health officials and political leaders is essential for HIV education, prevention, care, treatment and stigma reduction, said a report contributed by the United Methodist Church.
According to a recent report by the AIDS Institute New York State Department of Health, Faith Communities are helpful because prevention programs must be broad-based, making religious institutions an ideal setting for prevention efforts. In addition, most mainline denominations have established AIDS ministries to address the crisis, networks have been dedicated to HIV/AIDS prevention, and a variety of resources have been developed.
UNAIDS Executive Director Michael Sidibé thanked "the American faith community, advocating for justice and bringing care and services to people in the neediest communities." His statement made after the last conference, held in the United States, attracted some 24,000 participants from more than 195 countries.
The United Church of Christ has been a constant advocate of the faith community working to help reduce and now eliminate new HIV infections, deaths, and discrimination.
---
Related News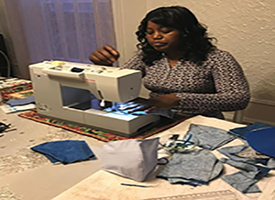 "It's so good making masks because it helps the community," said Sandra, a Congolese refugee...
Read More