Fair Food advocates target Wendy's in a march through Palm Beach
Hundreds of people marched through the sunny streets of Palm Beach on Saturday, April 2, to protect the rights of farmworkers who harvest food.
The Coalition of Immokalee Workers' March to End Modern Slavery in the Fields was aimed at Wendy's – the only large fast-food company which has yet to join the Fair Food Program.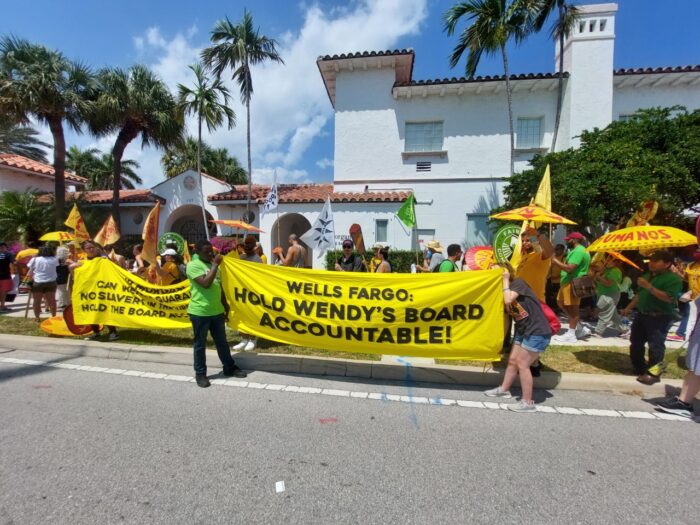 The Rev. Sekinah Hamlin, economic justice minister for the United Church of Christ, was one of several faith leaders who joined the protest. It meandered more than five miles through streets lined with boutiques in of one of the country's most exclusive communities.
"As we marched down alongside the shops and golf courses of the wealthy 1 percent, people took notice and came out to video or take pictures," she said. Hamlin noted that the protest was staged in the area near the beachfront home of Wendy's Board Chair Nelson Peltz and other company shareholders.
Wages, working conditions
The Fair Food Program supports farmworkers in the food supply chain by working with companies and coalitions to address unfair wages, dangerous working conditions, forced labor and sexual abuse.
The coalition launched the program in 2001 to ensure living wages and human working conditions, initially calling for an additional penny per pound of tomatoes picked by migrant farmworkers.
Since then, the UCC has stood with the farmworkers to advocate against abuses in the food industry. In July 2011, General Synod 28 delegates marched with the CIW in Tampa. When the coalition started targeting large fast-food chains, the UCC advocated with them, starting in 2005 with Taco Bell and including McDonald's, Burger King, Subway, and Chipotle.
The Coalition of Immokalee Workers has been calling on Wendy's, the lone holdout, to participate for seven years, the CIW's Silvia Perez told a Florida television station.
So has the UCC. In 2016, the UCC Board endorsed a boycott of Wendy's. In May 2017, in support of that boycott, advocates protested outside Wendy's headquarters in Dublin, Ohio, and in July, delegates to General Synod 31 in Baltimore voted to adopt a resolution affirming the Wendy's boycott.
Wendy's response
"Our biggest push right now is getting Wendy's to publish and talk about where they are harvesting their tomatoes from," CIW's Natalia Naranjo told WPTV. "Trying to get a clear idea whether or not they do have these cases of abuse. Whether or not there are these cases of modern-day slavery within the fields they are purchasing from."
Wendy's, in a written statement, said it hasn't joined the Fair Food Program because its tomatoes in North America are exclusively supplied by hydroponic greenhouses. It also asserts it has its own code of conduct for suppliers.
But Hamlin and other advocates aren't giving up. They are asking Wendy's shareholders to call on company leaders to support the Fair Food Program.
'Do the moral thing'
"Wendy's said this has nothing to with our supply chain. But the pandemic has shown us we are all connected," she said. "We know based on recent cases that modern-day slavery — forced labor — is alive and on the rise in the North American agricultural supply chain.
"We also know that before U.S. Customs and Border Protection put a hold on tomatoes from some Mexican farms, Mastronardi, a supplier for Wendy's, purchased and imported some of the ill-gotten tomatoes. Yet, Wendy's will not give any definitive statement that these tomatoes did not make it to their stores.
"The Fair Food Program would put a stop to such secrecy. We will not stop until Peltz and Wendy's do the moral thing and join like the other major fast-food chains."
---
Content on ucc.org is copyrighted by the National Setting of the United Church of Christ and may be only shared according to the guidelines outlined here.
---
Related News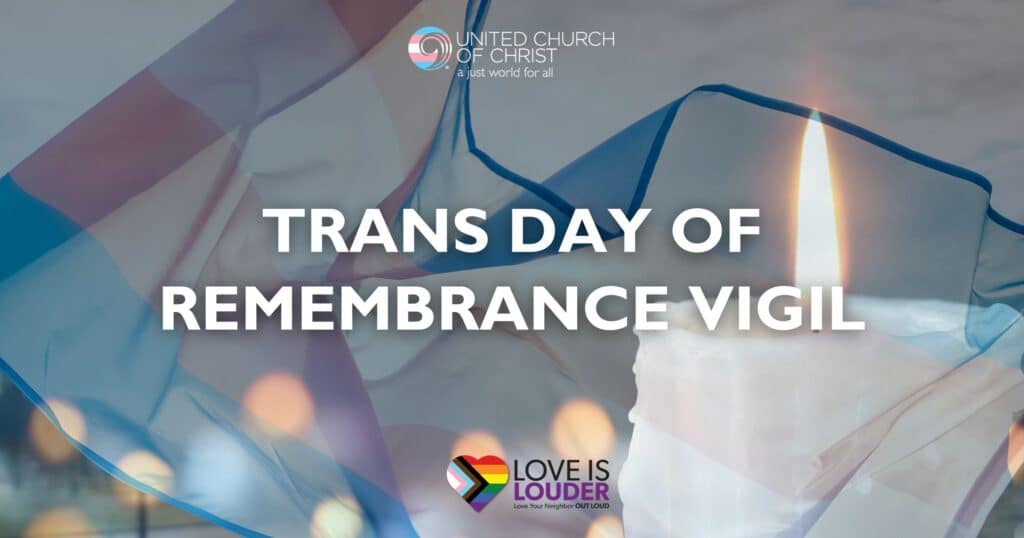 To mark Transgender Day of Remembrance (TDOR), the United Church of Christ hosted a vigil...
Read More