DRSI helps Ottawa, Naplate jumpstart tornado recovery
The EF3 tornado that raked Naplate and Ottawa in LaSalle County, Ill., Feb. 28 lasted about eight minutes – and changed those communities forever.  
Still, today recovery is farther along than would be typical at this point – perhaps even by as much as a couple of months – thanks to a partnership between the local community and the ecumenical Disaster Recovery Support Initiative.
The tornado was one of 10 that tore their way across north central Illinois that day. With wind speeds up to 155 miles per hour, it carved an 800-yard-wide path for 11.5 miles. It killed two, injured 14, left 600 nursing home patients homeless and damaged 600 homes.  Among the wreckage also was part of the Pilkington Glass Plant, one of the area's largest employers.
Though the impact of the tornado was extensive, the damage did not meet either state or federal disaster declaration thresholds. Without a federal declaration, and the accompanying assistance and resources, the community experienced early challenges in facilitating recovery for many of the affected households.
When a natural or technological disaster strikes a community, beginning the process of long-term recovery quickly is essential. Yet, it can be a daunting task for local leaders who may not have experience in disaster recovery and may have suffered damage and loss themselves.
The Disaster Recovery Support Initiative (DRSI) is a joint initiative of the disaster ministries of the United Church of Christ, Christian Church (Disciples of Christ) and Church of the Brethren.  Its goal is to help communities shorten the time between the immediate disaster response and
long-term recovery.
It does this by deploying a Disaster Recovery Support Team (DRST).  Invited by local community leaders, their sustained on-site presence encourages, models, mentors and supports the development of community-based long-term recovery groups as soon as possible in a disaster's wake.
That is what is happening in Naplate and Ottawa.  DRSI's Long-Term Recovery Group Formation Advisor Rachel Larratt and Construction Management Advisor Tim Sheaffer are on the ground providing training, support and guidance both to the Ottawa/Naplate Long-Term Recovery Group (LTRG) and other community organizations that are working toward recovery.
They have been helping the LTRG determine the unmet needs of the tornado's survivors, including conducting damage assessment (Tim Sheaffer pictured, top).  With the support of the DRSI team, the Ottawa/Naplate LTRG has registered approximately 300 households, which are now in process for disaster case management – and thus one step closer to recovery.
– By Rachel Larratt
Pictured, bottom: Larratt and Sheaffer meeting with the mayors of Ottawa and Naplate.
---
Related News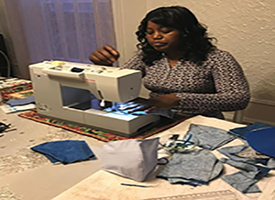 "It's so good making masks because it helps the community," said Sandra, a Congolese refugee...
Read More