Blueberries symbolize "home at last" for Superstorm Sandy evacuees
Natalie Gill and her daughter Jahzara, 8, picking blueberries at the edge of the woods that surround their new home.
"I miss the beach, but I love the woods. We have blueberries growing wild in our new backyard!"  That's how Natalie Gill sums her Superstorm Sandy story.
Of course, a lot happened between fleeing the New Jersey Shore and finally finding home near the woods, in a new house constructed in a public-private partnership that includes United Church of Christ Disaster Ministries.
Gill was one of tens of thousands of U.S. East Coast residents forced out of their homes by the October 2012 hurricane.  A few hours before Sandy made landfall, she and her four children grabbed a few personal effects including two favorite chairs and left everything else behind in the condominium they rented in Seaside Heights, N.J. 
"I never went back," Gill said.  "I couldn't bear it.  I kept moving.  I couldn't stay in one place."
After nearly three years of moving more than a dozen times in a struggle to survive, Gill is finally able to say, "I am home now."  On July 1, she and her family moved into one of six new three-bedroom houses on a quiet, wooded block in Berkeley Township, N.J.  The family's two favorite chairs have a place of honor on the front porch.
Two other Sandy-displaced families moved into their new homes on the same day, and the remaining three houses will be occupied soon.
This is an unusual housing development in several ways.  It is rental housing specifically for renters who are still displaced almost three years post-Sandy.  Rents are on a sliding scale based on family income.  The houses are the first of an eventual 12 for Sandy-displaced renters to be constructed by the not-for-profit agency O.C.E.A.N., Inc., based in Toms River, N.J.
Representatives of O.C.E.A.N., Inc., and Berkeley Township, N.J., at ribbon-cutting ceremony celebrating six new rental homes for Sandy survivors.
At a ribbon-cutting ceremony Aug. 26 to celebrate the new development, UCC Disaster Ministries Executive Zach Wolgemuth explained that after a disaster, renters get much less help than do homeowners. 
"For example, FEMA helps renters replace their possessions, but not their housing," he said.  "Typically, at least some rental housing damaged or destroyed in a disaster is not replaced, and often rents on available units go up, squeezing out low- to moderate-income tenants.
"But it's a dilemma how to help disaster-displaced renters without lining the pockets of greedy landlords," Wolgemuth said, "unless you can find a local housing partner like O.C.E.A.N., Inc."
Since 1965, O.C.E.A.N., Inc., has been delivering programs designed to help families achieve self-sufficiency.  The agency became a registered builder in New Jersey in 1999 and has constructed, acquired or rehabilitated 146 affordable rental units in Ocean, Atlantic and Monmouth counties.
Marilyn Andujar and her son Brandon Camacho, 20, a business major at Ocean County College, also moved in to an O.C.E.A.N., Inc., house July 1.  They had rented a condominium at Ortley Beach before it was damaged in the hurricane and, eventually, foreclosed. Of their new home in Berkeley Heights, Andujar said, "I love it. You sit on the front porch, see the woods, hear the cicadas!" Camacho, who works on the boardwalk and has raised funds for boardwalk repair, added, "It's nice to be in an actual house."  Not pictured: Marilyn's daughter, a senior in high school.
When Superstorm Sandy made landfall in New Jersey, Ocean County was "ground zero," with 55,000 residents – including 10,000 renters – displaced by the hurricane.  O.C.E.A.N., Inc., set out to assist Sandy-affected renters. 
Many years ago, Berkeley Township had given O.C.E.A.N., Inc., some land to develop.  The agency undertook construction of the first six homes.  It raised funds, including $50,000 from UCC Disaster Ministries, for construction materials.  Brethren Disaster Ministries* work teams "did everything except cement, plumbing and electrical work," said O.C.E.A.N., Inc.'s President and CEO Ted Gooding. 
Gooding said his agency hopes to break ground soon on the remaining six houses, on the next block over from the first six.  "Twelve houses might not sound like many, but they make a dent and I am so excited to make a dent," Gooding said.
For Natalie Gill's part, her new house is making more than a dent in her life.  She said she and her children didn't get moved in a moment too soon. 
"When you live in shelters, you get used to that lifestyle," she said, "but at the last motel we were in, there were drug addicts, loud parties, knocks on the door at 3 a.m., fights.  I got scared for my kids," she said.  "I started panicking.  After I applied at O.C.E.A.N., Inc., for this house, I couldn't wait.  I kept calling, pushing, saying, 'You have to get me out of here!'
"Now that we are in the house, it means my kids are stable.  I love it.  The kids love it."  The day of the ribbon cutting, Natalie's 12-year-old son and 8-year-old daughter were exploring the edges of the woods that surround the house, picking blueberries, counting mushrooms and collecting pine cones for a craft project.  (Gill also has a 16- and a 21-year-old son.)
"As for me, I love my house, the woods, the moon in the trees," said Gill, who is in college studying graphic design.  "We belong to a community.  We have something again."
---
Related News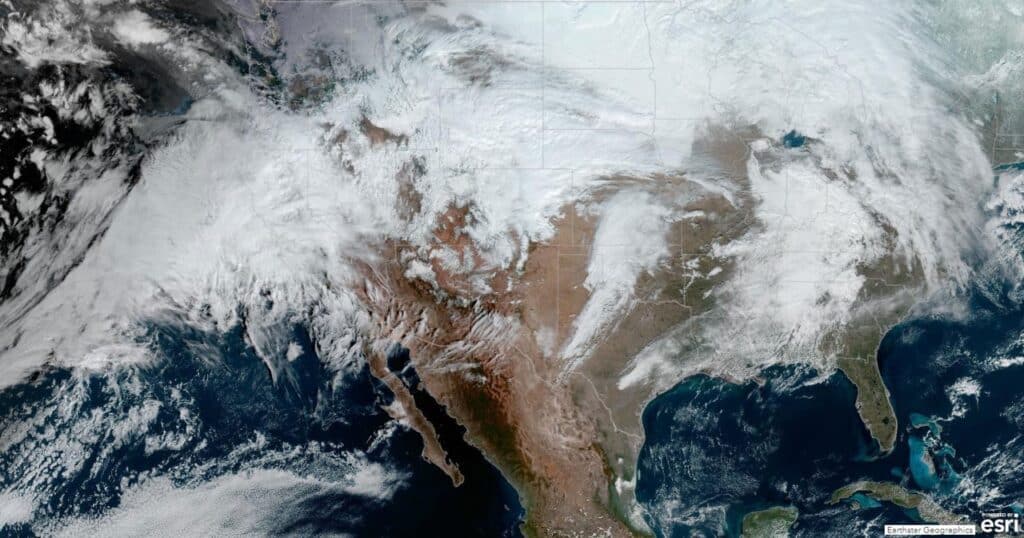 United Church of Christ Disaster Ministries is tracking a series of deadly storms surging up...
Read More