Cultivate for Justice
Ideas for community gardens, creating food opportunities, utilizing church landscape to pull carbon, and more. Read more…
In recognition of the urgent need to address the intertwined crisis of climate and inequality, the UCC Council for Climate Justice has defined the next ten years as a kairos window of divine opportunity in which people of faith are called to an all-out mobilization of their gifts and resources. Over the course of ten weeks, the council will offer a weekly suggested action for how churches and institutions can mobilize during this critical period. Here is the fourth suggested action: 
4. Cultivate gardens, landscapes, and appetites in the struggle for justice.
Through church-based community gardens, provide food or opportunities to grow food for the homeless, low-income households, and refugees.
Through adult education sessions learn about the work conditions and environmental practices surrounding the food you eat as it makes its way from farm to table. Consider who has control, power, and access throughout the food production and distribution process. Learn about the injustices that occur such as the sometimes fatal consequences of rising temperatures for undocumented migrant farm workers. At the same time, learn about just and sustainable agricultural practices. One can do this by promoting Community Supported Agriculture, visiting farms and ranches engaged in restorative agriculture, or bringing local practitioners to your church. 
Pull carbon out through how you make use of your church's landscape. With the possible help of local gardening or conservation organizations, possibilities include:
Cultivate healthy communal practices during potluck and coffee hours. Celebrate the local gifts of creation and practice what you preach through your eating. Eat food that is grown locally and sustainably. Moreover, eat plant-rich foods that model healthy eating which is good for both the body and the planet.
---
Related News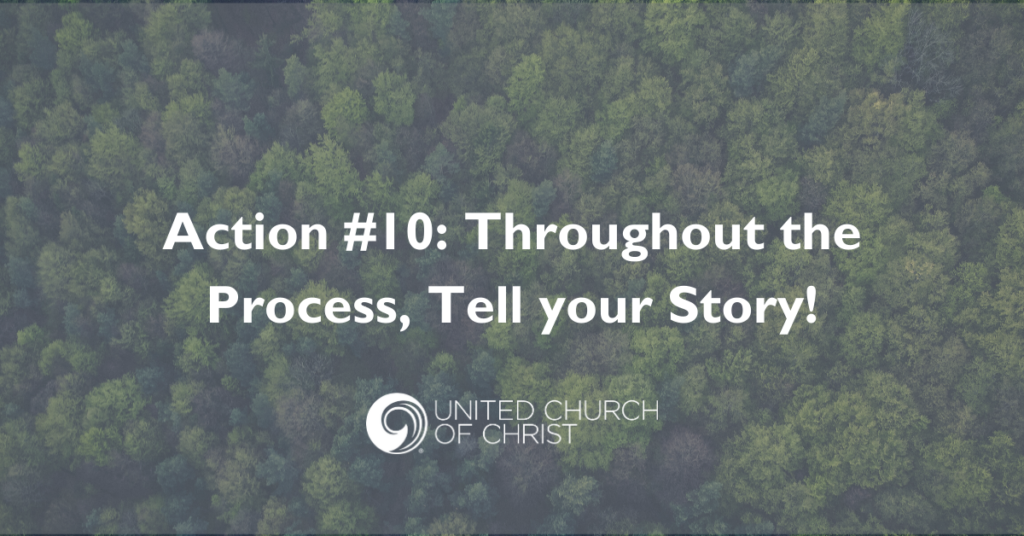 10) Throughout the process of mobilizing, tell your story!  Be it media, church newsletter, or...
Read More