Crossing Borders for Survival
The Latin American Council of Churches (CLAI) organized a Conference with religious and ecumenical organizations working in Mexico and Central America as a response to the critical situation of Central America. The event titled, the Bi-National Conference on Migration, Children and Border, was held in Guatemala, a city in itself that hosts migrants from many parts of the region.
Participants in the Conference practiced the "See-Judge-Act" experience of Liberation Theology as they walked through the city to the Migrant House where many stay while in transition. There they witnessed the everyday lives of people along the Suchiate River transporting goods across the border.
In a real sense, however, the people themselves are the biggest commerce of the region as migrants are forced to scratch out a livelihood in the shadows of these borders that offer only despair and distress. It is not unlike the uncertainty faced by many new immigrants in the United States context who are forced to migrate in order to escape what Sister Dee of the organization Proyecto Vida, calls the "national nightmare of violence in Central America". Sister Dee sees its victims daily as she works through this faith-based youth organization responding to HIV in Guatemala.
One of the challenges addressed at the Conference was that in the national Guatemalan sphere, churches have not demonstrated a unified solidarity; nor have they pronounced themselves institutionally related to immigration. Gloria Vicente Canú, a Global Ministries' missionary serving with the Ecumenical Christian Council of Guatemala (CEGG), reminds us that churches in the United States face the same challenges.
According to Gloria, outcomes of the Conference included participants pledging to work better together and declaring publicly for Latin American churches calling to engage in a more dignified response to Central American nationals. In Addition, sustainable dignity efforts in Central America grew stronger.
One Great Hour of Sharing support Global Ministries and partners around the world working to improve the situation in Central America and beyond. This report was written by Gloria Vicente Canú.
---
Related News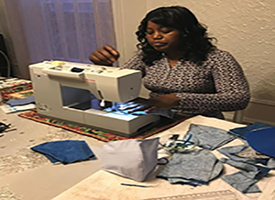 "It's so good making masks because it helps the community," said Sandra, a Congolese refugee...
Read More