Call for Values Based Voting
Sign on to the Creation Care Voter Pledge and tune in to a training webinar. Read more… 
In recognition of the urgent need to address the intertwined crisis of climate and inequality, the UCC Council for Climate Justice has defined the next ten years as a kairos window of divine opportunity in which people of faith are called to an all-out mobilization of their gifts and resources. Over the course of ten weeks, the council will offer a weekly suggested action for how churches and institutions can mobilize during this critical period. Here is the seventh suggested action: 
7) Make every election a time to call for values-based voting that expresses care for creation and justice for all.
Invite members to take the Creation Care Voter Pledge which is a non-partisan effort that supports people of faith in consistently voting their values so that they put "love into action for every living creature and for every economically or racially marginalized community that suffers from environmental harm."
Collect and dedicate the pledges of members in worship as Church of the Covenant did in Boston.
Similar to how church members might volunteer at a food bank, encourage members to phone bank. Organizations like the Environmental Voter Project regularly host training webinars for volunteers to text and call people in encouraging them to vote their values.
---
Related News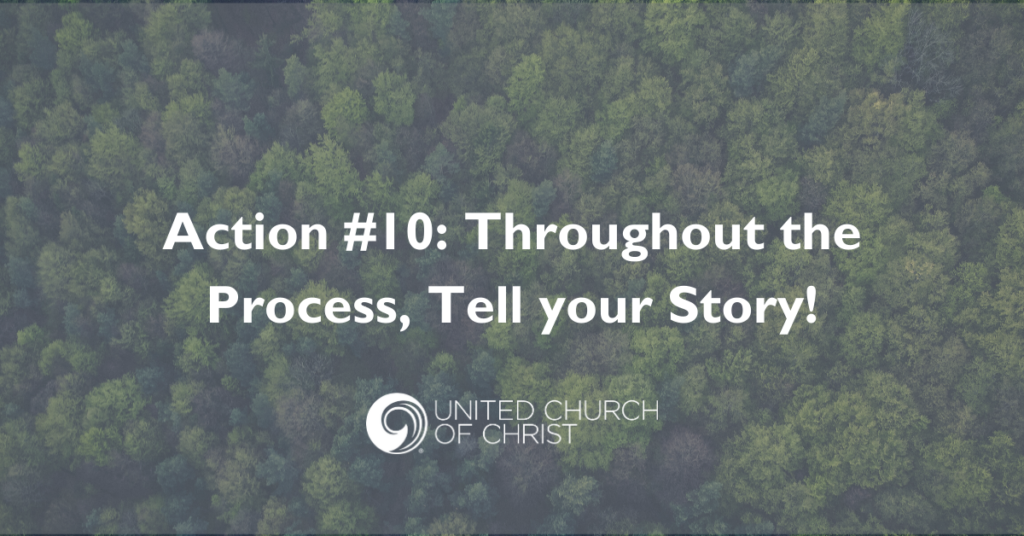 10) Throughout the process of mobilizing, tell your story!  Be it media, church newsletter, or...
Read More