As MOLO opening nears, tenants 'thank God' for Louisville pastor's vision
"Thank God for her vision."
Simone Hicks spoke for many, it seemed, as she settled into her new home. She was talking about the Rev. Jamesetta Ferguson, founder of MOLO Village, across the street. If not for Ferguson, Hicks might not be living in what she said is "like a fancy hotel" compared to some of her past homes in public housing.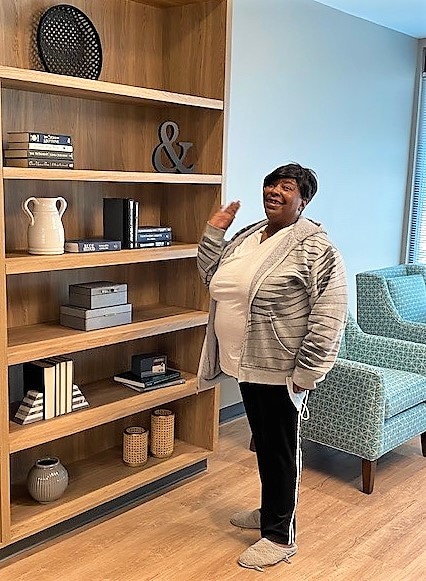 Ferguson is the pastor who helped revive historic St. Peter's United Church of Christ in Louisville, Ky. She imagined social services and businesses next to its historic building. She raised the money to build space for them, with help from the UCC Church Building and Loan Fund, Cornerstone Fund and other partners.
And now it's almost finished: a 30,000-square-foot facility, known as the Village at West Jefferson. It also goes by MOLO Village, using the word for "welcome" in Xhosa, a southern African language.
Refreshed public housing
How does this connect to Hicks' new home? Because of something Ferguson got done in the process of creating MOLO.
The city was tearing down Beecher Terrace, the public housing complex across the street from where MOLO is now. Residents, including Hicks, had to leave. Ferguson made sure they would have the option to move back in after the city rebuilt it.
And now, on the heels of the first rebuilt section at Beecher, MOLO is getting ready to fill up, too. It will house the first significant new services in the Russell neighborhood — part of the larger West End section of Louisville — in decades.
Finishing touches are still being completed at MOLO: awnings, signs and trees outside, and the foyer inside. Ferguson said she expects a ribbon-cutting in April and a grand opening this summer.
Safe and affordable
"I'm serious," said Hicks about her new place. "It's so, so beautiful. I couldn't imagine living somewhere like that."
Hicks moved her family to Louisville in 2003 from East St. Louis, Ill., seeking, among other things, better schools. She is grateful for her years at the old Beecher and then at Avenue Plaza, five miles away, during the tear-down and rebuild.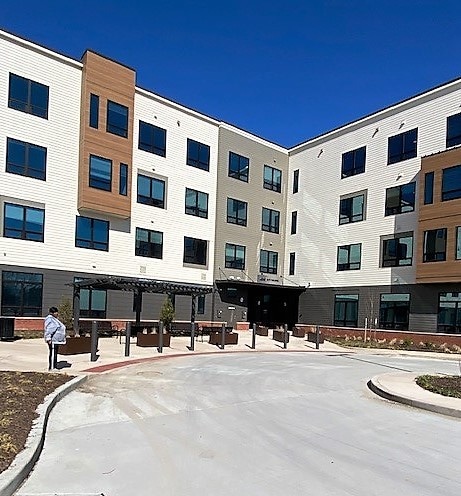 "All my grandbabies have graduated," she said. "One of them is in college."
Now, she said, her new one-bedroom place will make a big difference to her as a senior citizen. It has a dishwasher, ceiling fan and other conveniences.
The Louisville Metro Housing Authority continues to operate Beecher, much of which is still under construction. But now it will be a mixed-income complex. The seniors' building, where Hicks lives, has a fitness center, hair salon and community spaces with things like a fireplace and pool table. And it's affordable. Monthly rent is still income-based. "I was paying $191 in Avenue Plaza," Hicks said. "All I pay is $200 here, and it's much safer."
'Doesn't look like the projects'
The biggest bonus to Hicks, though, is across the street at MOLO. "Beecher Terrace is nice, don't get me wrong," she said. "But MOLO Village is so lovely, it doesn't look like it should be — can I say? — in the projects."
The Village is built to foster community. Ferguson's MOLO Village Community Development Corporation will have its own space for activities for seniors there, as well as educational programs for all ages. Coming soon are a restaurant, a credit union, a health clinic and more.
Hicks said she is eager to make use of what the Village will offer. The incoming entrepreneurs and nonprofit leaders sounded equally eager. They, too, hailed the pastor's vision.
'Just what we need in the community'
"Pastor Jamesetta Ferguson is truly a pioneer for getting this done," said Butch Mosby, whose nonprofit creates affordable homes and gives microloans. "This is just what we need in the community. Hopefully from this will come a lot more development in the neighborhood."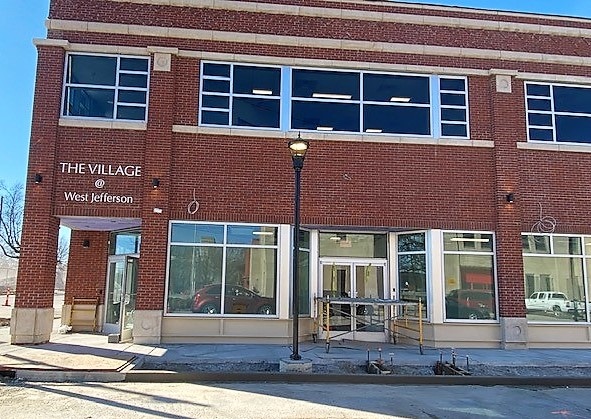 Mosby grew up in the West End, went on to success in corporate America, and now lives in Germany. He said he took space at the Village for his Sponsor 4 Success ventures because they have the same goal: to revive the neighborhood socially and economically after years of neglect.
Sponsor 4 Success's cluster of activities — investments and real estate, as well as crowdfunding for students and community projects — is leasing 2,000 square feet at the Village.
It's one of several ventures that are coming in to invest in the neighborhood — to be part of, as Mosby put it, "the first commercial development to happen in this neighborhood in the last 25 years."
Supporting Black businesses
One of them, occupying just over 3,000 square feet, is the Russell Technology Business Incubator. Executive Director Dave Christopher said he already has 35 Black- and Latinx-owned ventures signed up.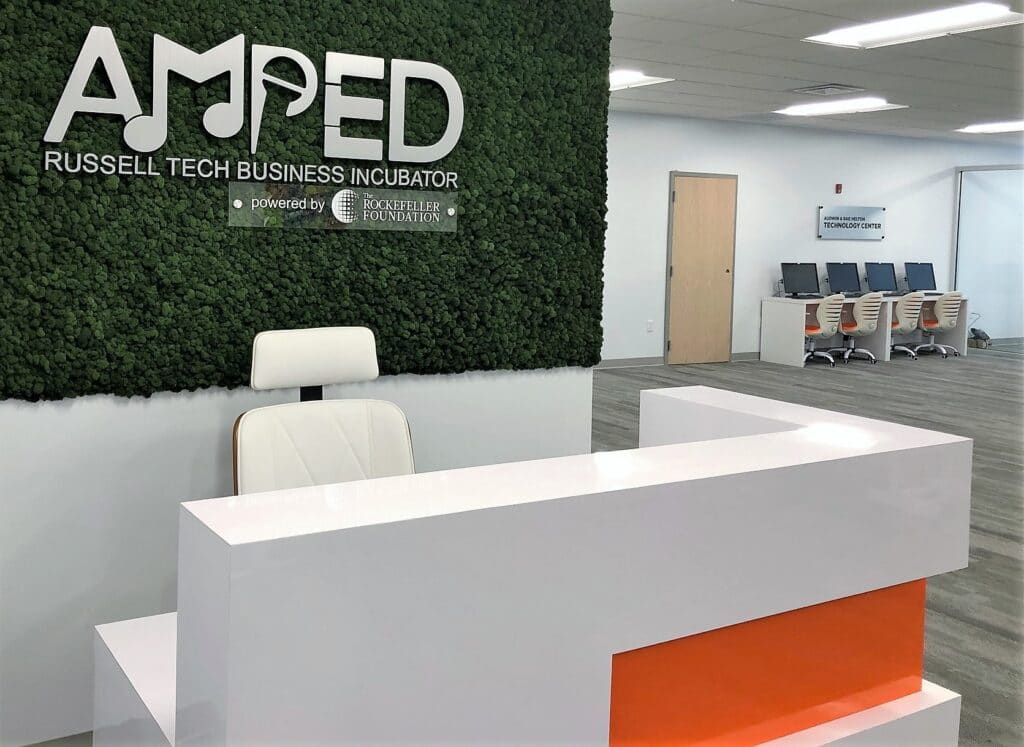 "We provide everything they need to be successful at no cost to them," he said. That includes seed capital to buy equipment, entrepreneurial advice, back-office help with accounting, marketing, building websites and apps, and more. His clients are startups in diverse fields: computer applications, restaurants, catering, logistics, event planning, retail, fashion and motivational speaking.
"Louisville is 24 percent Black, but only 8 percent of businesses are Black-owned," Christopher said. "And those have been suffering because of all the inequities: access to capital, redlining, access to networks." The incubator aims to change that, he said. And the Russell neighborhood, with a 91-percent Black population, is the right place to do it — especially given the safe space that Ferguson has created.
'This is what we look like'
Because of that, Christopher said, his other "AMPED" ventures will also feel at home when they use the incubator's space at the Village. Already operating at other sites in Louisville, they focus on music, technology, mentoring and equipping "youth and their families to work as a team."
Services like those will not be the only value of the Village, Christopher said. The place itself is a symbol of what's possible.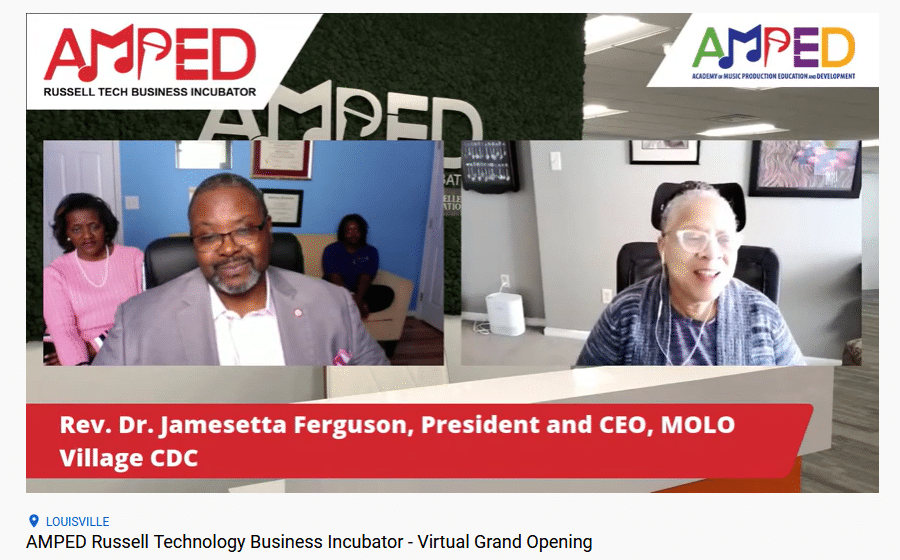 "When you look at the media and all the things that define who we are as Black people, it's not good," Christopher said. "All the attention that MOLO Village is getting is because of the fact that Pastor Ferguson brought all the community together and said, 'Here's who we are. This is what we look like.' For the folks at Beecher Terrace to see a beautiful building like this — it speaks volumes. It's everything."
'It was an easy yes'
One thing they'll see there by summer is a brand-new branch of Park Community Credit Union. "It was an easy yes for us," said Raymond Smith, Park's vice president of community development.
The credit union had already made a $7.5 million commitment to provide affordable home mortgages in the West End, including low interest rates and other special assistance with financing and closing costs. It also offers loans of up to $10,000 at just 3.99 percent to start or expand small businesses.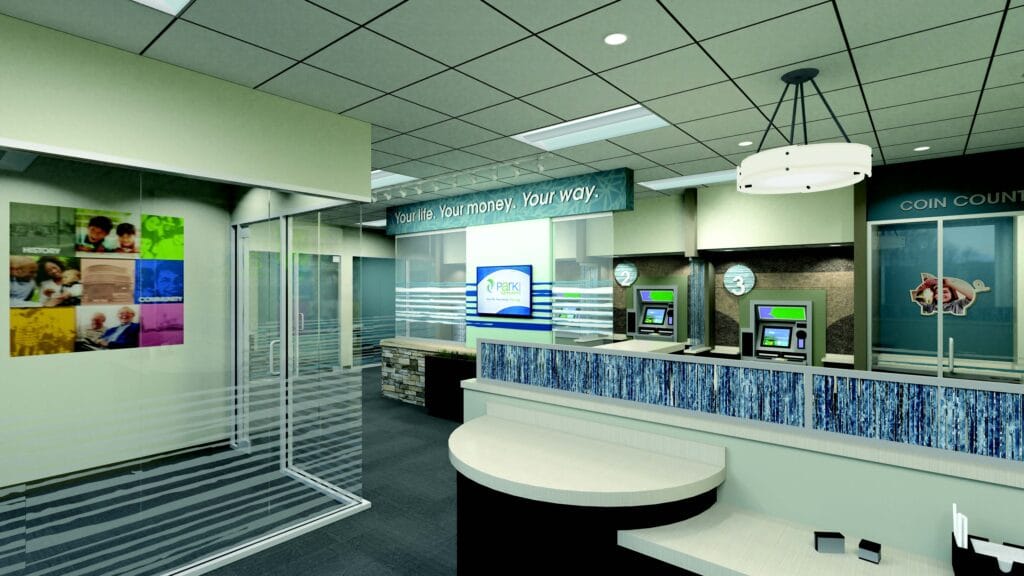 Now it's building a 2,000-square-foot, full-service branch at the Village. In-person services will include everything from safe-deposit boxes to conference rooms for loan closings. It will also have a drive-through kiosk, an ATM and ITMs — interactive teller machines for conversations with remote tellers.
A UCC branch manager
The branch manager will be someone who understands the project. Lisa Raines, currently at another Park branch on the edge of the West End, sees a connection between the credit union's mission and the UCC's. She belongs to Louisville's St. John UCC. Her husband, the Rev. Dale Raines, is pastor there. She said St. John uses the UCC slogan, "No matter who you are or where you are on life's journey, you're welcome here."
"It's the same philosophy with Park," Lisa Raines said. "Sometimes people have had financial bumps in the road. But we welcome you here. We want to help you with opening your first account, or buying your first car or home, or starting your first business. We never want to say no, but sometimes we say, 'Not yet. Here are some things to do. Here's what we need to do to get you there.'
"Opening those opportunities to people who haven't had those in the past is critical. Financial security is so important. Having someone who actually understands that and who cares can make a difference. I'm really proud to be able to have that opportunity. I love making a difference in people's lives."
Smith said the vision behind the Village — and the fact that it's not just a vision — make it a "great fit" for Park. "If you don't have access to opportunity, to capital, it's not worth the paper you write it on," Smith said. "I can't applaud Pastor Ferguson enough, what she has done and what she's doing. She literally is bringing opportunity back to the community."
'It's a dream come true'
The variety of other tenants will include:
"It's a dream come true," Jamesetta Ferguson told Christopher during a virtual grand opening he held Feb. 16. "We started this project with the hope of bringing Black investment back into the Russell community. And you are doing it."
Hicks, the returning Beecher resident, has also seen the Village go from dream to reality. She joined St. Peter's 13 years ago, when Ferguson became pastor. She sees it as part of the church's mission. "The church has always been what you call a community," Hicks said. "We give away food on Fridays. We have weekday school programs, a program for prisoners just getting out of jail, AA meetings. My pastor loves to keep us busy."
But she said the Village and its vision are unique. "Ain't nothing like MOLO Village, now," Hicks said. "I really love what we have there."
---
Related News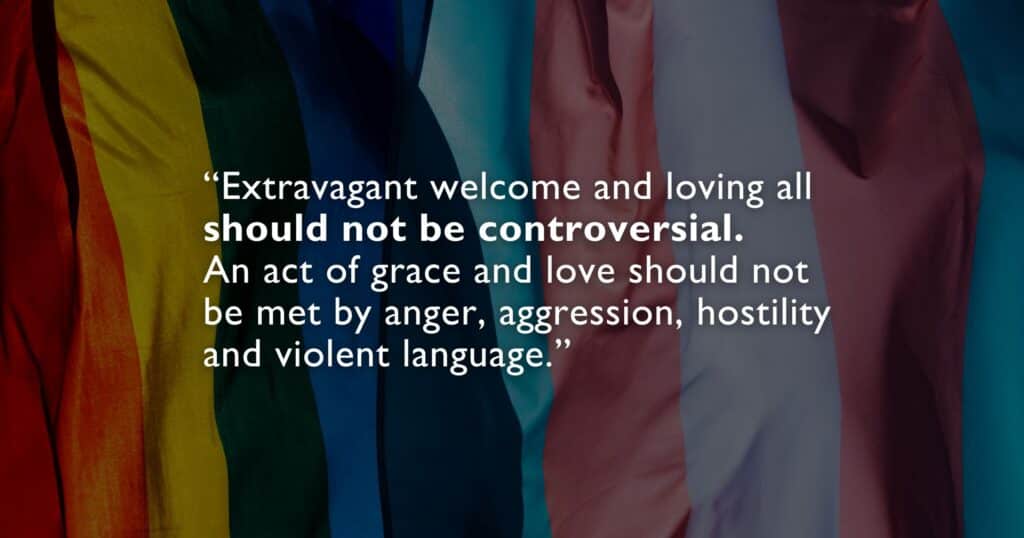 The United Church of Christ National Officers and the Conference Minister of the South Central...
Read More