Action and advocacy needed now for the people of Afghanistan
Action and advocacy. Two ways, in addition to prayer, that UCC'ers can assist the people of Afghanistan.
The United Church of Christ national officers are urging people of faith to join their call for a swift response to the humanitarian crisis in Afghanistan.
The executives released this statement on Aug. 17 calling on the United States to invest long term in "'things that make for peace' such as peacebuilding, humanitarian support, diplomatic engagement, and expansion of access to the U.S. resettlement program to provide refuge for Afghans fleeing violence and persecution."
The church's national offices immediately offered two resources to church members and congregations to call on lawmakers to expedite refugee protections for Afghans in peril and to offer welcome to Afghans who resettle in the United States.
With the U.S. withdrawal from Afghanistan, threats against Afghan nationals who cooperated with the U.S. military are on the rise. Right now there are roughly 18,000 Afghan interpreters and others, along with over 50,000 of their immediate family members, currently in the Special Immigrant Visa (SIV) process. As the Taliban takes control of Afghanistan's major cities and U.S. military and diplomatic personnel pull out, the Office of Refugee Resettlement is anticipating a surge of arrivals. But those people have to get out of the country first.
"We cannot turn our backs on those in life threatening circumstances now," said the Rev. Noel Andersen, director of grassroots organizing for Church World Service and coordinator for the UCC Collaborative on immigration. He spoke out on Wednesday, Aug. 18, during a Voices from Afghanistan press event urging the administration to expedite refugee protections.
"We have a moral obligation to evacuate as many people as possible to safe locations in the U.S. or a U.S. territory such as Guam. We must expedite and expand the Afghan refugee and SIV processing immediately."
With this action alert from the UCC Washington D.C. office, users can call on Congress to urge the Biden administration to take immediate action to honor U.S. commitments to the Afghan people who have sacrificed much to aid the U.S. mission in Afghanistan.
"We must fight to ensure that every last one of our allies is brought to safety in U.S. territory – where they will have access to the U.S. immigration system and be sheltered from Taliban violence," Andersen said.
The UCC Global H.O.P.E. team has prepared a toolkit for churches, to help congregants discern their particular call at this critical time.
"There are bodies of evidence-based research agreeing that community organizations that wrap new immigrants and refugees into supportive care through love and belonging is one of the most valuable tools that can be offered to these vulnerable populations," said Irene Hassan, minister for refugee and migration ministries. "Churches may feel like there's not much they can do to help, but the truth is that when we form trusting relationships with people who are scared or discouraged, the magic work of God's transformative power comes alive."
Hassan outlines seven steps in the Welcoming and Advocating for Afghan SIVs and Refugees toolkit. Access it here.
Step 1: Enter a process of discernment in your congregation.
Use the "Becoming an Immigrant Welcoming Congregation" resource to navigating this conversation in your church. It includes theological discernment and grounding in UCC pronouncements and resolutions.
Step 2: Research the context of Afghanistan and its people.
Learn specifically about the conflict in Afghanistan, the culture and history of the Afghan people, and experiences of SIV migrants coming to the U.S. They may need a host of assistance around housing, transportation, and documentation such as ID cards and government benefits, and job placement.
Step 3: Find out what the specific needs are in your area.
Contact the U.S. Office of Refugee Resettlement, which coordinates refugee resettlement so that families and communities stay connected. Certain cities will receive higher numbers of Afghan SIVs than others.
Step 4: Form a committee to compile your resources.
Have a conversation in your church about what resources and skills you may have to offer incoming Afghan refugees, such as temporary shelter, financial sponsorship, job training, cultural acclimation, and personal assistance – like helping find schools for their children and getting the adults a driver's license. Envision together how much time you can reasonably spend on this project and how many people you want to involve.
Step 5: Contact your local refugee office.
Once your congregation has collected sufficient resources and information, contact your local refugee office. Share what you've done to prepare your congregation to assist an SIV family. Clarify the specific resources you can offer. Be flexible. It may be that the refugee office has different needs than what you planned to provide.
Step 6: Advocacy.
Advocacy is a critical part of what churches can do to leverage resources and voices on behalf of immigrants and refugees. Contact lawmakers using the latest action alert or reach out to the Global H.O.P.E team and UCC office in Washington D.C.
Use Church World Service or International Refugee Assistance Project resources. Sign up for the UCC Justice and Peace Action Network alerts to stay engaged in the process.
Step 7: Giving.
Financial support is important to refugee resettlement. Take a special offering, solicit individual donations, and/or hold a fundraiser. Support your local resettlement agency, or give to One Great Hour of Sharing and your designated donation will be routed to the UCC's Refugee and Migration Ministries, which supports refugee programs across the church and with UCC partners.
"Alongside the toolkit, we are planning to host a live online training in mid-September that will allow local congregations to ask questions and formulate a tailored action plan that is respective to their local contexts," Hassan said.
"Global H.O.P.E. will be providing tailored resources for UCC congregations to take action, as well as hosting a Q & A for churches considering building responsive ministries," she continued. "Congregations will walk away with confidence for action in response to the call to help."
That training and resource guide online event is scheduled for Saturday, Sept. 11, 5-6:30 p.m. ET, and one can register here. Hassan also noted she is already taking calls from local churches looking for information on how to sponsor a refugee family. "We at United Church of Christ National Ministries and our partners will be there to walk alongside those congregations as they make their ministry dreams become reality."
"As a Just Peace church, we proclaim with prophetic hope that 'peace is possible.' We are not about to stop believing that today," the officers' statement reads. "Let us hold on to the hope that peace is possible and commit ourselves not only to keeping our Afghan siblings in prayer, but also to committing: our churches to welcome refugees; our voices to engage in advocacy; our hearts to establish partnerships; and our minds and bodies to support the 'things that make for peace.'"
---
Related News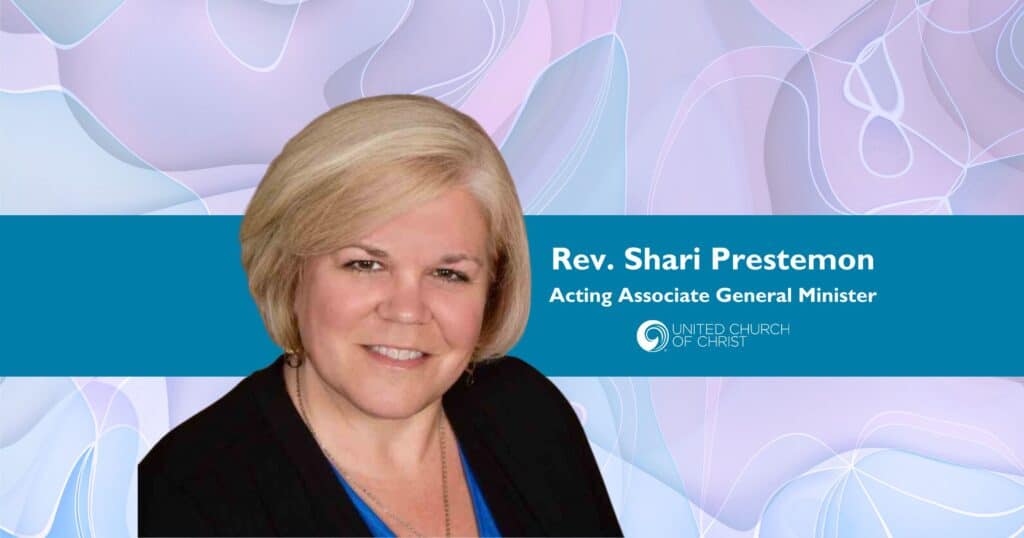 A new United Church of Christ national leader has been called. The UCC Board voted in a...
Read More