Members of the faith community have long advocated for sensible, responsible policies to end gun violence. In 1995, The UCC 20th General Synod passed a resolution entitled "Violence in Our Society and World," in which it recognized the complicated and interwoven layers at the root of violence.
That same General Synod also passed a resolution entitled "Guns and Violence," inviting UCC members and congregations to advocate for legislation to strengthen licensing and registration of gun sales, strengthen regulations of gun dealers and ban semiautomatic assault weapons and high capacity ammunition clips.
The faith community has come together many times in the aftermath of gun tragedies to urge lawmakers to pass laws that prevent gun violence. Tested by our grief, resolute in our faith we remain committed to continuing this drumbeat.
Resources
Faith vs. Fear Bible Study
A faith response to gun violence
Want to be a voice for change? Need help?
Check out this guide written for faith and lay leaders to help them answer the tough questions and speak effectively about gun violence prevention!
Updates
Plan a vigil to #EndGunViolence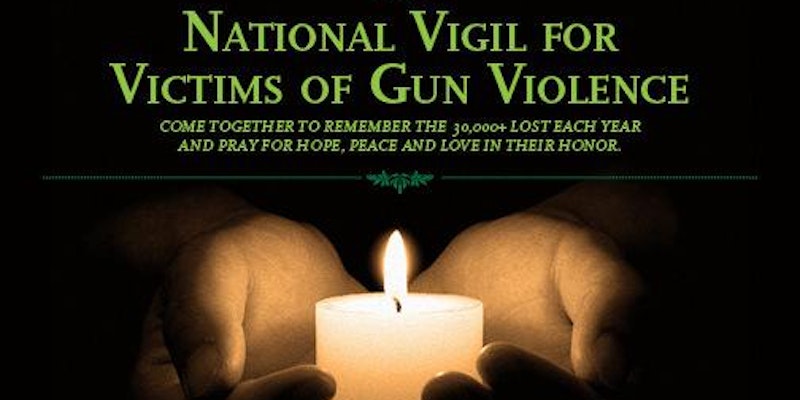 The victims, survivors and the families impacted by gun violence are often forgotten. Therefore, the Newtown Foundation, in partnership with Faiths United Against Gun Violence, Brady Campaign to Prevent Gun Violence, Everytown Survivor Network, Moms Demand Action for Gun Sense in America, Organizing for Action, States United to Prevent Gun Violence, St Marks Episcopal Church and Women's March on Washington will host the annual national vigil service of mourning and loving remembrance for all who have fallen victim to the ongoing epidemic of gun violence in America on December 6th and nationwide vigils/events from December 6-17th. 
Please complete this form to host a vigil or an event in your town or city and our partners at the Newtown Foundation will send you the 2017 National Vigil Tool Kit to facilitate your planning and to coordinate our collective gun violence prevention message.
Consider coming to DC to attend the national vigil service to support the families and survivors impacted by gun violence and renew our pledge to fight for gun violence prevention. Please reserve your seat here.
Direct family members of victims and survivors of gun violence from all 50 states are invited to attend the national vigil service on December 6th at St Marks Episcopal Church. There are travel stipends available. Please forward this registration form to families and survivors who may be interested.
At General Synod 2017 - Youth voices lead the way on gun violence resolution
July 04, 2017
Guided in large part by the voices of youth, General Synod 2017 enthusiastically passed a resolution of witness urging the recognition of gun violence as a public health emergency deserving of federal funding for scientific research.
Money still talks loudest in gun violence debate
Op-ed by Rev. Matt Crebbin, Newtown Congregational UCC
Want to be a voice for change? Need help?
Check out this guide written for faith and lay leaders to help them answer the tough questions and speak effectively about gun violence prevention!
Commentary: Why We Can't Give Up on Preventing Gun Violence
It is time to reclaim our streets, schools, and workplaces from the threat of gun violence, and it is time to reclaim the power of our vote from narrow special interests that seek to block even modest, common-sense measures to prevent gun violence.
A visible call for tougher gun legislation marks Long Island church
On the front lawn of Sayville United Church of Christ on Long Island, N.Y., 20 backpacks and six teachers bags hang, each bearing the names and representing the 26 innocent lives that were lost in the Sandy Hook Elementary School massacre in Newtown, Conn. The public display is a call for tougher gun legislation.
Commentary: Every day is an anniversary
Aurora and Oak Creek made headlines, but the painful truth is that every single day on the calendar is the anniversary of the terrible toll of gun violence, somewhere in America, whether or not it makes the nightly news.
Newtown clergy begins vigil on the National Mall for victims of gun violence
The Rev. Matt Crebbin of Newtown Congregational UCC and fellow Newtown clergy are standing for the thousands who have fallen victim to gun violence. Joined by leaders of faith organizations in a 24-hour vigil, they are calling on Congress to vote on gun-violence prevention legislation.
Faiths United to Prevent Gun Violence
The UCC's former General Minister and President, the Rev. Geoffrey Black, joined 42 other faith leaders in writing a a letter asking President Obama and members of Congress to, "do everything possible to keep guns out of the hands of people who may harm themselves or others." The letter supports background checks for those who intend to buy a gun and demands legislation outlawing high capacity weapons and ammunition clips. The letter also declares that gun trafficing should be made a federal crime.
General Synod Policy on Gun Violence