Commentary: Every day is an anniversary
On July 20 last year, a gunman opened fire in an Aurora, Colorado, movie theater during a midnight screening of the Batman film "The Dark Knight Rises." Twelve moviegoers were killed, and over 50 were wounded. Yet another anniversary looms on the calendar – Aug. 5 marks the first anniversary of the shooting at a Sikh Temple in Oak Creek, Wisconsin, killing 7 and wounding three. Even as we remember those who were killed and injured in these shootings, along with their families, a tragic litany of life lost as a result of gun violence comes to mind. Aurora and Oak Creek made headlines, but the painful truth is that every single day on the calendar is the anniversary of the terrible toll of gun violence, somewhere in America, whether or not it makes the nightly news.
We simply cannot accept gun violence as the norm in our nation. We cannot find comfort in saying "peace, peace," without committing to the hard work that makes for peace. Certainly, the larger context of gun violence is complex and multilayered, and no one piece of legislation can address it. It will take hard work on many levels, individual and institutional change on many fronts. But common sense gun violence prevention legislation can save lives. We must take every step, large and small, to keep our children, families and communities safe.
One small step is to institute a stronger system of background checks on gun purchases, a measure supported by an overwhelming majority of the American public, responsible gun owners among them. Yet our elected officials rejected this modest step forward. As people of faith, we are called to be the moral voice that prods our members of Congress and our state legislatures to summon the political courage needed to enact meaningful gun violence prevention policy.
The faith community has come together many times in the aftermath of gun tragedies over the years to urge legislators to pass laws that would help to prevent gun violence, and we will not falter in this critical work.
Martin Luther King, Jr. said, "The time is always right to do what is right." Every day is the right day to take a step toward ending gun violence.
Prayer of Lamentation:
Gracious God, our Maker and Sustainer, we pause to remember those who were killed and wounded in the shooting at an Aurora, Colorado movie theater one year ago, even as we remember the terrible toll that gun violence has taken since that time. We grieve the promising lives that have been lost, the stories that will no longer unfold, the voices that will no longer be heard, the friends and families left with heartache and a hole that cannot be filled. We hold in our hearts the communities impacted by gun violence that will never quite be the same. Even as we lament the scourge of gun violence and the culture of violence that seems to grip our society, we confess the ways in which we participate in that culture and fail to boldly give witness to your vision of abundant life and wholeness. Strengthen us in the will to do the things that make for peace. Grant us the courage and creative spirit to sow seeds of understanding, cooperation, community and connection. Help us to link hearts, minds and hands in transforming our collective grief into a message of hope.
Sandy Sorensen is the director of the UCC's Washington, D.C. office

---
Related News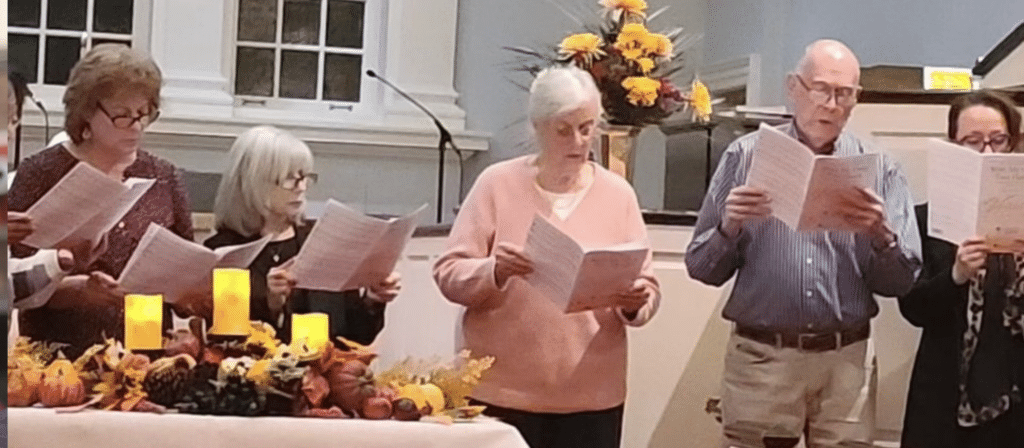 Many United Church of Christ congregations across the country participated in interfaith...
Read More