A young refugee, OGHS ambassador, opens eyes and touches hearts as a voice for others
A young refugee from Africa is using her experience to change American hearts and minds about people coming to the United States to escape war or persecution in their home country.  A youth ambassador for the United Church of Christ's One Great Hour of Sharing, Esther Ngemba is speaking out as often as she can about the plight of refugees.
In her words, "I am so glad that I can be a voice for others who are not heard."
Esther and her family immigrated to the U.S. from the Democratic Republic of the Congo. Fleeing unrest in their country, the girl, her parents, her two brothers and two sisters ended up in a refugee camp in Uganda for six years. When the Ngemba family was able to resettle in the U.S. in 2012, they made a home in the Cleveland, Ohio area, and upon an invitation from one of the members, ended up as part of the faith family of the Middleburg Heights United Church of Christ in 2015.
"From our first meeting, Esther has always impressed me as a young woman with determination and commitment," said Vicki McGaw, pastor of the church. "When she was beginning high school, she discerned that she didn't want to go to the public high school as her siblings had, so researched and found scholarship funding to go to a private school. But, after her freshman year, she determined that getting to school [further from home] was hard, and harder still to get home after sports practice ended after dark in a neighborhood where she didn't feel safe.  So, again, she did her research and found scholarship funding and support to transfer to St. Joseph Academy where she has been a student for the past two years and is now completing her junior year."
Just a few weeks ago at St. Joseph Academy, Esther used her voice to open the eyes of her classmates, as part of a school project.
"During the event, Esther asked, 'do you know any refugees?'" said Phyllis Richards, program associate for UCC Global Sharing of Resources, who was in the classroom on Friday, March 10. "The group nodded 'no' and then Esther told them that she is a refugee and then told part of her story about living in a refugee camp; about the sacrifices her parents have made for the sake of their children (going from influential business people in Congo to whatever job they could find quickly in the U.S.); the trials of finding housing, employment and learning English; and about her brother's need for emergency medical surgery that put the family in line to be resettled in the U.S." She also told her friends how they can help refugees in their own community.
McGaw said an experience at the UCC National Youth Event (NYE) last summer in Florida spurred Esther to be an advocate for others.
"When we went to the National Youth Event, Esther was deeply moved by a workshop she attended where a young man from Syria shared his story," McGaw said.  "In seeing his witness, she seemed to realize the power of her own voice to make a difference as she too began to share her story … and gather the stories of others. Her strength, determination and faith are inspirational to all who listen to her."
Since NYE, Esther has shared her story at the Ohio Conference Fall Youth Event, was invited to speak to a group of youth in Canton and has begun work at her school on immigration issues.  She has created a Facebook page, Hope for Tomorrow Refugees, where she works to raise awareness, advocate for refugees and share stories.  She and her family visit new refugee families, offer support for needed supplies and assist with acculturation, including language tutoring.  McGaw also said Esther has just asked the congregation to adopt a family with whom it will work more closely.  
Esther's experiences also inspired her to find ways to be heard more widely. The teenager made a video about her message to be a voice for others, which won the UCC Refugee Video Contest in December 2016.
"I entered the contest because I always try to do everything I can to help other refugees and anyone in need of help and I need the scholarship money to help me pay for college and some of my high school tuition," she said of the $2,000 first prize award.
As one of a dozen OGHS Youth Ambassadors (ages 15-18) around the country, Esther is getting involved in the mission of One Great Hour of Sharing and connecting the work of the mission to her home faith community. She'll be speaking to her congregation about it when the church takes the offering.
"I keep coming back to the scripture phrase, 'That the children will lead them,'" said Richards. "We know young people have a voice and it's very important they use it to speak out on what they are connected to, to help God's people wherever they are."
With the administration's efforts at restricting the number of immigrants and refugees that can come into this country, Esther's work is very personal. While the Congolese would not be affected by a travel ban because many from the Congo are Christian and Congo is not on the list of six restricted countries, they are affected by the pause in the refugee resettlement process and the halving of the number of refugees who will be admitted into the U.S. this year and in the future.
"Esther's passion for refugee advocacy is amazing," Richards continued. "She is still in high school, but has taken the time to raise awareness for refugees and to work to help others, just like herself and her family, to have a better life."
"I am just glad I can be a voice for others who are not heard," Esther repeated. "Me and my family are so thankful to be part of the wonderful and welcoming UCC church. I'm so glad that I'm part of a church that helps solve issues around the world and that is so welcoming to everyone."

---
Related News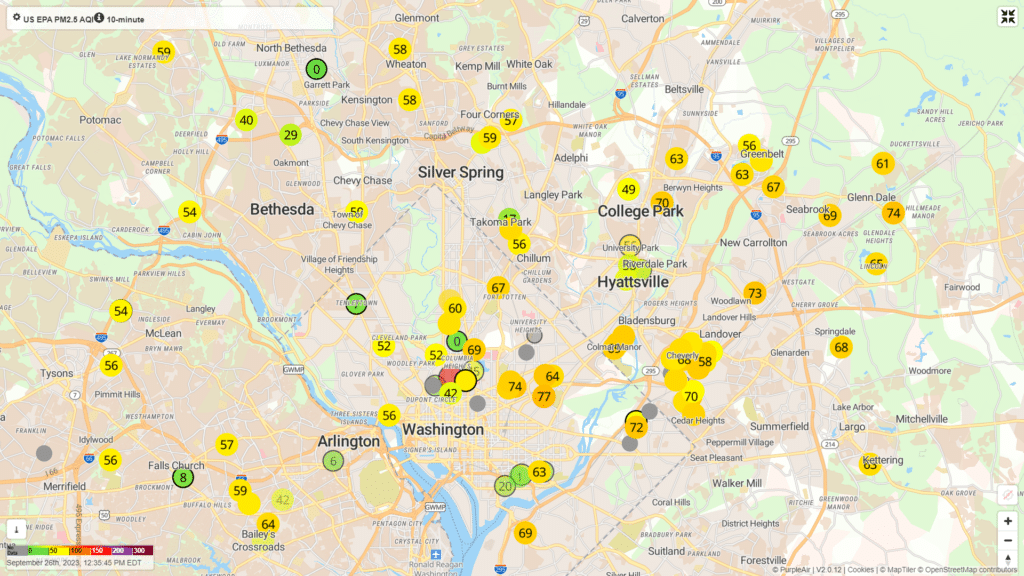 This summer, the United States experienced some of the worst days for wildfire pollution in...
Read More