Yaribel Davila, Port Arthur: A Hurricane Harvey Recovery Story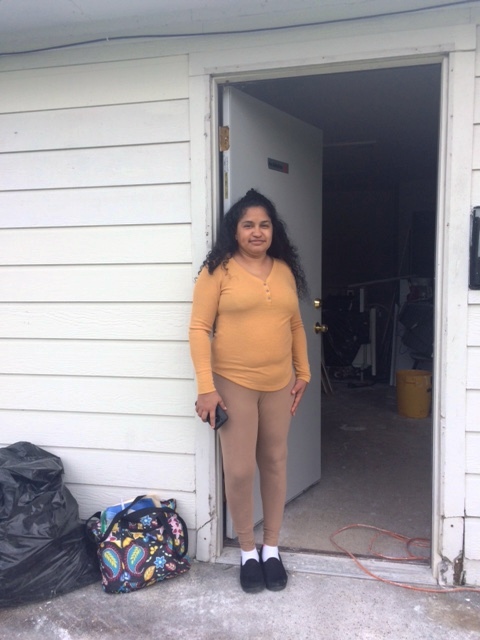 Yaribel Davila had to evacuate her apartment in Port Arthur, Texas, last August when flood waters caused by Hurricane Harvey came in up to her knees. UCC Disaster Ministries is partnering with the Southeast Texas Community Development Corporation (SET CDC) to restore her apartment and 16 others that suffered similar damage. The UCC's Amanda Sheldon interviewed Ms. Davila. 
Amanda Sheldon: Tell me a little bit about where you live.
Yaribel Davila: My apartment is small but it's my own spot. It's a one bedroom. It was my own. I suffered from Harvey really bad. They had to gut my house. They had to spray my house. They had to put sheetrock up and it's been eight months and I'm not in there yet.
Thank God it's looking better because of the volunteers* that came in. They've been doing painting, sandpapering. They are doing a lot of work and I really appreciate them. It looks like for real now it's going to be just a couple more weeks until it's done. I'm very much happy about that.
Amanda: Where did you stay while the storm was happening?
Yaribel: At a neighbor's house. I'm still staying there. He's a very nice guy who suffered a stroke in 2016. He does pretty much his own stuff, but certain things that he cannot accomplish I try to do for him. For example, if he can't get up high I'll climb up. I was able to give him some type of cash before. Right now since I'm not working I haven't been as able to give him as much, so I try to give him more of my undivided attention.
Thank God there are still good people out there that help you out. I really appreciate all of them. If not I probably would have been somewhere in a shelter in San Antonio still or somewhere else. It wouldn't have been here. I wanted to be here. I wanted to see the process.
Amanda: You said you have family in Puerto Rico?
Yaribel: My mother's mother, and my dad's dad. They went through Hurricanes Irma and Maria. I wasn't able to contact my grandmother for about 3-1/2 weeks. I was calling her every day, day in and day out, at nighttime and early in the morning, just trying to get hold of her to make sure that she was alive. Everyone's alive in my family. I am appreciative, even though they are still struggling. My grandmother finally just got lights and water, but not my grandfather, even though he lives only 15 or 16 streets away from my grandmother. It's horrible.
I appreciate the people helping Puerto Rico get back on its feet, because there are also volunteers there. I thank God for those people.
Amanda: When you talked to your grandmother, what did that feel like?
Yaribel: Oh my gosh, I cried so many tears. My grandmother raised me. That voice was such a relief, I was just so overjoyed. We lost so much, but I'm truly blessed to still be alive and to have my family still alive even if they are struggling.
Amanda: What do you see for your future?
Yaribel: That I'll be comfortable again in my little one-bedroom. I'll finally feel that sense of relief that, "Ooh I'm in my own place." I hope to get a part-time job even though I have some issues health wise that stopped me from working. I'm going to try to volunteer or do something to help out especially those who helped me out.
Amanda: What would you want church groups thinking about sending work teams to know?
Yaribel: Keep the faith. Keep strong. We do some work but God does the most work for us. As long as you keep strong and keep your faith strong you can overcome anything.
–
* Volunteers from Grace Congregational UCC in Two Rivers, WI
Amanda Sheldon is the UCC's National Disaster and Refugee Ministries Program Associate
Donate to UCC Disaster Ministries.
---
Related News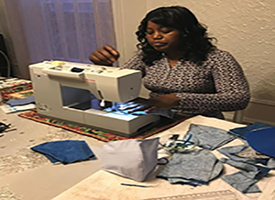 "It's so good making masks because it helps the community," said Sandra, a Congolese refugee...
Read More