Worship Lab brings Ohio pastors together to try something new
Once a month, several Northeast Ohio pastors come together in the United Church of Christ's Amistad Chapel in a divine experiment. They gather in a Local Church Ministries-sponsored 'Worship Lab' — to try out new rituals, and study different aspects of faith community worship. They also break bread together, and build community as they discuss what they've learned over lunch.
"'Worship Lab' is a kind of laboratory on a couple of levels," said the Reverend Susan Blain, UCC Minister for Faith Formation: Curator for Worship and Liturgical Arts. "For us here at the National Setting, it is an opportunity to see how our beautiful and unusual Amistad Chapel might serve as a teaching space. For pastors and worship leaders in local congregations, it is an opportunity to come and try new liturgical practices, images, movements, in a supportive environment—and go home encouraged and enriched by peer support."
The group of almost a dozen pastors has been meeting monthly since January – except in the summer months of July and August. When they return to Worship Lab with a Sept. 11 session, they will begin creating a worship experience for the Eastern Ohio/Western Reserve Association's Annual Meeting this fall.
"We usually start with a ritual prepared by one or two of the participants, then have lunch together on the upper level of Amistad and talk over the ritual and generally get caught up," said Blain, "After that, we discuss whatever topic we have decided upon for the rest of the time together."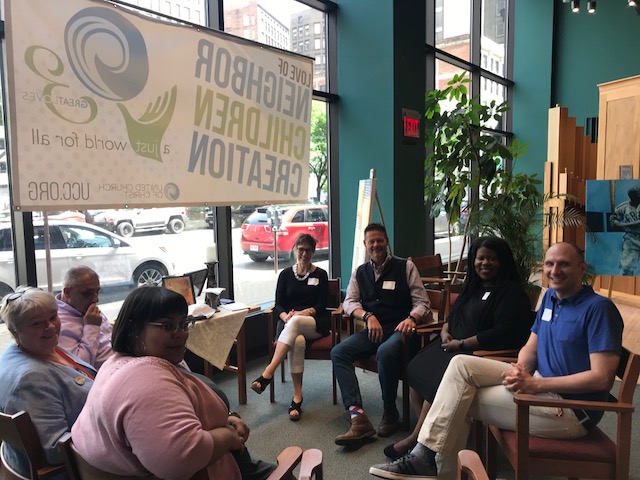 On Tuesday, June 12, their last gathering before their break, the pastors took on Holy Communion. Beforehand, Blain shared a few articles on the ritual of Communion for the group to read, providing food for thought for their discussion to follow.
The Rev. Patrick Nicolino, senior minister, First Congregational UCC of Elyria and the Rev. Janet Ross, pastor, Amistad Chapel United Church of Christ led the opening ritual. Rev. Nicolino is blind, so his colleagues decided to experience Holy Communion blindfolded.
"Being blindfolded naturally led to initial discomfort — relinquishing control and uncertainty. That discomfort, however, was minimal given that we have established trust within our community," said the Rev. Cheryl Lindsay, minister, Mount Zion, UCC in Cleveland. "My overall awareness was heightened throughout the ritual, and I found the blindfold somewhat liberating after a few moments. I felt very present in the moment.
"Worship Lab has been a wonderful opportunity to dialogue, envision, and experience worship with colleagues in a safe space," Lindsay continued. "I have enjoyed the readings and resources as well as the conversations on worship topics they have inspired. The camaraderie established among this small group has also been a blessing when it can be challenging to build and maintain clergy relationships."
"I have enjoyed and appreciated being in clergy gatherings for my 25 years in ministry. I love the camaraderie, the chance to exchange ideas, sometimes vent and just offer support to one another," Ross said. "Worship Lab has taken this to a whole new level. It is all that, but so much more. We get to worship together –that which I most adore in my ministry, but often don't get to fully do because I'm the one leading it."
The Rev. Kelly Brill, senior minister, Avon Lake, UCC, will be leading the September session.
"I am grateful to be participating in Worship Lab," Brill said. "I have especially appreciated the reading assignments which feel like a mini refresher course in liturgical theology. It is so helpful to return to texts on the sacraments, to be challenged to think about what they mean to me and how they are being experienced by those in the congregation I serve."
"With my Worship Lab buds, we get to explore the ways that we bring our all to God in community and we get to practice it among ourselves. We have different understandings of and approaches to liturgy, so it's been rewarding to have these exchanges. I KNOW other clergy would get so much out of this kind of gathering," Ross said. "My own worship leadership has definitely been strengthened and my creative risks broadened because of Worship Lab."
---
Related News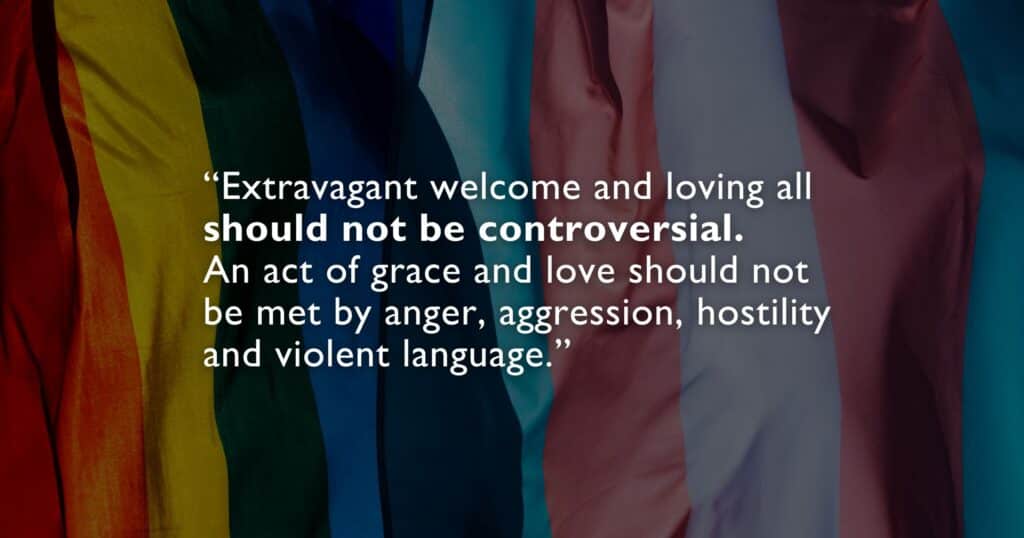 The United Church of Christ National Officers and the Conference Minister of the South Central...
Read More