Advent 1 – November 29
Service Prayers
for the  First Sunday of Advent, Year B
November 29, 2020

 Isaiah 64:1-9  •  Psalm 80:1-7, 17-19  •  1 Corinthians 1:3-9  •  Mark 13:24-37
Since Congregations are returning to "in-person" services at different paces, Worship Ways for will be edited for online use.  "Rubrics" for virtual services will be noted in red;  take and adapt as you need!
Leader should speak the lines of the people, along with the Leader's lines

Meditation on Community Life: The Advent Wreath
The Advent Wreath, which in recent years has been adopted enthusiastically as a congregational ritual during public worship, actually began as an at-home devotional practice. So if your church is worshipping virtually, encourage your members to create an Advent Wreath in their households. 
An Advent wreath has 5 candles arranged in a circle.  Candles may be tapers, or pillars:
           3 blue or purple, lit on 1st, 2nd and 4th Sundays
           1 rose or pink, lit on 3rd Sunday
           1 white or gold, placed in the center, to be lit on Christmas Eve. 
Surround the candles with evergreen boughs, or other decorative elements that speak to the season of the year. You may want to hold off on the reds and greens of Christmas; Advent is a celebration of anticipation, waiting, getting ready.

           Each week of Advent you may invite a household to share their Advent wreath, and take the lead in lighting the appropriate candles.                     
           The Advent Candle Lighting time may be used at the start of worship, or perhaps during the Sermon time, as an interactive devotional time, or a simple Bible study.  It may be a moment to help the community reflect on the year past, with its trauma and displacements, in light of the scriptures that call us to faithfully get ready for a new moment in the coming of Christ.
Week One:    The readings today are uncomfortable, giving expression to scenes of violence and desperation, natural disaster and community displacement.  The feelings they evoke may be all too familiar to those who have lived through 2020, and faced into the crisis  and losses of Covid-19, natural disasters of fire and hurricane, the exposure of societal injustices rooted in racism and sexism, and painful political reckonings.
Invite someone to read Isaiah 64: 1-9, and give some time to reflect on the feelings that may come up: weariness, anger, fear, grief, wondering where God is and has been in this last year? Has God  been hiding? 
How can Isaiah ask for more upset, for God to "rend the heavens and come down!" What do we need from God in the midst of this chaos? 
In verses 8-9 God is named a parent and a potter; one who shapes a people; what form is God shaping us to be by our experience after such a year?  What have we learned, what needs to change, what do we need from the Holy One who is coming?

Light the first Advent Candle:
One:           O Holy One, we light this first candle,
                   a candle of grief,
                   in the midst of the stories of the last year;
                   Let it burn through these weeks as a beacon to become
                   The light of Hope.
                   Let it guide us to your presence in our midst,
                   Leading us to your Justice and Joy in the service of Peace.                 
          People:        Out loud, but muted
                              God be with us  in this Light of Hope.
Call to Worship 
After such suffering,
We go searching for a sign, any sign.
The sun seems to dim, the moon fails, the stars fall.
We need a sign, any sign.
People: Out loud, but muted
           Be aware, stay awake, change is coming.
           We hope that the Human One is on the way,
           gathering the faithful from the four winds,
           into a place of peace –
           We need a sign, any sign.
People: Out loud, but muted
           Be aware, stay awake, change is coming.
           Nature  once offered signs to depend on:
           The fig tree put out tender leaves,
           and we knew summer was near—
           But climate today
           Is hurting, and unpredictable.
           We need a sign, any sign.
People: Out loud, but muted
            Be aware, stay awake, change is coming.
            So together we search for a sign of the One who is coming–
                         Clarity in confusion
                         Green shoot  in a barren landscape
                         Song arising  in a weary soul.
People:Out loud, but muted
            Be aware, stay awake, change is coming
            Come, let us worship!
Invocation
Come into our midst, O Holy One,
Rider of the Clouds of Heaven,
Surprising answer to heartfelt prayer.
In whatever way you choose—
Come. Shake us up.
Help us find you at work in our lives
Showing the way to make all things new.
In Jesus' name we pray,  Amen.
Prayer of Confession     Psalm 80:1-7, 17-19
 This has been a year to lament—
           Grief and loss,
           Crisis when social structures have failed the common good
           Complicity when age-old prejudices found new and cruel expression:

People:           Out loud, but muted
                      Restore us, O God; let your face shine, that we may be saved.
            This has been a year to wake up—
                     To read the "signs of the times"
                     To wake up to painful truths, and give them voice
                     To ponder the changes needed for a just world for all:
People:         Out loud, but muted
                      Restore us, O God; let your face shine, that we may be saved.
This has been a year to call God into our sorry midst—
Show us your face!
Encourage us in the face of brutal realities,
Empower us to do justice, love mercy, and walk humbly with you
On the way in which you make all things new.
People:         Out loud, but muted
                      Restore us, O God; let your face shine, that we may be saved.
Silence
Assurance of Grace  1 Corinthians 1: 3-9    
God is faithful,
and gives us grace in Christ Jesus.
In this fellowship we can count on being in enriched
In speech, in knowledge, in every spiritual gift.
Let us give thanks, in Christ, we are forgiven
and sent forth to work for God's reign among us.
Scripture, Sermon, Prayers of the People
Notes for the worship planners in 2020:
Consider a simple message or even an  interactive Bible Study that engages people with the Scriptures for today.  For the Prayers of the People, you might use a bidding prayer ("God, we pray today for those who are sick, including ….") and encourage folk to type in their prayers using Zoom chat or Facebook Live; allow for more time in silence for those prayers to be typed and read. Consider a collective response at the end of each bidding prayer.
A caution regarding prayers of the People online: Folks gathered in-person often recount a lot of detail in their prayers concerning other members or family ("Elderly Name, living alone, experiencing isolation…"  In  a private, in-person gathering, this information may be safe, but online, it can expose vulnerable people to harm, since we can't control who will join the gathering or access it later online.  Invite people to be prudent in offering prayers:  "For First name only, in need of healing"; "For First name only, comfort in grief"  etc. 
Encourage people to contact the pastor directly with news of those needed extra pastoral care
Call To Offering
In struggle and in joy, God is faithful to us.
We bring forth our offerings – our tithes, our treasures, our least coins –
to demonstrate our faithfulness to God.
Dedication
People:         Out loud, but muted
                    O Faithful One,
                    accept these gifts of our hearts and hands.
                    May they be multiplied and magnified
                    as the living presence of Christ  in the world. Amen.         
Benediction
Send us into the world refreshed in hope,
Awake, alert,
attuned to your presence
ready  to join your work of blessing for all.
Amen.
Service Prayers for  Advent 1 Year B 2020 are written by the Rev. Susan A. Blain, Minister for Worship and Gospel Arts, Faith INFO Ministry Team, UCC.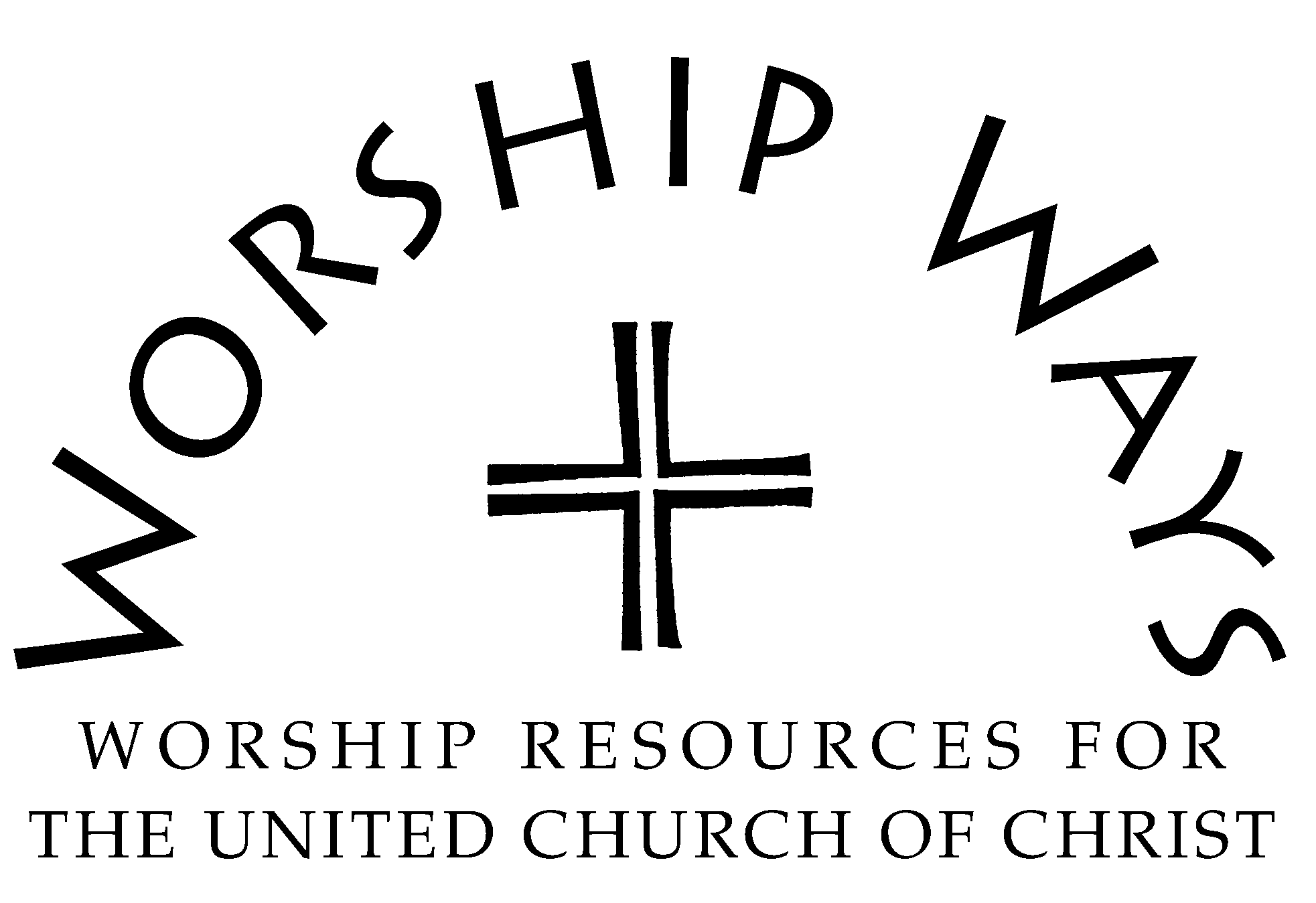 Copyright 2020 Local Church Ministries, Faith  INFO Ministry Team, United Church of Christ, 700 Prospect Avenue, Cleveland, OH  44115-1100.  Permission granted to reproduce or adapt this material for use in services of worship or church education.  All publishing rights reserved.