Walking in the footsteps of migrants a life-changing experience
On a steamy morning in the Arizona sunshine, more than 50 people of faith walked in the footsteps of migrants who traversed the Sonoran Desert in search of a better life. The UCC's Faithful Witness at the Border participants braved 100 degree temperatures on a hike of more than a mile to mark a journey that sometimes ends in death.
"We walked that walk by choice," said the Rev. Traci Blackmon, executive minister of United Church of Christ Justice and Local Church Ministries, one of those who spent a few hours trekking into the desert. "It does not compare to what people have to do to find safety, but it was enough to leave me permanently changed."
Wednesday, August 29, participants remembered the people who have perished in the desert — almost 3,000 souls in Tucson sector since 2001. They marked with a cross the spot where the body of a young man was found along the trail where he fell. Miguel Vasquez Lara was 26-years old.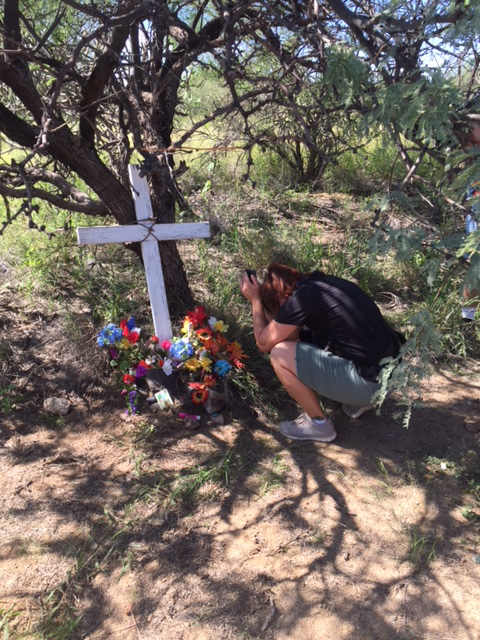 "Walking to Miguel's memorial was an experience of walking on holy ground," said Sandy Sorensen, director of the UCC Washington, D.C. office. "As I walked, I thought about the desperation, courage and hope it would take to flee the threat of violence and death in your home country only to face the shadow of death in a dangerous desert journey — simply for the hope of finding the possibility of life. This isn't about trying to make a few more dollars with a job in the U.S. — this is about life and death — fleeing death, risking death in the hope of finding life. Walking the hot desert ground where so many have died unnecessarily because of our broken immigration and border policy, policy steeped in racism, literally grounded me in the call to seek justice."
The desert walk was one of the last actions in the Southwest Conference UCC immersion experience August 26-30 that drew people from the Iowa, Massachusetts, Minnesota, Ohio, Pacific Northwest, South Central, Southern, Southwest, and Vermont Conferences, along with faith partners from the Christian Church (Disciples of Christ), Lutheran Church in America, Presbyterian Church USA, and the United Methodist Church. All agree the time together was both moving and powerful.
The Rev. Da Vita McCallister, lead pastor of First Church, Somerville, Mass., was accompanied by two lay leaders in her church: "Participating here will help us galvanize the entire congregation," she said.
"There are moral mandates we have as people of faith, moral imperatives around immigration and sanctuary," said the Rev. Bill Lyons, Southwest Conference Minister, one of the organizers of Faithful Witness at the Border. "We want people to feel equipped to talk about the Church recovering our moral voice."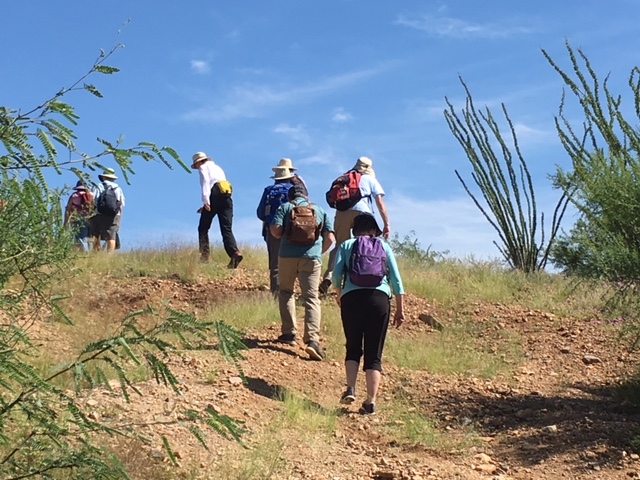 This group learned several ways they and other members of their congregation can become more involved in border issues, which are everywhere.
"Monday, we saw a federal judge issue sentences of months of detention after less than two minutes of consideration per person during Operation Streamline proceedings. We heard a man who confessed suicidal thoughts be told to 'take it' as he was assigned further punishment," said the Rev. Sharon Stanley-Rea, Director, Refugee and Immigration Ministries (RIM) of the Christian Church (Disciples of Christ). "Tuesday, tours of shelters in Mexico showed a better way to care for migrants; as faith partners showed the love and understanding taught by Christ who endured travels and threats as a migrant himself. Communion at the border allowed us opportunity to call upon the bread of hope and cup of strength over suffering to remember those killed in the desert and at the border. And, our vigil at the Nogales Border Patrol Station provided the chance to call officials themselves into prayerful accountability for their actions that remove hope from so many lives."
"Immigration and border issues are critical midterm election issues no matter where you live," Sorensen said. "It is very important to influence the electoral process that reflects our faith."
As another organizer, the Rev. Noel Anderson said, "We hope to increase our ability to mobilize our faith communities when we go back. We are called as people of faith to organize in our communities for all people who are marginalized."
"Migration ministry happens anyplace someone from a different country tries to make a new life here," Lyons said. "The Church can be of help wherever they are."
---
Related News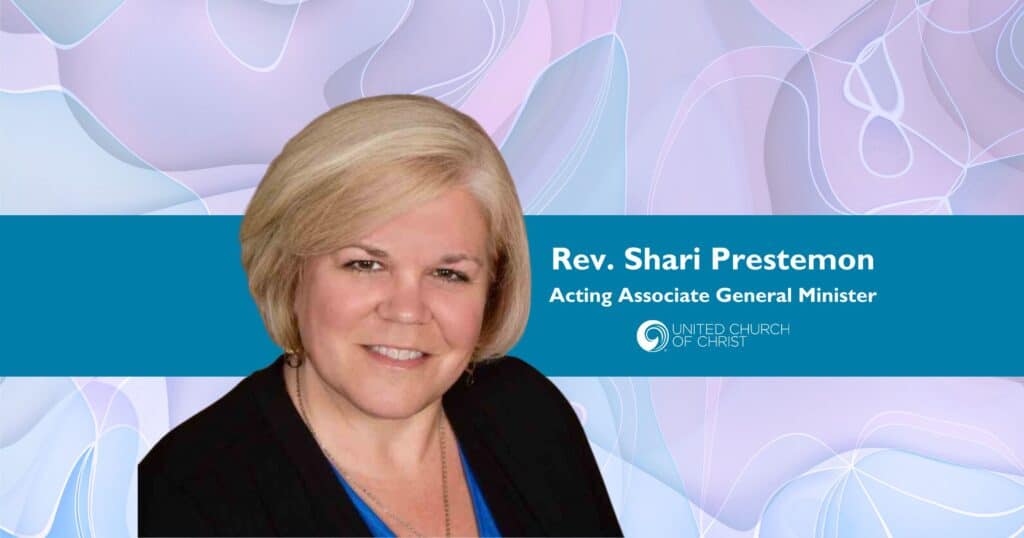 A new United Church of Christ national leader has been called. The UCC Board voted in a...
Read More