Ecumenical volunteers help waterlogged S.C. homeowner recover
For as long as he can remember, William H. has loved listening to the sound of rain on the roof of his rural South Carolina mobile home. "It's peaceful," he said.
But that love was sorely tested when, last October, it rained hard and without a break for more than a week. "The rain was so heavy that water leaked in through all the edges of my home, including the roof and door and window frames.
"I had towels all around to try to soak up the water," the 50-year-old homeowner said. He duct-taped cardboard here, there and everywhere to keep the water-saturated, mold-infested, warping, drooping walls and ceilings from falling in.
"They say you can fix anything with duct tape," he said, "but after a certain point, there was nothing left to stick the duct tape to. It was a mess."
Once the rain stopped, William faced the daunting challenge of recovering with very modest means. He was working as a standing forklift operator, but had to go on medical disability when leg vein problems developed. His wife also is on medical disability. And they have a growing teenaged son.
"We don't have insurance," he said, citing annual premiums higher than the book value of their home. And they were declared ineligible for federal disaster assistance – even though he is a U.S. veteran.
"I had no choices," he said – until a FEMA representative referred him to the Disaster Recovery Support Initiative, a joint on-the-ground program of the United Church of Christ Disaster Ministries in partnership with the disaster ministries of the Christian Church (Disciples of Christ) and Church of the Brethren.
"The organization said it would come help me," William said. "Volunteers assessed the damage and did the paperwork. A few gentlemen came out before Memorial Day and staged supplies at the end of my home. The first volunteer work crew came the following week."
William remarked at the unselfishness of the volunteers who have come from other states – Missouri, West Virginia, Florida – to spend a week at a time "to help someone they didn't even know. I feel blessed that people are taking their time to help me. I could not do this on my own.
"One lady came here from Virginia. She works a full-time job. She took a week's vacation to come help.
"I said, 'Ma'am, you are on vacation and you are here?' She said, 'Yes, I like to help people and to learn how to do new things. I couldn't think of anything better to do.'
"That means everything to me," he said. "When the woman told me that, a tear came to my eye. She came to do hot, sweaty, dirty work and had never met me in her life. She left Friday and was going back to her full-time job on Monday."
To date, the roof has been repaired and tarred and has proved to be an effective barrier against recent downpours (pictured above: volunteers apply sealant to William H.'s roof). Funding for construction materials on this project was provided by grants awarded to the three denominations from the Central Carolina Community Foundation's One SC Flood Relief Grant and from the United Ways of the Midlands.
"I still love to hear rain on the roof, so long as it's not for eight days straight," William commented.
Inside the home, soggy ceilings have been torn out, exposing the home's rafters and insulation. They still need to be replaced, as do the kitchen floor and sections of sheetrock.
It's not easy living in a construction zone and constantly fighting dust, but William said he is grateful the family is able to stay in the home.
"Especially with our health issues, no way could we have continued to live in here, especially with the mold. We could have ended up homeless."
---
Related News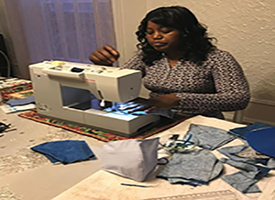 "It's so good making masks because it helps the community," said Sandra, a Congolese refugee...
Read More