Volcanic ash, tsunami hit Tonga; news awaited, prayers sought
Church leaders were standing by the week of Jan. 17 to find out how best to help the people of Tonga after a massive Jan. 15 eruption of an underwater volcano and a resulting tsunami.
Details of damage have been slow in coming, said General Minister James Shri Baghwan of the Pacific Conference of Churches. "Most outside communication is disrupted and only satellite phone is accessible to a few," he said in Jan. 16 communique to global partners. He said he was trying to reach two Tongan colleagues for updates: PCC Moderator Tevita Havea, who leads a Methodist body there, and General Secretary Ikani Tolu of the Tonga National Council of Churches.
"The full extent of the harm to lives and property is currently unknown," Baghwan said. "What we do know is that Tonga needs immediate assistance to provide its citizens with fresh drinking water and food."
Aid delivery problems
As of Jan. 18, aid still couldn't be delivered by air because Tonga's Fua'amotu International Airport remained closed due to an ash-covered runway. A naval vessel from New Zealand, en route to Tonga with drinking water, was aiming for a Jan. 21 arrival. Even that aid may face challenges "due to damage sustained by wharves," a New Zealand official said in a Jan. 19 message to relief partners.
Early government and news reports on damage began emerging Jan. 18. Reuters reported three deaths so far. It also said all the homes on one of the outer islands of the archipelago nation had been destroyed. Reports were based in part on surveillance flights by aircraft from New Zealand and Australia. The World Council of Churches quoted the International Federation of Red Cross and Red Crescent Societies as saying up to 80,000 people could be affected.
Damage was not only from volcanic ash coating entire islands, but also from the tidal waves that followed the Hunga Tonga-Hunga Ha'apai eruption. The tsunami was felt as far away as the Americas, where effects were milder than in Tonga and other Pacific Islands, which experienced flooding, damage to docks and boats, and contamination of drinking water by salt water and ash. In Peru, waves reportedly rocked a ship and spilled oil on beaches.
Partners and prayers
Derek Duncan, Global Ministries' area executive for East Asia and the Pacific, noted that the United Church of Christ and the Christian Church (Disciples of Christ) do not have "direct partnerships in Tonga." However, he said, "we have close relationships with churches and communities throughout the Pacific region. Our hearts and prayers are with the people of Tonga, and we will remain in touch with Pacific partners to respond and assist as needs emerge."
Prayer is always in order in such times, said UCC Associate General Minister Karen Georgia Thompson, who heads Wider Church Ministries and Operations. Its Global H.O.P.E. team is poised to respond once more news comes — and to let UCC members know how they can, too. She is also co-executive of Global Ministries.
"We are prayerfully watching the events unfolding in Tonga and the Pacific," Thompson said. "We are in communication with our partners in the region and ready to assist in any way we can with the emerging needs for residents of these islands. We are mindful of the proximity of these events to American Samoa and Western Samoa, where we have very close historic partners and pray for the Samoan community. Disasters continue to be a part of our world, and we in the United Church of Christ stand prepared to assist."
She offered this prayer:
Creator, we know you are present with us through times of crisis and challenge. We offer prayers for our siblings in the Pacific as they stand in need for assistance after this volcanic eruption. We ask your comfort with those who have suffered loss and your care as many await assistance. Multiply the resources we have to address these emerging needs. Be present with these members of the global family. We give thanks for your presence with us. Amen.
---
Related News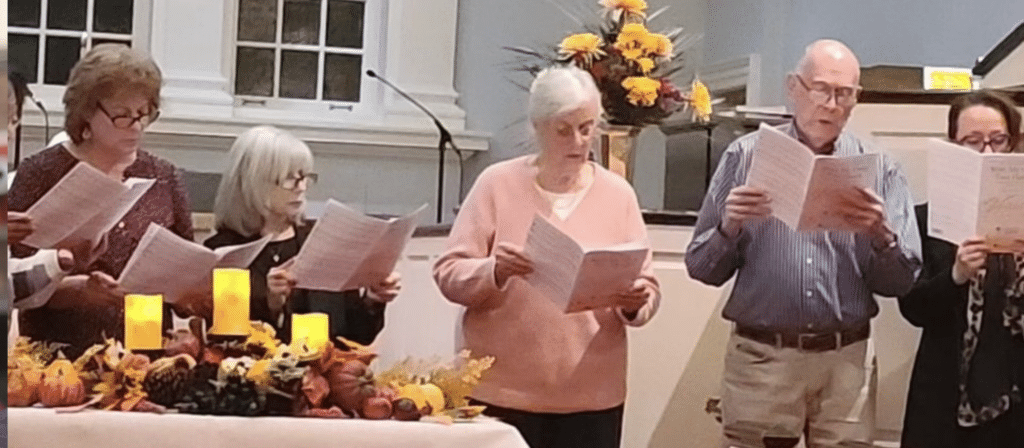 Many United Church of Christ congregations across the country participated in interfaith...
Read More