Visibility matters at Texas church and in UCC push for transgender rights
In Texas, visibility matters, transgender people say — especially right now. Finding a church that sees them, affirms them and even lifts them up is rare.
Cathedral of Hope, a United Church of Christ congregation in Dallas, started the week of Transgender Day of Visibility by honoring its trans members in worship. And it ended the week by supporting a rally for trans rights at the Texas State Capitol.
The church is just one embodiment of UCC efforts to make trans members visible and resist political moves to dismiss and suppress their rights.
Pushing back
A recent Texas directive — currently blocked by court order — is an example of what the UCC is fighting. The state's governor called on citizens to report the parents of transgender minors to authorities if it appears the minors are receiving gender-affirming medical care. And — in addition to various anti-trans laws enacted in 2021 — at least 13 states are now considering more.
The UCC's ways of pushing back include these:
The church's national website is inviting people to sign an "Open Letter of Support for People of Trans or Nonbinary Experience in Texas." Its early signers included current and past UCC national officers and Conference ministers.
The UCC issued an Action Alert, urging members to call on Congress to pass the Equality Act.
Believe Out Loud, a national LGBTQ-advocacy agency housed at Cathedral of Hope, released a special interpretation of the Lord's Prayer by video on the Day of Visibility itself, March 31. Written by a UCC minister, the Rev. Kimble Sorrells, a UCC minister, it was read by four clergy people, including the Rev. Erin Wyma of the Cathedral's staff.
In Austin, members of the Cathedral were among the religious people at the April 2 Capitol rally to protest restrictive laws.
This Thursday, April 7, a "Thursdays for the Soul" webinar, "Make Visible," will "amplify trans preachers" in the UCC.
"Our transgender family in Texas needs our support," Wyma said. "So we show up. So that we can be reminded of what is good and true. So that we can create a better and more just world together."
An intentional welcome
Cathedral of Hope, the UCC's largest Open and Affirming congregation, affirms its trans members deliberately. It has a Transgender Council and offers a Transgender Handbook at its website. At Sunday worship on March 27, council members wore special sashes and received a standing ovation.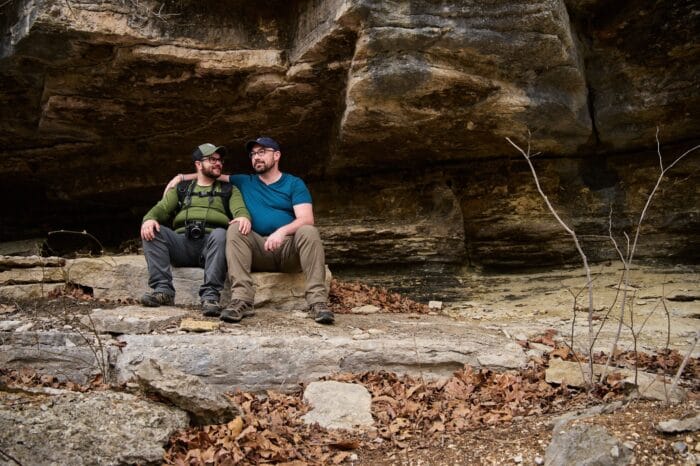 Two people who appreciate that official visibility — and, moreover, the Cathedral's ongoing hospitality — are Seth and Terry Rickman. Now married, they met as tenors in Dallas' Turtle Creek Chorale. Both now also sing in the Cathedral's choir. As just one example of how the Cathedral is "really accepting of everybody," Seth said he feels totally comfortable as "the only female-to-male transgender person in the choir."
The Rickmans both grew up in conservative Texas churches where they ultimately weren't affirmed. The Cathedral's welcome "is really meaningful because a lot of trans people and also people in the whole LGBTQ community have been alienated from church from young ages — especially those who came from fundamentalist backgrounds," Seth said. "If you hear a message of hate from a young age, it's not going to want you to keep attending church."
'Walking the talk'
Because the Lutheran church of his childhood in East Texas wasn't LGBTQ-affirming, Seth said, "for the vast majority of my transition I was on my own. I didn't really have a trans community around me." That transition started 12 years ago. He eventually moved to Dallas. Attending a Cathedral service in 2019 was a reconnection.
"It was the first time I've ever gone into a church and felt at peace and felt not conflicted at all with my faith or feelings," he said. "At the very end of it we sang 'Shout to the Lord.' Everybody held hands and raised their arms. I don't cry, but that time I cried. It was one of my favorite praise songs growing up."
That same year, Seth saw the Cathedral take a public stand when it hosted the funeral for Muhlaysia Booker, a transgender woman murdered in 2019. "Being part of a congregation that honors the life of the people in our community that we've lost is really meaningful," Seth said. "It's actually walking the talk. It's that kind of putting faith into action that kept me coming back to Cathedral of Hope."
The Cathedral's latest public stand at the April 2 demonstration in Austin is an example of that, too, Seth said — speaking out against "uninformed people in our government, putting out things that aren't true about actual medical care."
Message matches action
"Walking the talk" is also important to Terry, who said he felt out of place in the "very conservative Southern Baptist church" where he was raised. "If you didn't look like the people speaking from the pulpit, then you were the enemy and you had to be changed to be like them," he said.
"I didn't have the words to figure out who I was, but I knew I was one of the people they were speaking about. They would talk about Jesus and 'love your neighbor' – but hatred toward LGBT community. I left the church. I left religion entirely."
And though still "unashamedly" an atheist, Terry said he feels comfortable at the Cathedral. He tagged along to a rehearsal with Seth once — and was invited to join the choir.
"I like the ideals of Jesus, which has made me resonate with Cathedral of Hope as home," Terry said. "The actual messaging matches the action. I still believe we should treat people well, help persons around us, lift up the weakest among us, because we're only as good as the weakest in our community. That is what I've seen in all of the ministries at the Cathedral."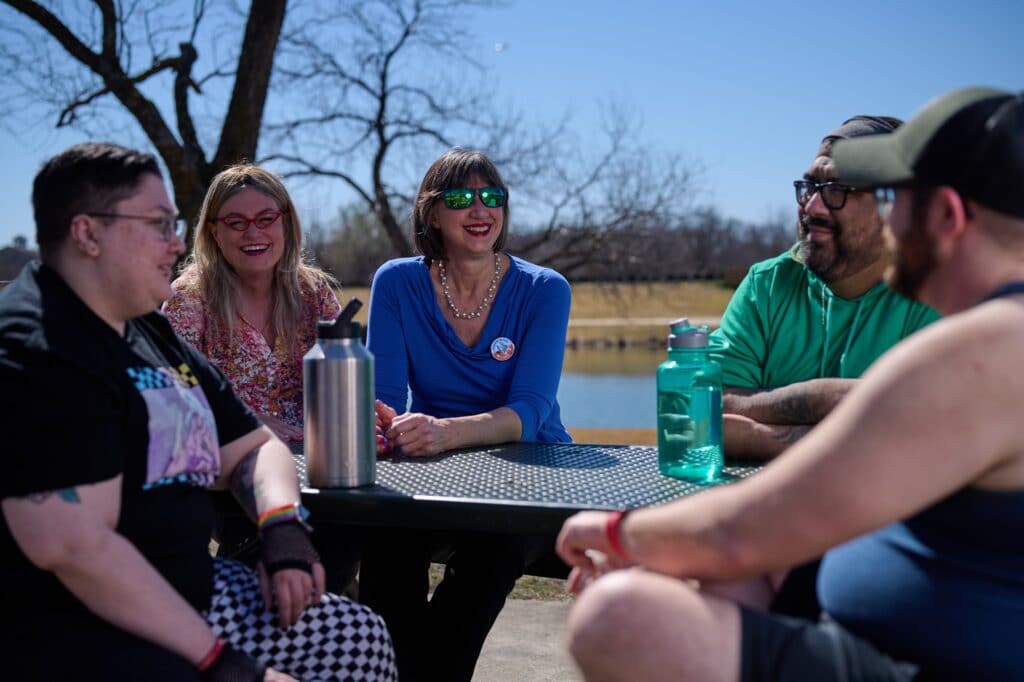 'To be able to just be'
In honoring "the transgender people among us" on March 27, the Rev. Neil Thomas, the Cathedral's senior pastor, spoke of the "great courage and conviction" they show in their life and work. Later that week, Terry poured his convictions about trans rights into his work as a professional photographer. In a Transgender Day of Visibilty essay at his website, he sought to counterbalance "hate and misinformation about what it means to be trans" with "beautiful images of trans people and the people that love them."
He said he has made it a mission of his photography business "to create a space for trans and nonbinary people to have a place where they can be themselves." He said he wants them to "come in and not have to worry about judgment or be treated as a second-class citizen."
That's what the Rickmans have experienced at Cathedral of Hope, Seth said. "It's really nice to be able to just be in a place that is so welcoming."
'We need each other'
Wyma said she felt the spirit at work at the April 2 trans rights rally in Austin. She attended with Cathedral trans member Michelle Hess and Michelle's wife, Sue Hess.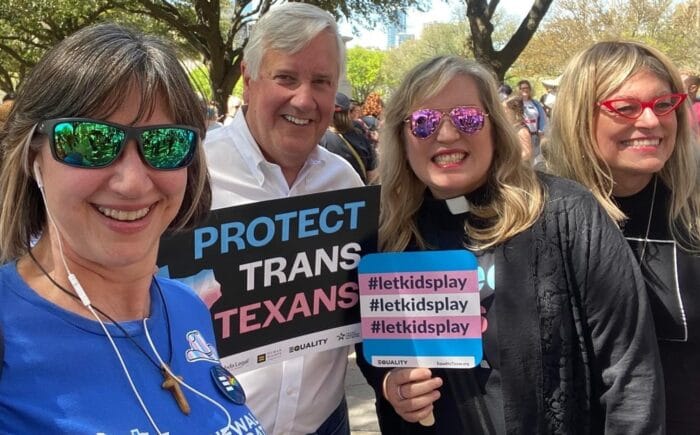 "God is amazing," Wyma said of her experience in Austin. "I got to live out a dream I didn't even know I had. The keynote speaker of the Trans Day of Visibility Rally was the star of my favorite 'Queer Eye' episode of this past season, Angel Flores. I didn't know I needed a hug from this glorious human. I told her she was loved and sacred. She hugged me harder.
"And her hug healed something in me. Because it reminded me. We need each other. We belong to each other. We are family."
---
Content on ucc.org is copyrighted by the National Setting of the United Church of Christ and may be only shared according to the guidelines outlined here.
---
Related News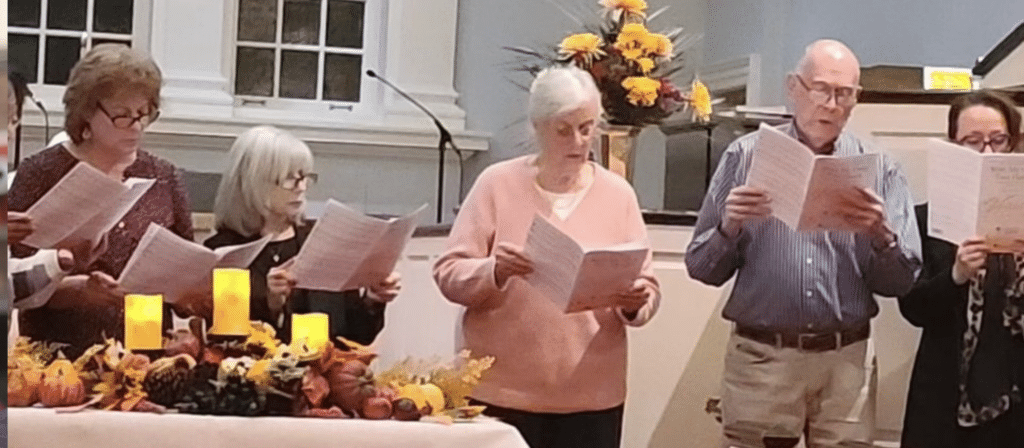 Many United Church of Christ congregations across the country participated in interfaith...
Read More