Vermont church Earth Advocates march on local bank
A Bennington, Vt. congregation's 'Green Justice' team took their environmental ministry into the streets outside a local bank on October 25 to protest the financial institution's investments in fossil fuels.
The Earth Advocates of the Second Congregational Church, showing their love of creation, participated in a demonstration outside TD Bank in Bennington, organized by Climate Advocates of Bennington, a local group affiliated with international environmental advocacy group 350.org, and the UCC church.
"We were formed at the UCC and many of our members and principal leadership are UCC members," said William Thwing, one of Second Congregational demonstrators. "This is just one of the environmental ministries based at the church. We work closely with a student group at Bennington College who are also participating."
"The crisis in the environment has been a burning concern in my life since the days 46 years ago when this church helped form a justice group called Bennington Environment," the Rev. Marsh Hudson Knapp, retired minister, member of the Second Congregational, and one of the current group's organizers. "This is our first large protest action in and with our community. We have tried to be mindful of the urgency of this situation and stand up, and also respect people with whom we differ. We checked with police and bank officials before we began our protest."
Several people gathered at the church Wednesday afternoon to prepare for a march to the bank's office on Main Street. They joined a larger group of climate activists, all urging TD Bank to stop backing pipeline projects and increase investments in renewable energy. The protest was part of Divest the Globe, a worldwide series of actions organized by 350.org.
"People around the world and from Bennington are speaking out for earth and her indigenous people on Bank Day, October 25, while 92 of the world's largest banks meet in Brazil to discuss policies on the climate and indigenous people's rights," said Hudson Knapp said. "Folks in our town are encouraging customers of TD Bank to speak to their bank or to move their money to other places."
"As a former member of the UCC General Synod's Justice and Witness Board's Environmental Task Force, I appreciate how important faith-based leadership is in environmental movements, for the church and for the nation," Thwing said.
Thwing credited Hudson Knapp with creating signs for the demonstrators, indicating TD Bank's involvement in the Keystone XL, the Dakota Access and Vermont Gas Systems pipelines. The environmental advocates handed out leaflets to all those interested as they passed by, which read, "TD Bank is a huge investor in oil and gas pipelines which destroy nature, contaminate drinking water, and add to climate change. Tell your bankers you do not want your money invested in pipelines. It is time for TD to STOP."
In response, TD Bank released a statement, welcoming other perspectives and respecting the rights of people to express their views in a peaceful protest. It also pointed out what it sees as the current need for fossil fuels.
"TD is committed to facilitating the transition to a low-carbon economy over the next 30 to 40 years by investing in sustainable businesses and technologies, supporting carbon-neutral operations, and partnering with environmental nonprofits to create green urban spaces across the communities we serve. That said, we recognize that conventional energy remains a vital component of the local economies we serve and is necessary to meet our country's energy demands."
"I will not be here forever and I want to do all I can to stand up, speak for and care for earth as long as I am here," said Hudson Knapp. "Each day leaders in our country take steps to undermine the future of our earth and especially the most vulnerable people. I have to cry out for God's sacred earth."
---
Related News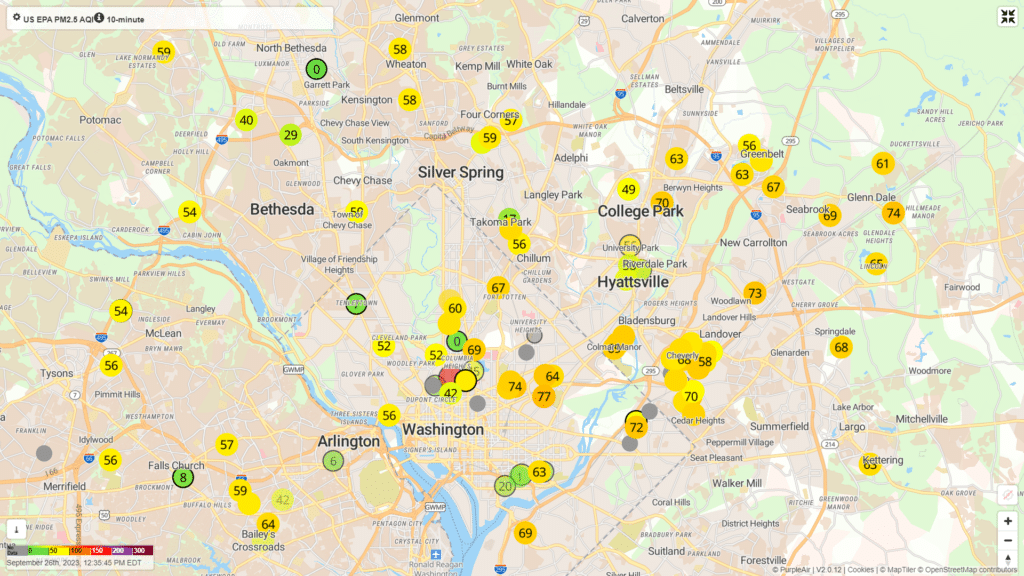 This summer, the United States experienced some of the worst days for wildfire pollution in...
Read More