'Uplift the resilience': UCC continues sponsorship of National Trans Visibility March in pivotal year
This story was updated Oct. 31 to reflect more fully the diversity of gender and race present at the National Trans Visibility March (NTVM). UCC News regrets the omission, recognizing that it is critical to include race when discussing gender and sexuality justice, as one cannot be separated from the other.
It was a celebration of transgender and nonbinary joy, resistance, sacredness and personhood last week at the National Trans Visibility March (NTVM) in New York City.
Events included an election engagement training titled "Our Voice Our Vote," the Fifth Annual Torch Awards ceremony and the culminating NTVM rally and march from the historic Stonewall Inn.
It was repeatedly mentioned throughout the week's events that the celebration of this year's NTVM came at a critical moment, as communities across the country continue to battle waves of anti-trans legislation being put forth in state legislatures.
"There is no greater time than now for our trans and non-conforming siblings to be in community holding each other through the challenges, celebrating our victories and reminding each other that we are not alone. And there is no greater time than now for clergy, faith leaders and allies to stand with us and for us," said Rev. Yadi Martínez-Reyna, founder and executive director of Color Splash Out and member of the Encuentros Latinx UCC advisory team. "That is what the NTVM does, it provides a platform, celebrates our diversity and our sacred transness."
The United Church of Christ carried on in its tradition of sponsoring NTVM's Empowerment Service for the fifth year, with two additional offerings located this year at The Riverside Church on Oct. 19. Before the Empowerment Service, a faith summit was co-led by the Rev. Yunus Coldman, pastor for trans ministry at Rivers of Living Water UCC in New York/New Jersey — a congregation affiliated with the Fellowship of Affirming Ministries and the UCC — and the Rev. Katrina Roseboro-Marsh, executive director of the UCC Open and Affirming Coalition.
Empowerment and faith
The theme of the day was "Reclaiming Our Time: Changing the Narrative Through Faith in Action." Coldman and Roseboro-Marsh led local activist and faith leaders in a facilitated dialogue around how to share resources, now and in the future, to address the needs specifically of Black and brown trans communities.
The Empowerment Service wove the voices of many local Black and brown trans and gender non-conforming siblings, as well as an interfaith experience beyond Christian tradition.  
Carmarion Anderson-Harvey, who has been overseeing NTVM's Empowerment Service for the last five years, introduced and celebrated each member of worship. Many repeated in conversation post-service this was their first time in worship or their first in a while experiencing such an affirming experience of their personhood.
"The narrative I heard at the National Trans Visibility March was one of resilience and celebration that de-centered suffering and uplifted what is possible when we all come together for a more just world," said Rachael Ward, UCC minister for Gender and Sexuality Justice Ministries. "Too often, there can be erasure of the full complexity of the Imago Dei, when Black and brown populations are not included at the table — especially when speaking to the intersection of gender and sexuality. What I witnessed at the National Trans Visibility March was a commitment to uplifting the resilience and profound movement work of Black and brown trans and gender non-conforming siblings. It reminded me and called me in to offer an intersectional narrative when advocating for gender and sexuality justice."
'An extraordinary gift'
This year's Empowerment Service and Faith Summit included the partnership of two churches. While The Riverside Church offered the sacred space of its physical site location, Rivers of Living Water UCC provided music.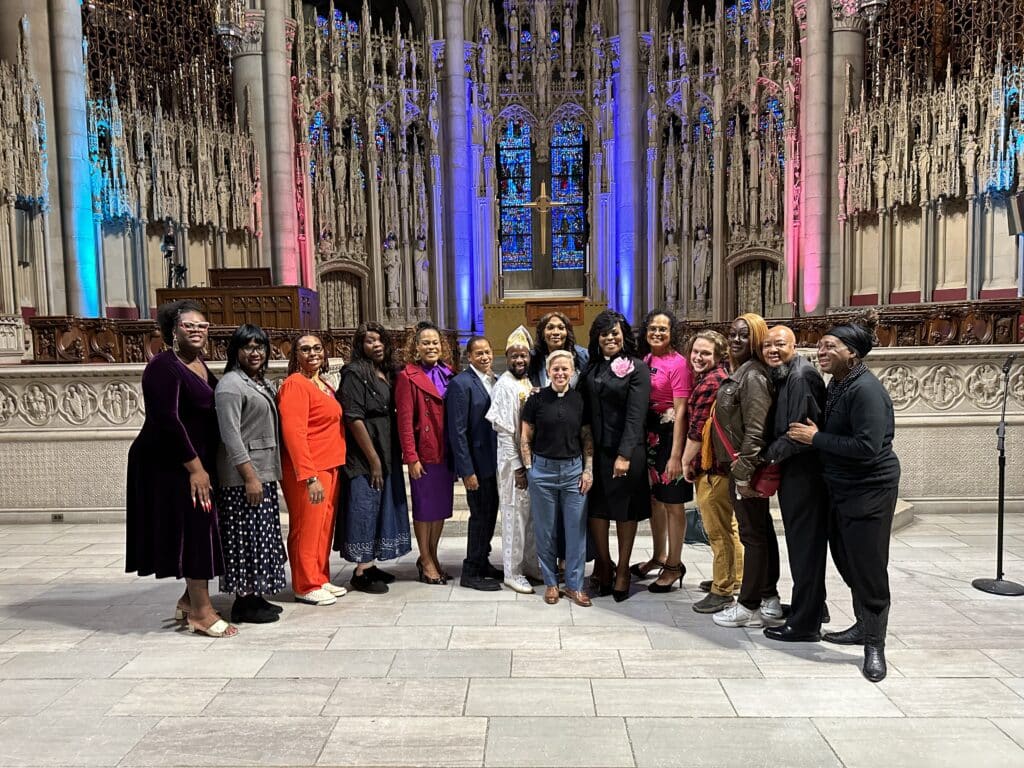 "Riverside Church prays that all felt loved and fed at this year's Faith Summit. What a time we had! What an honor to host! Gathering with trans and nonbinary siblings from across the country to celebrate the beauty and power of God at work in trans and nonbinary leaders and communities was an extraordinary gift," remarked the Rev. Adriene Thorne, senior minister of The Riverside Church. "We continue to hold hands with our partners at NTVM and the United Church of Christ in anticipation of bringing about a world on earth as it is in heaven for the grand diversity of all God's children."
"The National Trans Visibility March worship service held at Riverside Church in NYC was powerful and spirit led," said the Rev. Bentley deBardelaben-Phillips, UCC executive associate and team lead for education for Faithful Action Ministries. "Most speakers illuminated their personal connections and/or experiences, which made for deeper connections to the horrific global plight against the trans and nonbinary community who are simply trying to live our lives authentically. My ministry has been enlivened by my attendance and participation."
deBardelaben-Phillips offered greetings and welcome from the National Setting during the service, expressing UCC support for the NTVM.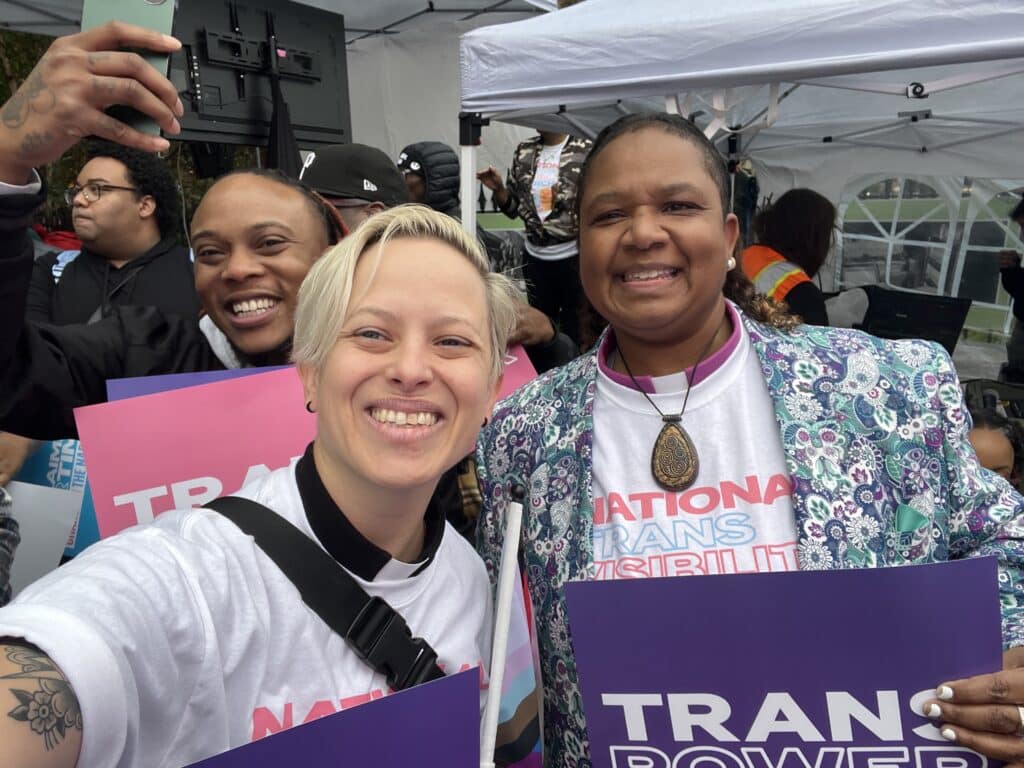 'Uplift the resilience'
During the service, Ward led the community in prayer.
"Hear this from a queer pastor: you are loved, you are made in the image of God, uniquely, and we are here for you as the United Church of Christ," they told those in the congregation and watching online. "Too often the suffering of trans siblings is all that is lifted in advocating for trans thriving. It's critical that just as much as we tell the truth of the suffering unfolding upon trans siblings through toxic theology, disembodying legislation and violent rhetoric, we make space for trans celebration and uplift the resilience of God's beautiful expansive trans siblings."
Ward announced the upcoming launch of the "Love is Louder: Love Your Neighbor OUT LOUD" toolkit, which will be available on the Gender and Sexuality Ministries web page on Nov. 20, the Transgender Day of Remembrance.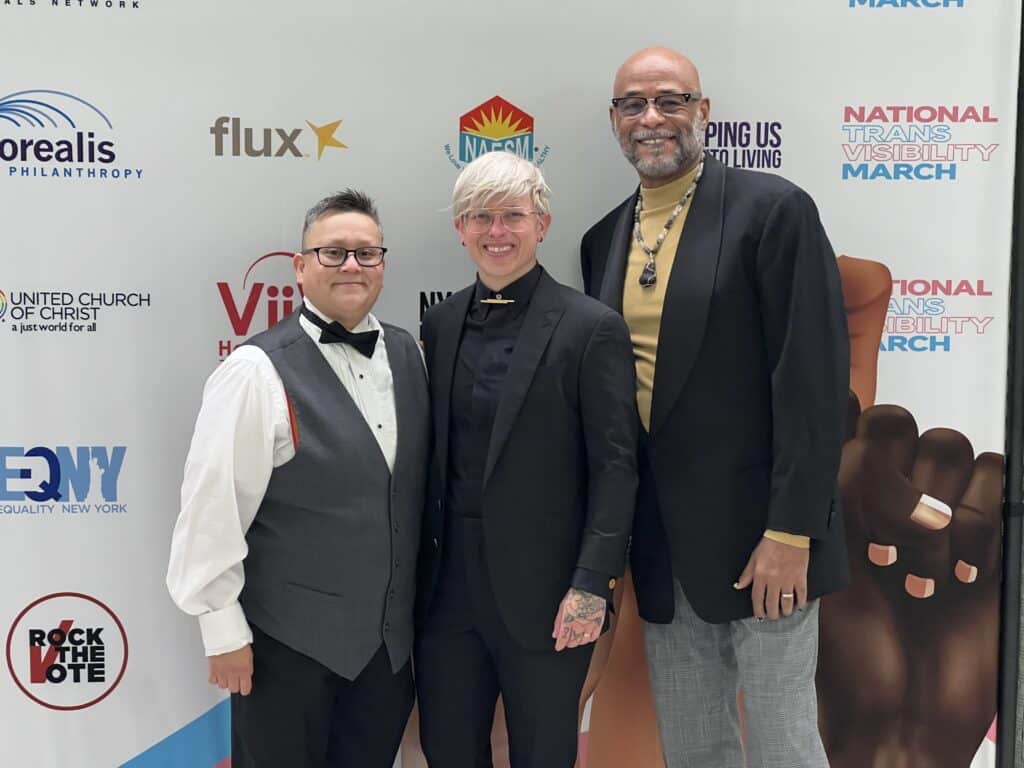 In honor of the NTVM, the UCC Washington D.C. Office created an action alert, through which hundreds of UCC advocates have already sent over 600 messages to legislators calling for the passage of the Transgender Bill of Rights.
A prayer at Stonewall
On the final day of events, Ward was asked to offer blessing and ground the space before the march at the Stonewall Inn.
"The entire week was spent in community with trans siblings who, time and time again, thanked us for our presence as pastors," Ward said." "After the prayer, we hugged so many people, and it was so evident: this is what loving others well out loud looks like. Showing up, holding presence and reminding folks that God makes no mistakes. All are worthy of love."
Jessica Quinn is the communications specialist for the UCC Washington D.C. Office.
---
Related News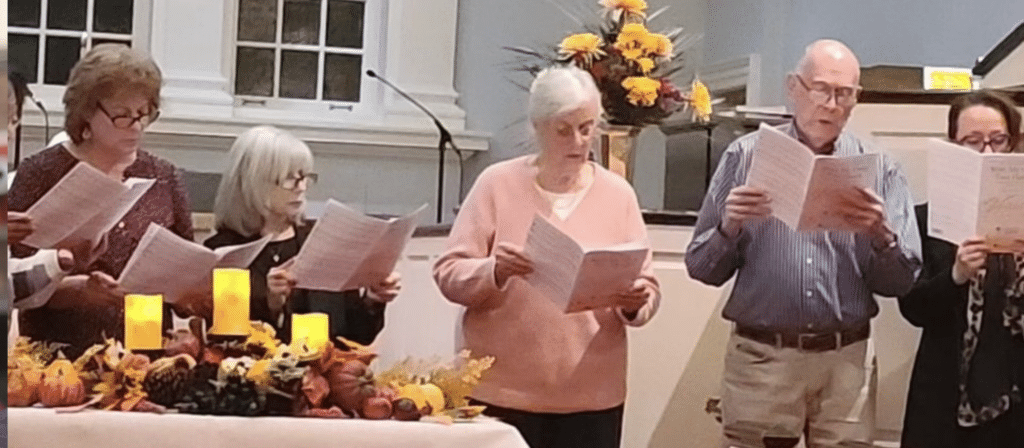 Many United Church of Christ congregations across the country participated in interfaith...
Read More