UCC 'a visible presence' at National Trans Visibility March in Washington, DC
The United Church of Christ was well represented at the National Trans Visibility March on Washington, D.C., on Saturday, Sept. 28. Members of the transgender, gender non-conforming and non-binary communities converged on the nation's capital from several major cities in the United States to take a stand against hate and discrimination in this historic first march and rally.
"As a lead sponsor, the UCC had a strong and visible presence at the march," said the Rev. Mike Schuenemeyer, UCC executive for health and wholeness advocacy, "not because the UCC has already arrived, but because of the hard work at hand both in the UCC, as well as in amplifying the work the country must do together to truly live the values of the nation's pledge of liberty and justice for all.
At Saturday's march and rally, thousands of participants heard from trans and non-binary leaders who spoke out for an end to violence aimed at people in their community. The gathering also worked to raise the visibility of issues of interest to trans and non-binary people across the country – universal, quality health care for everyone, a U.S. Census that includes people of different sexual orientations and gender identities, and no ban on transgender people serving in the military. Participants also advocated passage of The Equality Act of 2019. Passed by the House but stalled in the Senate, the act prohibits discrimination based on sex, sexual orientation, or gender identity.
To prepare for a day of activism mentally and spiritually, marchers were welcomed Saturday morning for hospitality and a continental breakfast at the First Congregational Church. Among them were several UCC pastors, members, family and friends. On Sunday, Sept. 27, at the 10:30 a.m. worship service, the Rev. Malcolm Himschoot of Justice and Local Church Ministries served as guest preacher.
On Sunday, Community Church UCC, the event's fiscal sponsor, hosted an interfaith Empowerment Service. Along with the inspiring and uplifting messages from a variety of faith leaders, there was a somber candlelight ritual remembering the 18 trans and non-binary persons who have been murdered this year. At a reception Friday evening, the Rev. Louis Mitchell, a UCC minister and co-founder of Transfaith, was recognized with a Torch Award for lighting the way for gender expansiveness and passing it on across generations.
---
Related News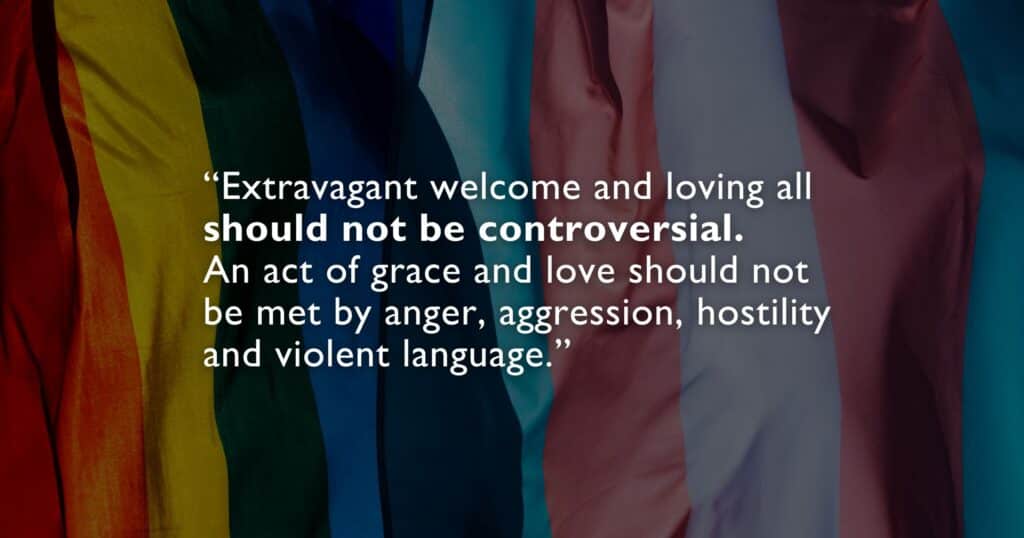 The United Church of Christ National Officers and the Conference Minister of the South Central...
Read More