UCC's White Privilege curriculum gets ecumenical audience in Rhode Island
When the United Church of Christ released the adult education curriculum on white privilege and race a year ago, it extended a call throughout the denomination, urging congregations and organizations to engage in open, honest, sacred conversations on the topic. Now an ecumenical body in the New England region, the Rhode Island State Council of Churches, is using the curriculum and sharing it with churches to engage in bold, safe and meaningful conversations of race with the intent of helping dismantle privilege and racism.
"It was a poignant time to take a look at, from the point of view of being white, and we thought we had to do this," said Barbara Scott, president of the Rhode Island State Council of Churches.
A series of five 2-hour sessions, Merciful Conversations on Race, was developed based on the "White Privilege: Let's Talk" materials created by the UCC in the summer of 2016 and released to the wider church in September. The first series for the RISCC begins on Oct. 2 and continues throughout the month in three different locations.
The RISCC — which has representation from Catholic, American Baptist,  Presbyterian, Episcopal, Protestant and Unitarian Universalist churches — is presenting the series for people who are serious about looking into their own souls and asking themselves hard questions. The series also has a 117-page manual that is required reading.
"Our board has a number of members who are UCC, and they showed us what the curriculum looked like and the participating churches that taken part in it," Scott said. "Why start from nothing when colleagues are saying, 'Here, we've already done this.'"
Using the UCC's curriculum as a starting point, the RISCC developed a facilitator guide in June and has trained a group of facilitators this summer to shepherd its statewide participants through the conversations on race and privilege.
The Rev. Kurt Walker, pastor of Chapel Street Congregational in Lincoln, R.I., is hosting a Merciful Conversation on Race. He participated in the RISCC facilitator training prior to General Synod 2017, knowing he "could then offer what I learned to the rest of UCC clergy in Rhode Island and in the immediate area.
"The five-fold call from Matthew 25, where Jesus of Nazareth says, if we are to receive salvation and eternal life, then we are to feed the hungry, visit the prisoner, shelter the homeless, cloth the naked, and welcoming the strangers," Walker said.
"Within the context of race, I think the work needs to be done by white folk," Walker continued. "We need to stop asking people of color how it is different for them in this country, how it's different driving down the street, and do the work ourselves. A failure to do that points to an inherent racism in that white folks don't have to think about race every day. This training is an opportunity for white folks to do their work and learn what it's like for people of color to live in a systemically racist society. The point of the training, I think, is that those difficult moments and conversations are held in a safe environment where people can express concerns, where not everyone agreeing can be held in the love of God. I like that it's being done in churches."
The Rev. John Dorhauer, general minister and president of the UCC, pledged to create the UCC's white privilege curriculum as he began his term in 2015. Having studied and taught white privilege at seminary, he is one of resource's five authors – each from different perspectives and backgrounds.
Scott said she has participated in the UCC's curriculum and discussions, and admitted the conversations were difficult, but necessary.
"There is something every day showing us this is the right track to be on — look at what happened this weekend with the national anthem demonstrations about race," Scott said. "How appropriate that it needs to begin with the faith community. We need to all be together to say that we have to do this now, after centuries of not really taking a look at our own traditions that have seen people of color as whole human beings."
"We feel grateful to be using it," Scott continued. "We're going across those denomination boundaries and are grateful to be doing this as a unified effort. Hopefully it will expand even more."
The UCC white privilege curriculum is available for download at no cost on the UCC Resources website.
---
Related News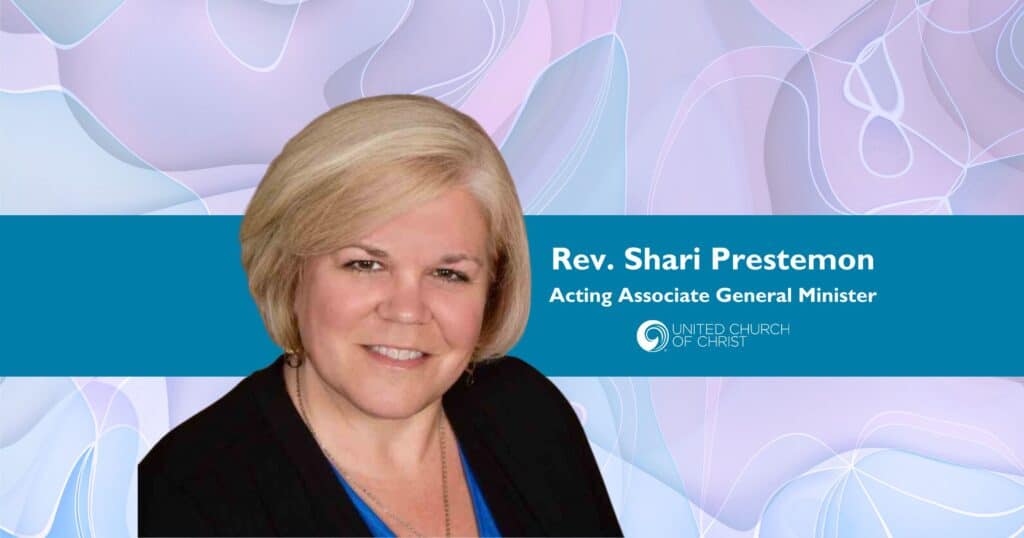 A new United Church of Christ national leader has been called. The UCC Board voted in a...
Read More