UCC urges congregations to join global call to 'Stop Funding Fossils' in a Day of Action Nov. 14
UCC congregations around the country are taking pictures and making plans for a public witness for environmental justice on Saturday, Nov. 14, when they join advocates the world over in a call to stop funding fossil fuels. During this Day of Action, "Stop Funding Fossils," earth care activists and UCC church communities will work to pressure governments around the globe to stop handouts to fossil fuel companies that help explore, expand, and exploit more unburnable carbon.
Right now, the United Church of Christ is the only faith group partnering with the Sierra Club, 350.org, and more than 25 organizations from around the world formally calling on members to advocate for change on Nov.14.
Mary Sealing, a member at First Congregational UCC in Grand Junction, Colo., believes it is imperative that church communities get involved.
"It's morally absurd to subsidize the fossil fuel industry, especially in light of increasingly shrill warnings from scientists about the damage that carbon emissions are doing to the ecosphere," said Sealing. "The Pope's encyclical made it clear that all people are called to respond to these kinds of issues, and church communities are especially well situated to highlight contradictions in government policies."
Sealing, who has worked on environmental issues off and on for almost 40 years –– first as an employee of the Colorado Division of Wildlife, and then as an activist –– sent in the church sign photo that reads "Stop Subsidies Now." She is hoping for more involvement from her congregation on that Saturday.
"We have just now split our mission team into a local action team and a justice action team in order to better address systemic issues, Sealing said, "and this is the first environmental issue we've tackled."
The UCC, long entrenched in environmental justice, sees the day of action as a logical follow up to the 2015 General Synod resolution calling for the transition from fossil fuels to renewable energy, which "implores its pastors, conferences and members to advocate with federal and state lawmakers to … eliminate immediately all fossil fuel subsidies." Minister for Environmental Justice the Rev. Brooks Berndt says in a few simple steps, everyone can take part by reaching out to others.
"We are out to raise consciousness on a pivotal moral issue in the environmental justice movement," says Berndt. "Take a picture of yourself or your church members holding a protest sign, or a sign that says what you would do with the $52 billion in annual fossil fuel subsidies in the United States, and share it. Post it Nov. 14 on Facebook, or use the #StopFundingFossils hashtag. Send it to us in the national office. Do some evangelism for a cause that needs it."
Lois Schultz, a member of Plymouth Congregational United Church of Christ in Des Moines, Iowa, is heeding that call. As part of the Des Moines Interfaith Green Coalition, Schultz is planning a photo with that group on Saturday, and organized a photo and a discussion of earth care with her book club, which is reading "Active Hope, How to Face the Mess We are In Without Going Crazy."
"In the book, the author talks about three stories of our time, one of them being the 'Great Turning,' which has three dimensions within it, one of which is a change in consciousness or values. Caring for our earth and all living things becomes a moral imperative. This is where faith groups can make a difference," said Schultz. "They can educate and inspire their congregations to see the continued burning of fossil fuels as destroying life on our beautiful planet. When more and more people of faith speak out, it can impact the collective will of the population and hopefully begin to turn the tide in favor of a more sustainable way of living, which includes renewable energy, changes in agriculture methods, a deep desire to conserve all of earth's plants and animals."  
Peg Downing, who organized fellow members of Pilgrim United Church of Christ in Cleveland for a photo shoot Sunday Nov. 8 with people holding the banner "Separation of Oil and State," says her church is already passionate about the environment.
"We turned the front lawn of the church into a community garden this summer, and we see environmental sustainability and social justice as inseparable from our call to follow Christ," said Downing. "And many of us get the concept of 'tipping points.' My big question is, 'Will our activism be enough, soon enough?'"
Downing says advocacy for the earth is strongly interconnected to her faith as a Christian.
"Personally, I have come to see that Jesus lived, died, and rose to tell us the story of our profound connection to the whole of creation. And that is where our salvation is. I mean, literally, the salvation of humankind, because right now we are racing towards our extinction," Downing said. "Bringing sustainability to scale will require a mainstream transformation of values away from our current growth-at-all-costs way of thinking to one that embraces interdependence, reciprocity, and cooperation. A Kingdom of God way of thinking that recognizes the sacred presence of God in everything. The real challenge is a spiritual one. And that's why church communities need to be involved. We're at a moment when we need to change more than light bulbs. We need to change the story. We need to change our hearts. I think we need to hear with new ears the full force of the radical love that Jesus is calling us to, and to realize that care for creation is not just one contemporary issue among many others. Rather, it is central to our fundamental purpose as human beings and it affects the way we do everything.
---
Related News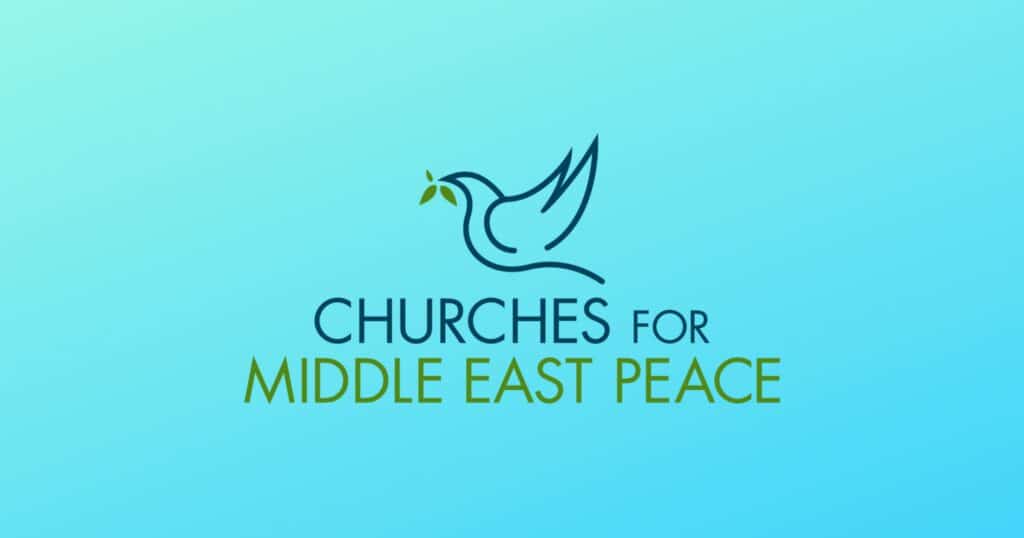 The following statement was issued Dec. 2 by Churches for Middle East Peace (CMEP), of which...
Read More