UCC sends famine assistance to South Sudan, aids other countries
The United Church of Christ is sending an initial $85,000 in aid to South Sudan and three other African counties to help people combating a crisis fueled by war, severe drought and massive food shortages, with famine declared in some areas.
"Famine is not a word that is used lightly or that simply means a shortage of food. This crisis, this emergency demands our immediate attention and response," said Zach Wolgemuth, executive director, UCC Disaster Ministries. "The funding that we've received from our generous donors has allowed us to respond quickly and undoubtedly save lives."
Read the UCC News story: UCC sends assistance to South Sudan and other African countries
---
Related News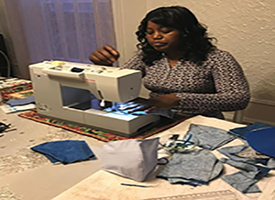 "It's so good making masks because it helps the community," said Sandra, a Congolese refugee...
Read More