UCC sends aid to people suffering in drought-stricken Ethiopia
Lule, a mother of 10 children, lost 25 of her cattle because of the drought, and struggles to save her remaining two. Ethiopia is in the grip of the worst drought in 30 years. Photo by WFP 
With the most severe drought in almost three decades impacting lives across the dry landscape of Ethiopia, the United Church of Christ is acting to help the families at risk. UCC Disaster Ministries has sent a $10,000 grant to ACT Alliance, a world relief organization, to support ongoing food assistance, health and nutrition support, agriculture and livestock production, and safe drinking and bathroom water for 137,000 people.
"The scope of this disaster, and many that we respond to, seems overwhelming to the point that even $10,000 doesn't seem like much, but I'm reminded of the story of Jesus feeding the 5,000 with just a few loaves and a couple of fish," said Zach Wolgemuth, UCC Disaster Ministries executive. "The reality is that the UCC often fills critical gaps and our impact is much greater than I could have ever imagined. I'm confident that this response will go a long way to providing lifesaving aid and hope to our sisters and brothers."
A lack of rainfall during Ethiopia's wet season has resulted in a severe water shortage, causing widespread crop failure and the death of more than 400,000 livestock. More than 10 million people, 6 million of which are children, face food shortages and about 800,000 are displaced in the western region of the country. According to ACT Alliance, it is estimated that the country will need about $1.4 billion to respond to the emergency, with about half that amount raised so far.
The February ACT Alliance appeal hopes to raise more than $5 million. Using funds from One Great Hour of Sharing, the UCC contributed to the call through ACT Alliance to the International Orthodox Christian Charities. One Great Hour of Sharing, one of the denomination's five annual offerings, raises money to respond to emergency relief, disaster response, sustainable development and social services in some of the poorest areas around the globe.
"One Great Hour of Sharing allows the United Church of Christ to be able to respond to these situations — to offer aid to suffering people in Ethiopia, and all corners of the world," said the Rev. Mary Schaller Blaufuss, who heads the UCC's Global Sharing of Resources team. "We are grateful for the contributions from our churches that allow this immediate and long-term disaster response. We hope our members will hold that in mind as the annual offering is collected in early March so the church can continue assisting those people beginning to recover from disasters and those who are engaged in long-term, sustainable development."
The IOCC, an ACT Alliance member and one of the implementing partners responding to the drought, is working with the Ethiopian Orthodox Church Development and Inter Church Aid Commission to install large capacity water tanks in the country's hardest hit regions. The IOCC is also providing water needed for livestock in remote, drought-affected communities where little emergency relief assistance is currently available.
"Ethiopia's worst drought in decades threatens the very survival of 10 million people, not just today, but for years to come," said IOCC Executive Director and CEO Constantine Triantafilou. "IOCC is on the ground providing families in the hardest hit areas with water and livestock feed, but the need is great. Without immediate support to deliver emergency food assistance, entire communities of families in Ethiopia face a serious threat of starvation and loss of life."
"Disaster Ministries responds to dozens of disasters each year through ACT Alliance partners," Wolgemuth said. "IOCC is one of several ACT Alliance partners working in Ethiopia with a great track record of providing relief in this type of emergency."
Donate to One Great Hour of Sharing.
---
Related News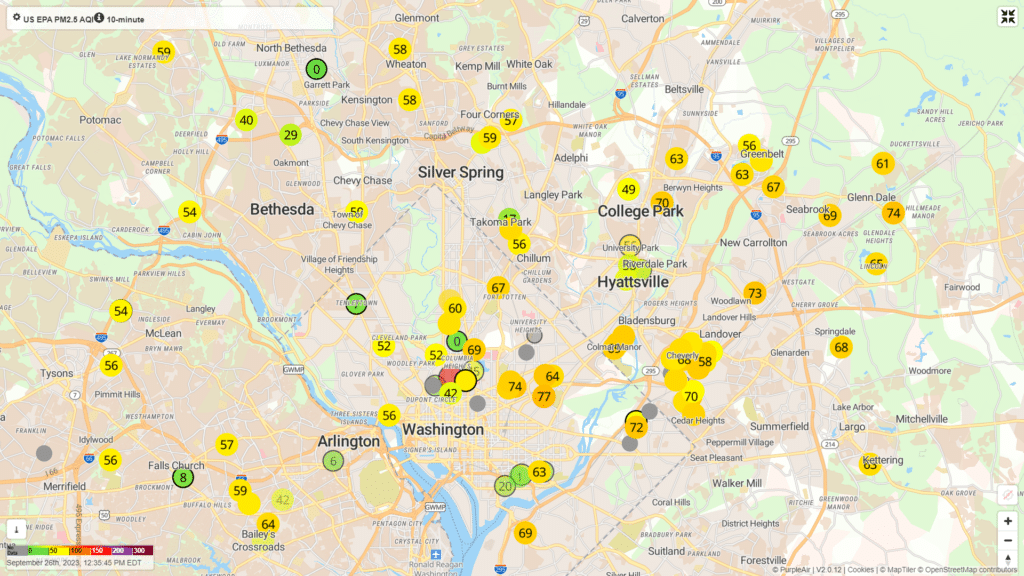 This summer, the United States experienced some of the worst days for wildfire pollution in...
Read More