UCC reaffirms commitment to Nepal earthquake recovery
As the people of Nepal mark the first anniversary of the most devastating earthquake to hit their small country in more than 80 years, the United Church of Christ is reaffirming its long-term commitment to help survivors put their lives back together.
"Last week, we approved an additional $50,000 to take us one step closer to meeting our goal of building 50 earthquake resistant homes," said Zach Wolgemuth, UCC Disaster Ministries. "We will continue to support the work of all our partners, including those engaged in providing things like shelter, psychosocial support, livelihood restoration and WASH [water and sanitation services]."
On April 25, 2015, a 7.8-magnitude earthquake shook Nepal, killing more than 8,800 people, wiping out some 598,000 homes and damaging 283,500 more. That quake, along with several powerful aftershocks, touched the lives of 8 million people –– more than one-fourth of Nepal's entire population.
UCC Disaster Ministries immediately responded, sending $40,000 to ACT Alliance partners to help provide medicine, food, water, and basic household supplies like quilts and cooking items. Another $50,000 was allocated for long-term recovery projects and training, including restoration of livestock, poultry and seeds.
In addition, the church pledged to build 50 homes for survivors in Trishuli, Nepal, at a cost of $5,000 each, through a partnership with the Fuller Center for Housing.
"We partnered with the Fuller Center because they had been working in Trishuli prior to the earthquake and all their homes withstood the quake," said Wolgemuth. "We decided to come alongside of them to help them increase capacity and shift from development to disaster recovery."
Right now, with $50,000 contributed by the UCC, 15 of those earthquake-resistant homes are complete, with several others currently under construction.
The additional funds just dispatched will benefit 23-year-old Kalpana Kumal, a single mother of three who is waiting to occupy one of those homes. Her family lost its house during the earthquake and is now living in a temporary shelter.
"As a relief, the temporary shelter is good for us during [the] disaster," Kumal writes. "But whole life, we cannot live inside it. It is very hot during [the] summer and it is very cold and inappropriate during rainy [weather] and winter … We are adjusting our living conditions, [but] I did not have enough income to save and build new home for my family. If at least I would get [a] home, it will be great blessing for me take relief, for shelter for my children in a safe environment. But let's see what God will do in my life. I hope he will send something, with somebody, some day."
"The one-year anniversary of this event marks the beginning of the journey, and UCC Disaster Ministries has committed to walk with our partners and the people of Nepal for the long haul," said Wolgemuth.
To that end, the people of the UCC have donated more than $400,000 for Nepal earthquake relief, which to date has provided over $190,000 worth of grants and support in the form of food distribution, non-food items like tarps, blankets, containers, WASH (water, sanitation, hygiene), temporary shelter, and psychosocial support. "Our donors understand that recovery is long-term," said Wolgemuth, "In order to make a lasting impact, we need to stick around for the duration."
---
Related News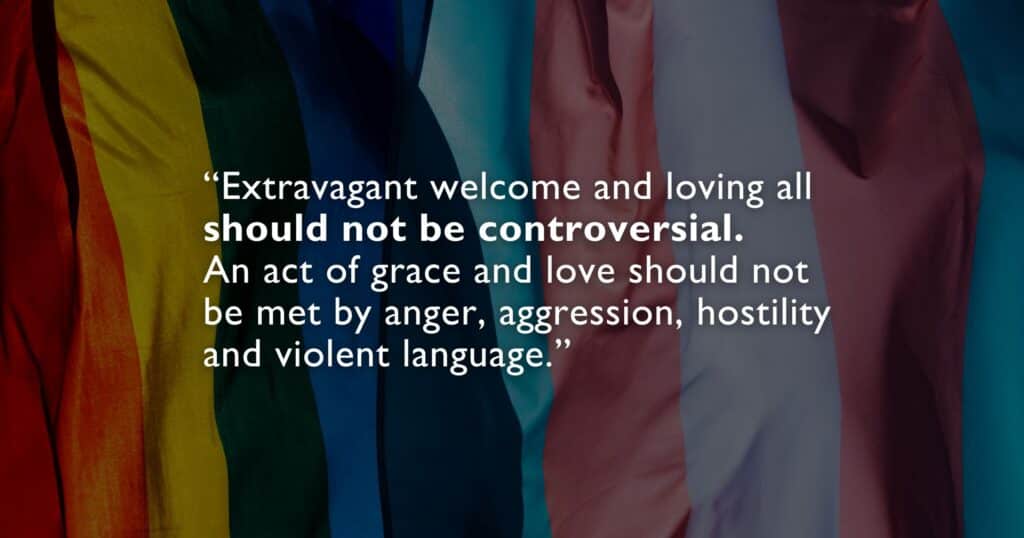 The United Church of Christ National Officers and the Conference Minister of the South Central...
Read More