UCC, others criticize US plan to ban travel from more countries
National ministries of the United Church of Christ spoke out Monday, Jan. 27, against a U.S. plan to ban travel from an expanded list of countries.
"The UCC stands strongly against any form of discrimination and we stand for a society and country that is welcoming of the diversity of God's people," said the Rev. Bentley deBardelaben-Phillips, executive associate of Justice and Local Church Ministries. He read from a statement that opened a news conference in the Amistad Chapel at the UCC national office building in Cleveland.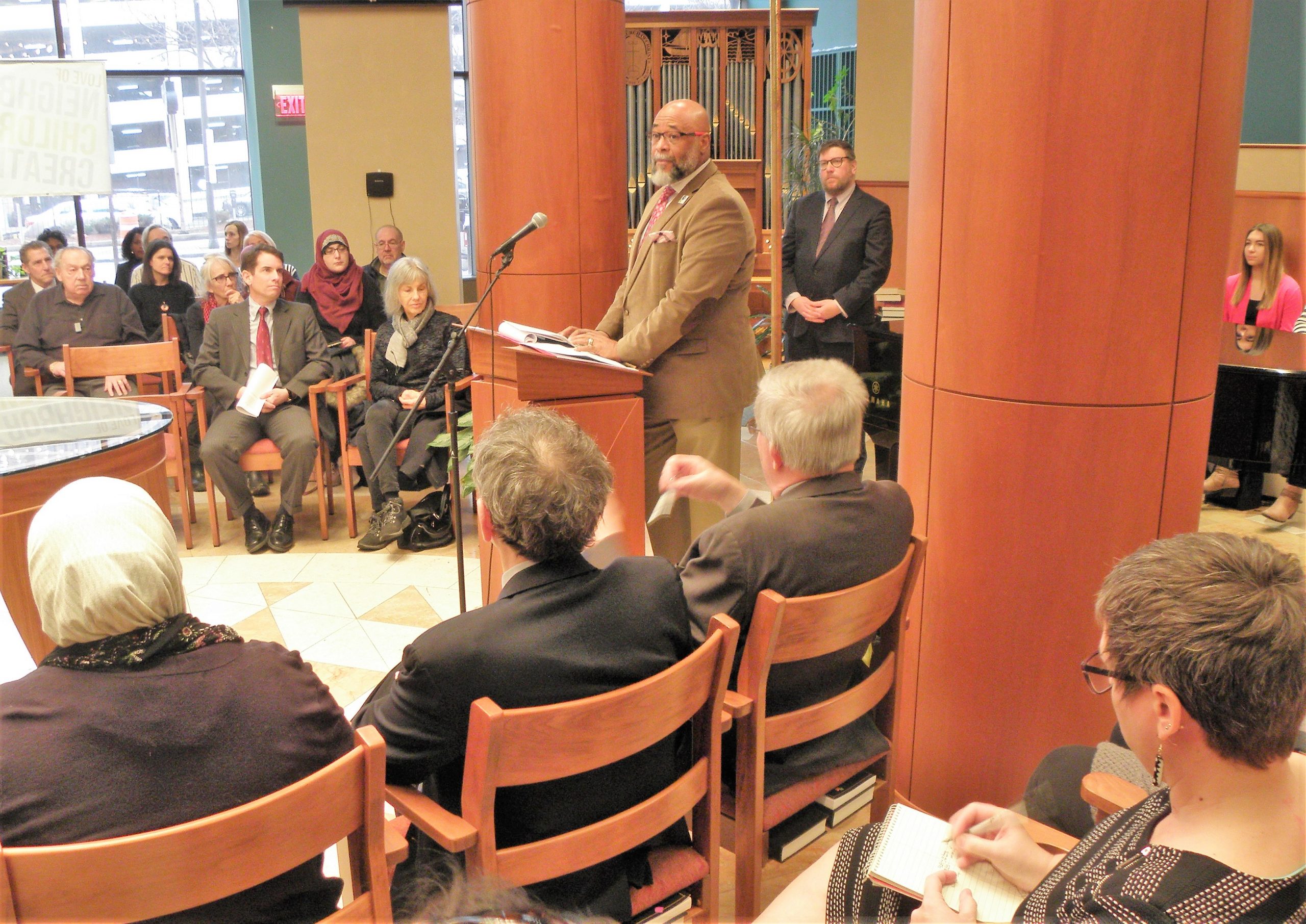 The news conference, held jointly with Global Cleveland, a nonprofit that welcomes international newcomers, came on the third anniversary of the Trump administration's Muslim travel ban, which bars migrants, refugees and asylum seekers from Iran, Libya, Somalia, Syria and Yemen, as well as North Korea and Venezuela. It also came in response to President Trump's plan to expand that list to include seven more countries – something he had mentioned during a wide-ranging Jan. 22 news conference at the World Economic Forum in Davos, Switzerland.
"We have to be safe," Trump said in Davos. "Our country has to be safe. You see what's going on in the world. Our country has to be safe. So we have a very strong travel ban and we'll be adding a few countries to it." The expanded ban is "going to be announced very shortly," he said.
'Deep and profound effect'
No newly banned countries had been named by the time of the Cleveland press conference. But Global Cleveland President Joe Cimperman said he believed Belarus, Eritrea, Kyrgyzstan, Myanmar, Nigeria, Sudan and Tanzania could be among them, including people who live in and hold passports from those countries.
"We are going to continue to fight for the original eight countries, as well as the ones who are potentially going to be on the ban," said Cimperman, who moderated the news conference.
The current ban is harmful even without expansion, largely because it predominantly affects people of certain religions and races, UCC leaders said in the statement read by deBardelaben-Phillips. "We believe strongly that one's religion should not affect their ability to take advantage of all the resources provided by our country," it said. "Refugees from predominantly black and Muslim countries should not be singled out by our government and refused entry into the U.S. This ban, currently in effect, has a deep and profound effect on the lives of many."
The news conference included speakers from several religious and ethnic traditions. Some of them linked the ban and its planned expansion to the current U.S. administration's wider immigration policies.
'An attack on people of color'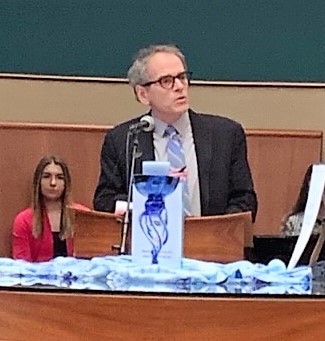 David Leopold, an immigration and citizenship lawyer with Ulmer & Berne, a Cleveland-based law firm with offices in six other cities, said the travel-ban strategy is an example of "what can happen when hate is methodically transformed into public policy."
Leopold noted that half the currently or soon-to-be-banned countries are African. "So what is the trend between the travel ban on Muslims, the travel ban on Africans, the caging of children at the border, the mass deportation inside the United States, the assault on cities throughout this country that want to protect Fourth Amendment rights – what is the common thread? An attack on people of color," he said. "And if you don't believe that, then you're not paying attention to what's going on in this country. This is an all-out racist assault on what America has been, is trying to be, what the dream of this country is, what the idea of America is. And it's got to stop."
Leopold noted his own immigrant heritage, as did Gregg A. Levine, a member of the executive committee of the Jewish Federation of Cleveland. "We as Jews know what it is like to be a stranger in a strange land," Levine said. "And on this, the 75th anniversary of the liberation of Auschwitz, it's especially important to realize that where there's hatred for one, there's hatred for all. We need to be a welcoming community in the United States to our strangers.""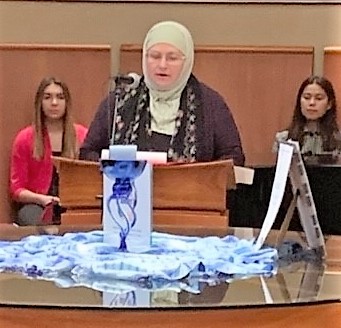 "Any expansion of travel bans can only be seen as a setback for our country in our dealings with the world," said Julia Shearson, executive director of the Cleveland chapter of the Council on American-Islamic Relations. "Such bans make us appear small and weak instead of as the strong and vibrant nation that we are. … These policies should be seen for what they are – a calculated political strategy to stir up anti-immigrant feelings in our country for political gain. We say enough. Such policies are not in our long-term national interest. They are not befitting of our shared values, and they are not befitting of the values of the people of northeastern Ohio and Cleveland. We are welcoming communities, and we say no matter where you are from, we are glad you are our neighbors."
"I have opposed and continue to oppose this administration's misguided travel bans," said U.S. Sen. Sherrod Brown of Ohio in a letter read by his staff member, John Ryan. "…Instead of focusing on keeping all Americans safe, this administration is just expanding its blatant efforts to limit black and brown people from coming into this country. Of course we know we have a lot of work to do to fix our broken immigration system. But keeping families apart won't solve anything."
'We welcome strangers as we welcome Christ'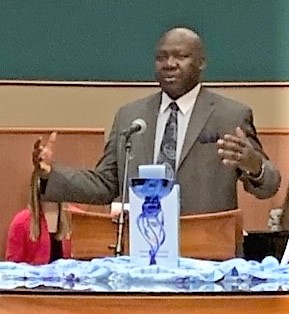 "The United States is an idea, not just a place," said Moses Timka, M.D., speaking for the Nigerian Community in Greater Cleveland. "There are not many places called 'United.' … There are not many places like this country. … We are here to tell the government, in unison with others who are here, to recognize and reconsider their position – that our riches are in our diversity." Welcoming people from many countries and with many ideas will strengthen the U.S., he said.
"From a Christian perspective, Matthew 25, we welcome strangers as we welcome Christ himself," said the Rev. Margaret C. D'Anieri, canon for mission with the Episcopal Diocese of Ohio. "Our perspective is that we need to, from Leviticus, open our hands to our neighbors."
It was far from the first time UCC leaders had criticized the travel ban. They called for its reversal in October 2017, expressed dismay in June 2018 at a Supreme Court vote upholding it, and called for limiting such bans in an August 2019 visit, along with CAIR leaders, to a member of U.S. Sen. Rob Portman's staff.
The UCC's office in Washington, D.C., has also issued an action alert encouraging UCC members and congregations to advocate two related pieces of legislation, the "No Ban Act" and the "Grace Act."
The full UCC statement that was read Jan. 27 in behalf of leaders of Justice and Local Church Ministries, Wider Church Ministries and the Office of the General Minister and President can be found here.
---
Related News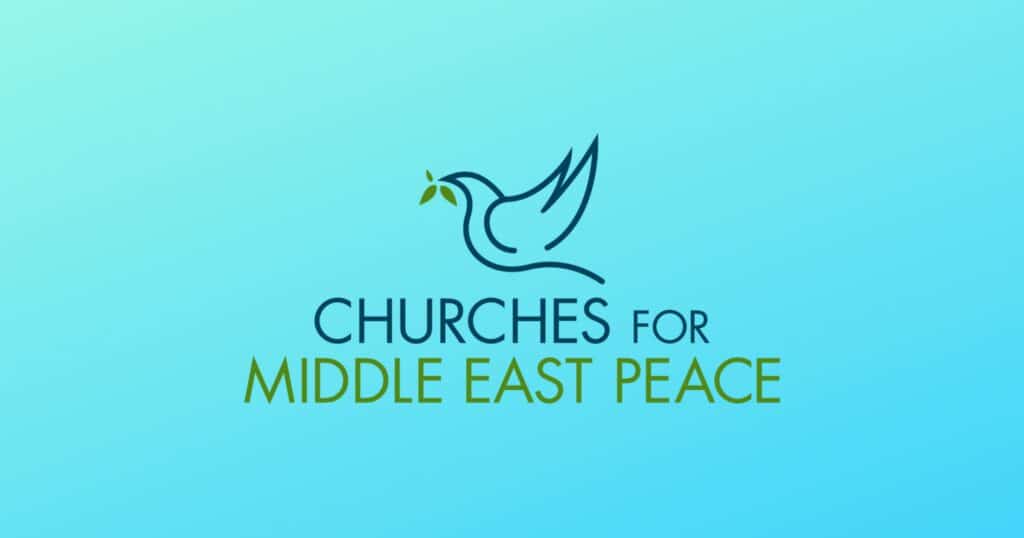 The following statement was issued Dec. 2 by Churches for Middle East Peace (CMEP), of which...
Read More