UCC officers mourn Rep. John Lewis, the Rev. C.T. Vivian, civil right giants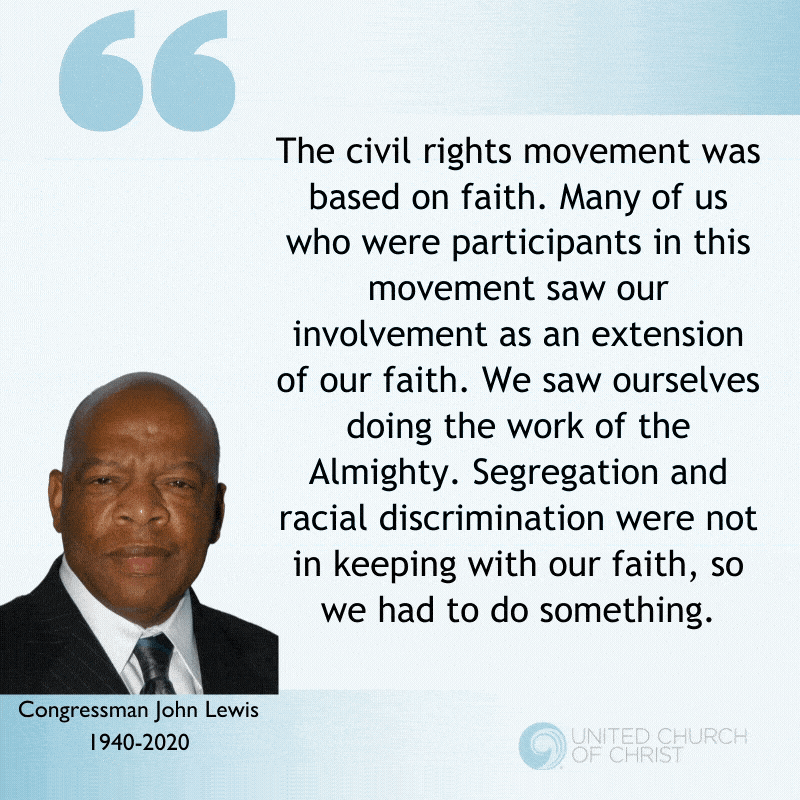 Executives of the United Church of Christ grieved the loss of U.S. Rep. John Lewis, celebrated the life of the civil rights icon, patriot and long-time Georgia congressman and said they hope to lift up his legacy in the days to come. 
They also marked the passing of the Rev. C.T. Vivian, a leader of the Southern Christian Leadership Conference. Both men, colleagues of the Rev. Martin Luther King Jr., died Friday, July 17. 
Lewis, who died at 80 of pancreatic cancer, became a key figure in the civil rights movement, involved in some of the most pivotal moments for racial equality in U.S. history. He fought injustice through "good trouble, necessary trouble," organizing nonviolent sit-ins and protests as he came of age in the Jim Crow South. He continued to fight for the marginalized and the oppressed during more than three decades in Washington, D.C. 
"John Lewis was one of our country's most skilled political operatives and a leader who never compromised on his ethics," said the Rev. John Dorhauer, UCC general minister and president. "He served as an inspiration for me. For years, he was this nation's moral compass. A fierce advocate for civil rights, he sacrificed much for the good of others." 
Freedom rides, 'Bloody Sunday' 
Participating in a movement led by King, Lewis got involved in lunch counter sit-ins, joined the Freedom Riders in challenging segregated buses and stood as a keynote speaker at the historic 1963 March on Washington, at 23 years old. 
"Congressman John Lewis led a life that was committed to ensuring the human rights and dignity for all people," said the Rev. Karen Georgia Thompson, associate general minister for Wider Church Ministries and co-executive of Global Ministries, the common overseas ministry of UCC and the Christian Church (Disciples of Christ). "His years as a leader and businessman were grounded in a defined faith that was bold and courageous. He was steeped in a global reality that framed his commitment to the Civil Rights movement, placing himself as a leader in the forefront of the movement." 
At 25, Lewis helped lead a march for voting rights on the Edmund Pettus Bridge in Selma, Ala., where he and other marchers were met by heavily armed police who beat them with clubs and fractured Lewis' skull. That "Bloody Sunday" helped spur national support for the Voting Rights Act of 1965. 
"Congressman John Lewis is a man of deep faith. Faith deep enough to build bridges across social, political and theological divides. Faith deep enough to fill the trenches hatred has forged. Faith enough to risk his life for our right to vote," said the Rev. Traci Blackmon, associate general minister of Justice and Local Church Ministries. 
'Keep showing up in the voting booth'  
As a lawmaker, Lewis focused on fighting poverty and improving education and health care. He also co-wrote a series of graphic novels about the civil rights movement, for which he won a National Book Award. 
In 2011, he was awarded the nation's highest civilian honor, the Presidential Medal of Freedom, by President Barack Obama.  
"His life is an example for us as we live through this moment in global history where the demand for justice has been renewed with fervor," Thompson said. "He walks now with the Ancestors, leaving a legacy that will continue to guide us. May his soul rest in peace and in power." 
"Congressman Lewis will long be remembered for his contributions to humankind," Dorhauer said. "His legacy will be felt in the continual march to justice that his successors will continue." 
"We owe Congressman Lewis a great debt," Blackmon said, "and the best way to repay him is to keep showing up in the voting booth, keep showing up in the halls of injustice, keep showing up in the political process, keep stirring up good trouble, wherever we can."  
The Rev. C.T. Vivian: Gentle spirit, fierce resistance  
Earlier July 17, the Rev. C. T. Vivian, another leader in the nation's struggle for racial justice, died at 95 of natural causes. Rev. Vivian was one of the first Freedom Riders, an organizer of nonviolent protest, and a leader within the Southern Christian Leadership Conference. 
Thompson celebrated Vivian's "legacy of leadership in this country's struggle for civil rights." Dorhauer commended him for being "tireless in his efforts and fierce in his pursuits while upholding his faith and maintaining his belief in nonviolence." 
"The Rev. C.T. Vivian is a giant of a man who never lost the common touch," commented Blackmon. "I had the privilege of spending time with him at least annually in recent years. He was never too busy to listen. Never too enlightened to teach. Never too celebrated to serve. Never too far removed from the pain of our people to understand. His gentleness of spirit was an act of the fiercest resistance. May his memory and his ministry strengthen our resolve."  
---
Related News
While I was pregnant with our second child, our local church held an Advent Fair where we all...
Read More