UCC National Staff shares love in a dozen different ways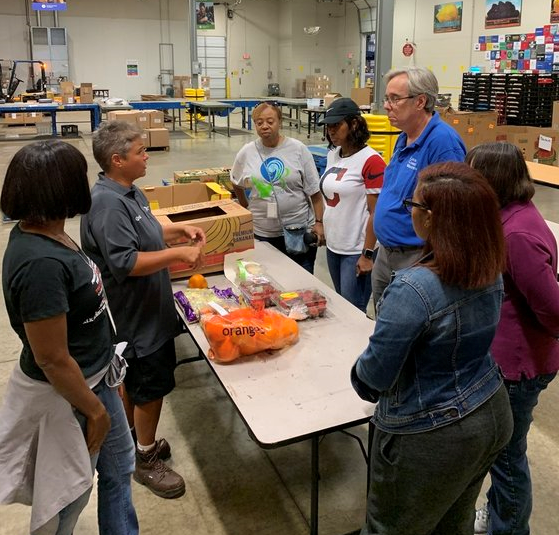 In what has become an annual tradition, several teams of United Church of Christ national staff members fanned out across greater Cleveland on Wednesday, Sept. 11, to spend a sunny September day in service.
In support of the UCC's 3 Great Loves mission initiative, seventy volunteers reported to a dozen different community service organizations in Northeast Ohio to offer love of neighbor, love of children and love of creation.
At the Cleveland Food Bank, seven staff members assisted with sorting and repacking incoming donations that will eventually go out to partner programs in the area. The Food Bank has a network of over 1,000 organizations that operate food pantries, serve hot meals, distribute produce and otherwise help people struggling with hunger in local communities.
"Our group packed 4,405 pounds of produce and 1,175 pounds of graham crackers," said Alisa Lewis, the UCC director of Human Resources. "We worked together with great enthusiasm and we are all proud of the difference our work will make in the lives of so many."
A large team of volunteers went to Shoes and Coats for Kids, where they split up into smaller groups and tackled a number of projects. The organization aims to improve elementary and middle school attendance by eliminating lack of appropriate clothing, shoes and school supplies as barriers. Shoes and Coats for Kids also invite teachers in schools where 60% or more of their students are eligible for the National School Lunch Program to shop for school supplies in their "store."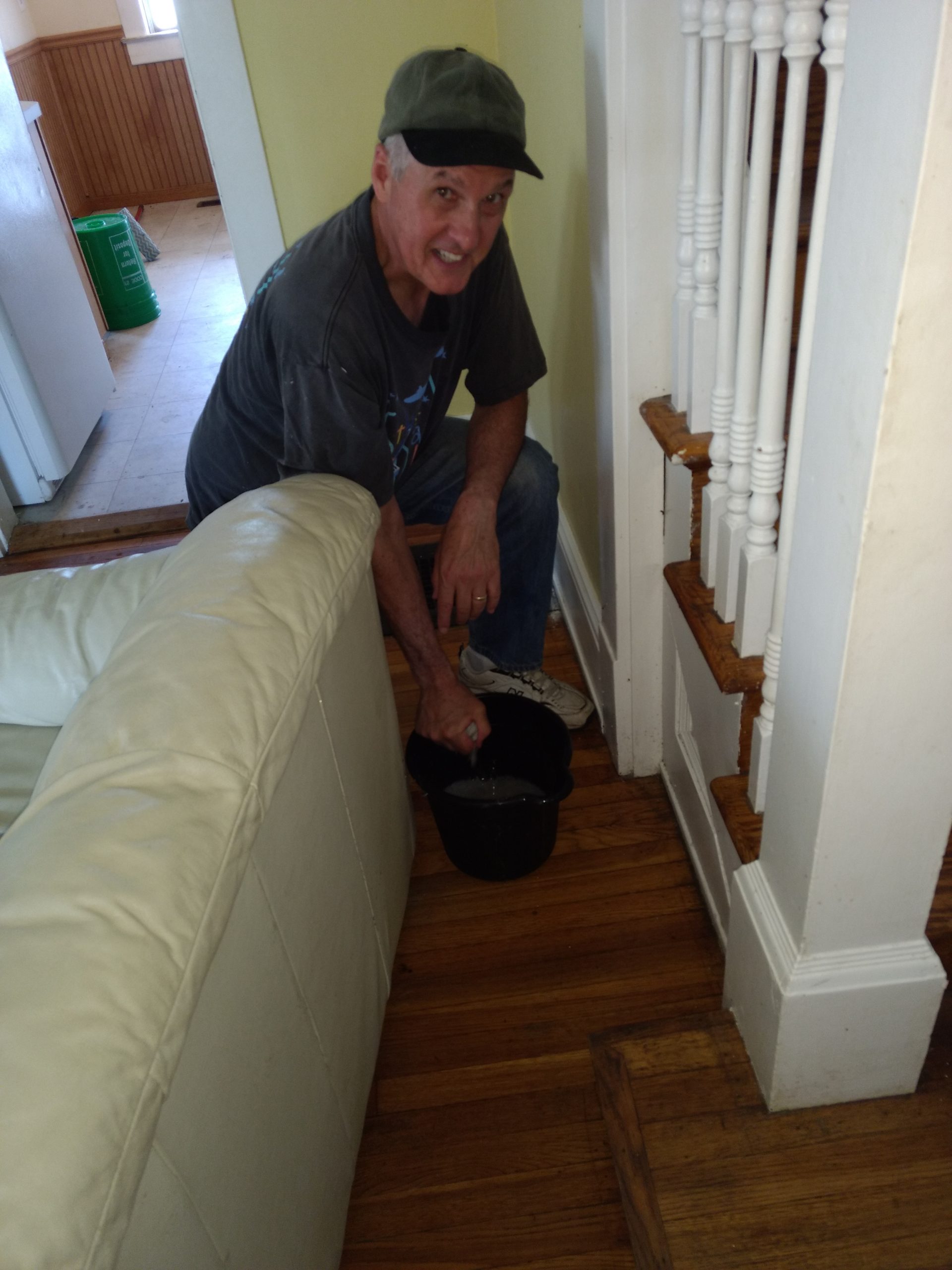 "Our small group stocked the teacher supply area," said Destiny Hisey, associate director of the Center for Analytics, Research and Data (CARD). "We opened hundreds of packages of glue sticks and scissors and sorted supplies. Another group restocked the store. A group sorted clothes. After lunch we did two other projects: packing backpacks with school supplies and packing backpacks with uniforms for specific children. We had fun and completed all the work they had for us."
At the Julia de Burgos Cultural Arts Center, a pair of volunteers from the Office of Philanthropy, Identity and Communication (OPTIC) gave a top-to-bottom scrubbing to the kitchen and two other rooms of a house that the center hopes to use for artists in residence. "It might not seem like a lot, but you have no idea how much this helps," said Letitia Lopez, executive director of the program that serves Latinx and other youth on Cleveland's West Side. She said the cleaning paves the way for final paint work and for the house to be shown to potential inhabitants. "We're so glad you chose us as a site," she said.
Other teams took to the great outdoors, enduring steamy 90-degree temperatures. Over on the city's east side at the Shaker Lakes Nature Center, UCC volunteers cleared cobwebs, swept walkways and washed windows around the perimeter of the building where thousands of students come for educational programs every year. They also sweated their way though the afternoon, shoveling, moving and spreading mulch along the new All People's Trail, an ADA accessible walkway that is under construction and set to open in November.
"Though we ended up getting caught in a torrential downpour towards the end of the day – personally I thought it was welcome relief from the hot sun – we were still able to get a lot done and learn more about creation care," said Katie Martin, licensing coordinator for The Pilgrim Press.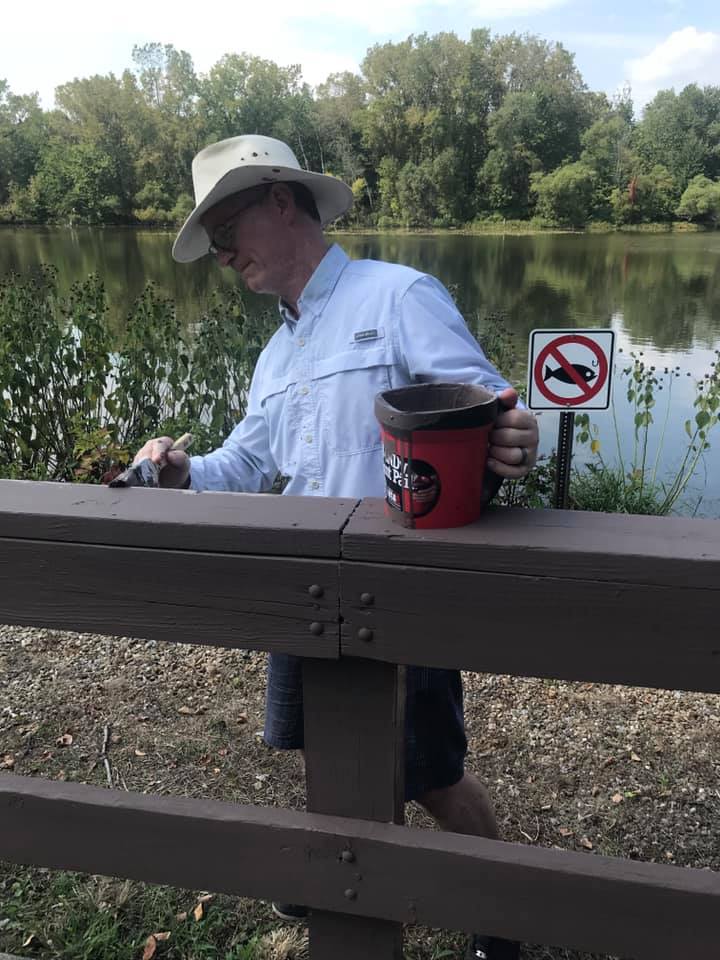 At Laura's home – a City Mission crisis center that helps single women or moms find stable housing and employment – a small group braved the blazing sunshine to plant flowers and pull weeds. On the west at the Cleveland Metroparks Big Creek Reservation, one of several large community nature preserves that ring the area, another team painted their way through the afternoon.
"This was my first year participating in the UCC Community Outreach Day," said David Sarkies, who joined the OPTIC Team in July as a digital marketing specialist. "I found it very rewarding. We painted fences, benches and planters at Lake Isaac. It was a hot day and a lot of work, but it's a good feeling to give back to the community. Several people stopped to thank us."
Deployed staff members also took the opportunity to share their commitment to service on Sept. 11. The Rev. Andrew Warner, an OPTIC generosity outreach officer who lives in Wisconsin, volunteered with Foundations for Freedom, a local nonprofit working to empower women and girls and to end human trafficking.
"Dana World-Patterson, the founder, wanted help developing a 12-month fundraising plan," Warner said. "We worked through some fundraising concepts, looked at what her organization does now, and identified key allies before coming up with a list of opportunities in each month and ways to more deeply engage key donors and her board. I'm excited to help this local Milwaukee nonprofit go from good to great."
Beginning next January, UCC national staff members will have even more chances to give back, through individual community service hours every quarter.
---
Related News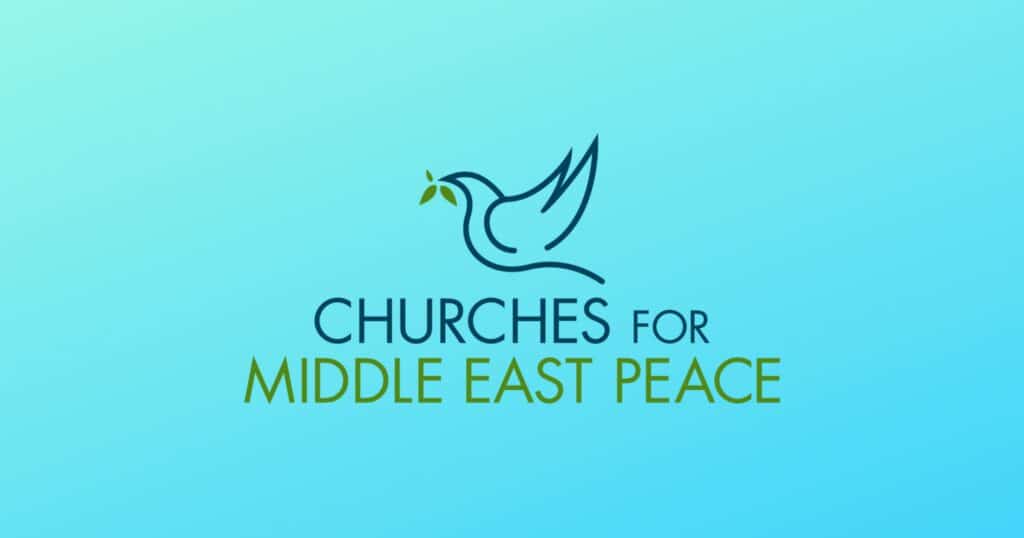 The following statement was issued Dec. 2 by Churches for Middle East Peace (CMEP), of which...
Read More