UCC mourns the passing of Audrey Miller
The United Church of Christ is mourning the passing of Audrey Miller, a Catholic nun and ordained UCC minister, who, during her time at the National Setting, was instrumental in educational leadership development, youth ministry programs and youth resources. She died unexpectedly on Wednesday, March 6, at age 80.
Miller embraced her vocation in the work of the church first as a member of the Sisters of Divine Providence as a teacher, librarian, and community organizer. She noted she was called to a life of service at age 14, raised in a religious Roman Catholic family and community of faith. She taught in parochial schools, and worked with youth groups and adult Bible discussion groups in many settings.
She began her work with the UCC in 1971, when she served as the educational program consultant to the United Church Board, invited to participate in a Youth Empowerment Program sponsored by the UCC Board of Homeland Ministries. As a Catholic nun, her order allowed to serve the UCC in the spirit of ecumenical collaboration. Her background as a parochial school teacher and youth worker in Pittsburgh developed her skills in religious education, and she brought those gifts to her original UCC assignment, youth ministry resources and Christian education.
Miller later wrote in her ministerial profile, "The historic and theological streams that form the UCC is a faith community in which I felt at home, embracing inclusiveness and openness, compassion and justice, peace and integrity of creation. It was a gradual and organic shift for me."
Miller served with the United Church of Christ Board of Homeland Ministries, Division of Education, and organized the first National Youth Event in 1980. She assumed the role of Secretary of Educational Programs in April 1976, at the Church's New York City offices.
"Audrey Miller was a visionary who took no delight in denominational boxes that limit Christ's embrace of the whole world," said Thomas E. Dipko, Executive Vice President Retired, United Church Board for Homeland Ministries. "Her humility was real, her laughter winsome and her repertoire of smiles for diverse situations was amazing. She prepared thoroughly for the work entrusted to her care."
She left the UCC in 1980, joined the faculty at Hartford Seminary and taught courses in Religion and Education. Miller also was a publisher at the Friendship Press in New York City for a time.
After the UCC National Setting moved to Cleveland, Miller was elected General Secretary of the Division of Education and Publication, United Church of Christ Board for Homeland Ministries in 1996, a role she held until 1999, when she became the Minister and Team Leader for the Pilgrim Press and United Church Resources.
"I was on the search committee that brought her to Cleveland," said Olivia White, then a member of the board of directors for Homeland Ministries. (White later served as Executive Minister of Wider Church and Global Ministries from 2003-2005.) "She was a wonderful educator, very dedicated."
After the UCC restructure of the National Setting in 2000, Miller served Local Church Ministries as Team Leader of the Pilgrim Press and United Church Resources Ministry until 2003. She oversaw the publication, production and distribution of the works of the Pilgrim Press and United Church Press.
"Audrey brought passion to her role as a church house executive," said Arthur Clyde, retired Minister for Worship, Music, and Liturgical Arts, Local Church Ministries, UCC, and Editor, The New Century Hymnal. "She came to us as an educator. She was passionate about learning and worked to carry on the division's commitment to lifelong learning."
A native of North Braddock, Penn., Miller attended Divine Providence Academy before joining the order. She graduated from Duquesne University, in 1964, with Bachelor of Arts, and earned a Master of Science and Library Science in 1970 from Marywood University. She spent her early years as a nun teaching elementary school for the Diocese of Pittsburgh. She later graduated from Columbia University in New York City, first with a Masters of Arts in 1984, and a Doctorate in Adult Education, 1989.
"She loved talking about liturgy," Clyde said. "She was very invested in developing and keeping ecumenical relationships, she loved the arts, artwork and had a special fondness for Arts and Crafts furniture. She brought energy to everything she did. She loved life, laughed often and loved humor. She spoke glowingly of her family."
Miller was beloved sister of Joan (late Rob) Suskin of Texas, Bernadette (late Jim) Aaron of Ohio, Joseph Miller of Apollo, Penn., Mary (Jim) Brown of Florida, Dennis Miller of North Braddock, Penn., and the late Phyllis Alexander (late Edward); a special joy in Audrey's life was her connection to her nieces and nephews.
After leaving her position in the National Setting, Miller became an ordained minister with the United Church of Christ on Nov. 21, 2004, and served a UCC Congregation in Strongsville, Ohio in many capacities before returning home to Pennsylvania.
"Her zest for life was a deep and fast moving river of convictions and celebrations," Dipko said. "Life was never dull with Audrey in the room. She was a cherished colleague committed to excellence in church leadership."
Friends are invited to a Memorial Service in the chapel of Redstone Highlands, 12921 Redstone Dr., North Huntingdon, Pa. on Saturday, March 16, at 10 a.m., followed by a reception in her honor at the Redstone Clubhouse. Memorial donations may be made to: The Network Lobby for Catholic Social Justice, 820 First St. NE, Suite 350, Washington, DC 20002 or www.networklobby.org.
.
---
Related News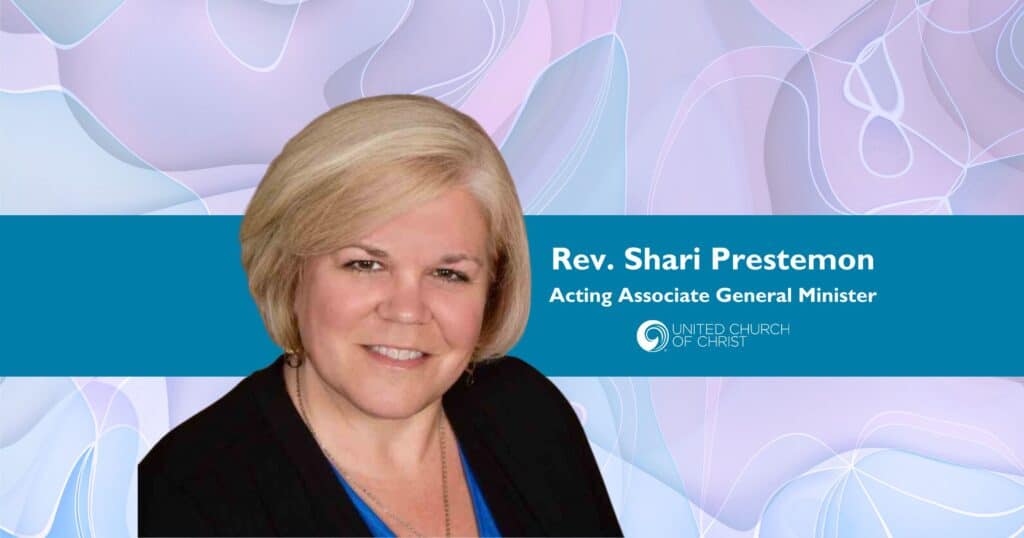 A new United Church of Christ national leader has been called. The UCC Board voted in a...
Read More