UCC medical debt recipient pays blessings forward at Thanksgiving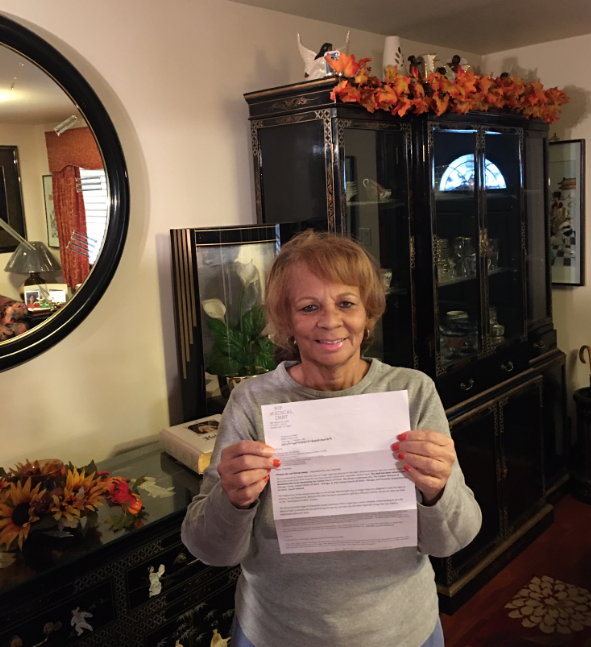 One of the almost 6,000 Chicagoans who had medical debt forgiven by the United Church of Christ came to Trinity UCC to say thank you and to pay the kindness forward.
When Carol Edwards received a letter in late October informing her that her late mother's medical debt was paid in full, she immediately contacted the church on the city's South Side. The debt forgiveness letter from RIP Medical Debt came in a yellow envelope with the UCC logo. Edwards had heard about the news stories about the denomination's medical debt forgiveness effort which targeted three low-income neighborhoods in Chicago.
Trinity UCC, along with St. Pauls UCC in the Lincoln Park neighborhood, Covenant UCC of South Holland, Ill., and The Leaders Network, a consortium of Baptist churches serving Chicago's West Side, joined the UCC national ministries and Illinois Conference in a collaborative buy – an investment of $38,000 that abolished $5.3 million in debt in targeted communities, affecting 5,888 South Side families.
Edwards represents one of those families. "I saw the United Church of Christ (on the envelope), but I didn't know what it was until I opened it up and saw my mother's name. I was shocked. It took me back to that hospital in 2005, and my mom passed in 2010. it was overwhelming because I thought I left that debt behind 14 years ago. But I was really grateful.
"I am Christian, and I live by God's word. And I thought Lord… Momma's name is cleared now. And what I heard back… your momma's name was cleared when she made her transition to me. After meditating over it, I realized that there's no benefit for my mom…since she's gone and healed. But because this is leading up to the 10th anniversary of her passing, I wanted to pass the blessings on to someone else."
Edwards called the church and asked to talk with the pastor, the Rev. Otis Moss.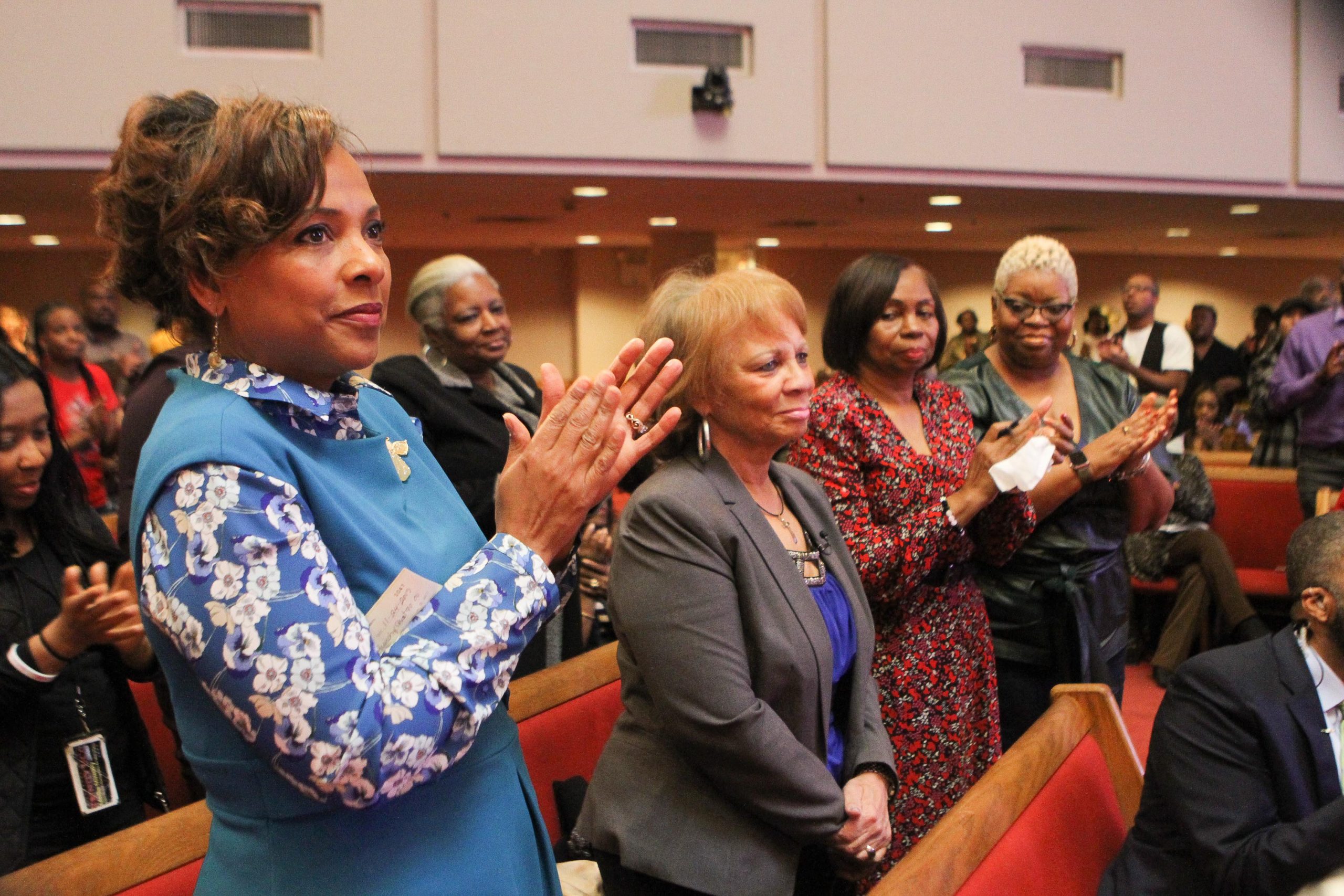 Photo by Dawn R. Stephens
"The conversation with Carol Edwards was extraordinary – to have the opportunity to speak with Sister Edwards and to hear her powerful story of opening the letter for debt forgiveness and realizing that her mother's debt had been forgiven," Moss said. "We were both excited, moved and blessed to be able to share how God is moving, not only in Sister Edwards' life but in the community of Trinity United Church of Christ. She was incredibly gracious, kind, compassionate, and just a warm spirit."
Edwards' way of paying her mother's good fortune forward was to share that financial gift with someone else. That's why she donated the amount of forgiven debt toward Trinity UCC's Operation Share food ministry. On Sunday, Nov. 24, she was invited to worship with the congregation in thanksgiving.
"It was a joy to share with the congregation Sister Edwards' gift," Moss said. "The church exploded in applause and shouts; the smiles across the faces of the congregants was wonderful to witness. I believe this moment of 'Living in the Key of (G)enerosity' will be imprinted on the hearts of people at Trinity, but will also go down as an iconic moment, historically, in the life of our church and our wider community."
Edwards said she had to say thank you, and she could not believe that, so far, she's the only one of 5,888 recipients to come forward. "It's shocking to me — you stop what you are doing to share your appreciation for kindness. You always say thank you. That was how we grew up. It's a part of me. It was important to me to say thank you. I carry Mom in me."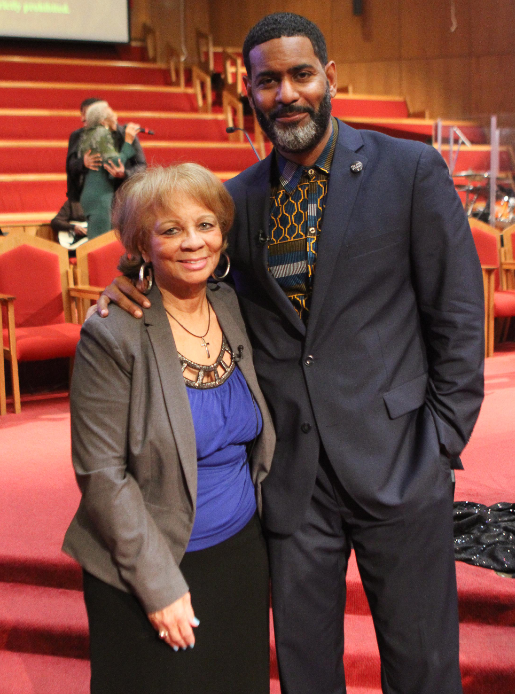 Photo by Dawn R. Stephens
She's been interviewed by NBC Nightly News and USA Today. That has been a little disconcerting, she said. "I'm not one to step out front. But I have come to the conclusion that this is bigger than me. I have to do what I can. I hope and pray that this (the attention that this medical debt buy is getting) will expand what is being done to help others – there are people living in poverty who don't have the resources to have health care. Maybe the churches and the community can get together and find something that can be done…that can generate thanksgiving… and who knows?"
It's a thought echoed by Pastor Moss.
"We are attempting, at Trinity United Church of Christ, to pass on a value system; a value system of compassion, a value system rooted in the teachings of Jesus Christ, and a value system that resets our moral compass – where we are rebuilding our democracy and operating with a level of sacred civility to those we know and those we do not know," Moss said. "The RIP medical debt action has allowed us, as a community, to reconnect with the values of Christ in a manner many have not had the opportunity to witness.
"We are building a network of churches who are interested in releasing people from debt and educating people on the immoral nature of creating medical debt in the manner of which it is done in the U.S."
When the Chicago medical debt buy was announced at Trinity on Oct. 20, the Rev. Traci Blackmon, UCC associate general minister of Justice and Local Church Ministries, said the denomination would continue debt forgiveness in partnership with the New York-based nonprofit, RIP Medical Debt. Through funds collected on Giving Tuesday, Dec. 3, and gifts from UCC Conferences, Associations, congregations and other organizations, the denomination plans to make quarterly buys to abolish medical debt into 2021, in partnership with those groups.
The UCC is pursuing this debt abolishment mission to elevate what Blackmon called "the unconscionable cost and profiteering of healthcare in the United States and its devastating impact on families as a critical issue as we enter 2020 elections."
That's why another component to this initiative is advocacy work. In addition to using funds collected on Giving Tuesday to abolish debt, the UCC has committed to work for health care reform, to help people living at or below poverty obtain good quality health care that they can afford.
"This collaboration invites the UCC's 38 conferences, almost 5,000 congregations and more than 800,000 members to support medical debt relief efforts for those living at or below poverty in the 50 states we currently serve," Blackmon said. "We view this ministry as one that also embodies what it means to love God, love our neighbors and proclaim Good News to the poor, whether they worship in our churches or not."
"I think it is a part of the mission of the UCC to comfort the afflicted and to afflict the comfortable," Moss said. "Our Giving Tuesday initiative fulfills that ethic."
JLCM is in the process of pulling together the denomination's next medical debt buy, which is expected to be announced in the coming weeks.
For updates on the project, to designate gifts for Giving Tuesday, visit this page on the UCC website. Interested parties who want to join this collaborative effort should contact JLCM's Denise Pittman.
"We have had such a wonderful experience from the beginning of our contribution to the RIP Medical Debt buyout program," said Donna Hammond, multimedia and external communications project manager at Trinity. "God continues to show us how to love as God loves by doing for others, unconditionally."
---
Related News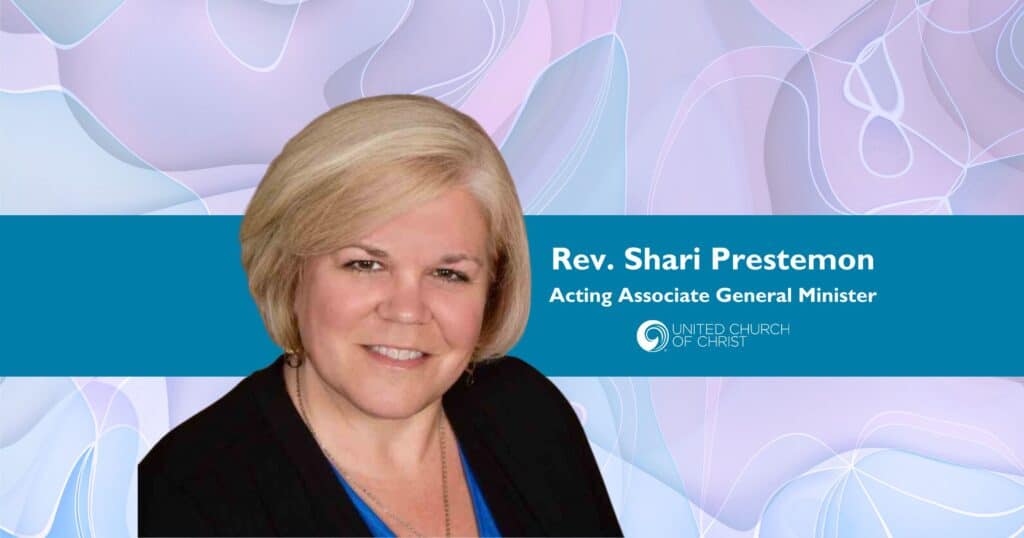 A new United Church of Christ national leader has been called. The UCC Board voted in a...
Read More