UCC Disaster Ministries support for NC Matthew recovery continues
Tens of thousands of homes were damaged in North Carolina by Hurricane Matthew in October 2016. The toll included 24 dead, with the destruction calculated in billions of dollars.  Thousands of people were displaced; some are still sheltering in hotels. 
It was one of the worst natural disasters ever to hit the state.  And the United Church of Christ has been present and visible from the very start of relief and recovery efforts, providing financial assistance and know-how to help local communities identify and respond to unmet needs.
To date, UCC Disaster Ministries has sent 1,000 CWS Cleanup Buckets and disbursed $21,500 in seed money to long-term recovery committees in North Carolina, along with $3,000 to help the Franklinton Center at Bricks house repair teams and another $3,000 to the UCC's Southern Conference to support disaster ministries.  Program Executive Zach Wolgemuth has made multiple visits to the state, most recently last week. 
UCC Disaster Ministries Partners in Service volunteers Elaine and Garrett Cavanaugh (Massachusetts Conference) are about to complete a three-month assignment in Goldsboro, N.C. They have been helping the Long-Term Recovery Group of Wayne County get ready as the recovery process transitions from the presence of national organizations to the initiatives administered by the local community.
And UCC Disaster Ministries Partner in Service Jon Wallace (Rocky Mountain Conference), who serves the Burlington, N.C.-based Southern Conference as Disaster Coordinator, has made Hurricane Matthew recovery his priority, crisscrossing the state to visit and give consultation in 23 hurricane-stricken communities.  Soon he'll add to the 19,630 miles he already has put on his car to do follow-up work in Windsor, Greenville, Goldsboro and Fayetteville.
Most recently, Wolgemuth, Wallace and the Cavanaughs all participated in a July 20 conference organized by the North Carolina VOAD (Voluntary Organizations Active in Disaster) and held in Goldsboro for representatives of multiple long-term recovery groups from across the state.
The conference addressed such topics as outreach to pocket communities with unmet needs, using data from FEMA (Federal Emergency Management Agency), the steps for moving cases forward from intake to recovery, and the value of proper case management in supporting good stewardship of recovery resources.
Wallace addressed a workshop about how non-discrimination requirements must be honored in disaster recovery, and Wolgemuth – putting on his hat as National VOAD Board Chair – took the opportunity to describe the many national groups available to help with various recovery tasks.
"The conference was an opportunity for us to help long-term recovery groups gain a better understanding of Hurricane Matthew recovery in North Carolina," Wolgemuth said. 
Elaine Cavanaugh agreed.  "This was a wonderful opportunity for networking and the sharing of ideas and resources," she said. "It was also a good opportunity to make visible the involvement of the United Church of Christ in this disaster response. It takes many people in collaboration with one another to maximize our combined resources to rebuild homes and lives to those who have been affected by disaster."
Pictured: Top, Jon Wallace (left) and Zach Wolgemuth.  Bottom, Garrett and Elaine Cavanaugh. Photos by Tara L. Humphries.
Click here to read more about the UCC's Hurricane Matthew response in the U.S. and Caribbean
---
Related News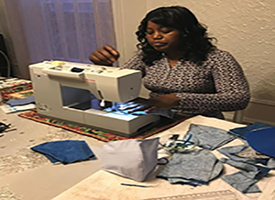 "It's so good making masks because it helps the community," said Sandra, a Congolese refugee...
Read More