UCC Disaster Ministries puts out call for volunteer work teams for Florida
As Hurricane Matthew raked Florida's Daytona Beach area last October, it threw trees onto houses and even rolled the roofs off many mobile homes. Many people have been living under plastic tarps since then, unable to afford repairs.
"The disaster of Hurricane Matthew is not over," says David Heald, a UCC Florida Conference Disaster Coordinator who serves as Vice President and Operations Manager of VIND (Volusia Interfaiths/Agencies Networking in Disasters). VIND is the long-term recovery organization helping Hurricane Matthew survivors with unmet needs.
Volusia County had over 17,000 FEMA registrations, Heald said – the highest in the state. 6,531 were below the poverty level and the clean-up generated over 1.3 million cubic yards of debris.
"We are now in the long-term recovery stage of the Hurricane," he said. "There are nearly three dozen homeowners ready or nearly ready for volunteer work teams, but no work teams have signed up yet."
VIND is putting out the call for volunteers to come help rebuild the homes damaged by Hurricane Matthew. The "to do" list includes roofing, gutting interiors, replacing insulation, siding, drywall repair and painting, flooring and other interior work as needed. 
Get more information/schedule your work team trip today!
Contribute to UCC Disaster Ministries' Emergency USA Fund to support this and other domestic recovery work.
---
Related News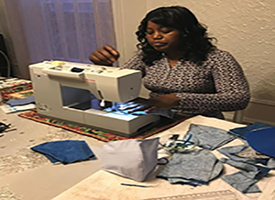 "It's so good making masks because it helps the community," said Sandra, a Congolese refugee...
Read More