UCC continues care for Puerto Rican evacuees in Pennsylvania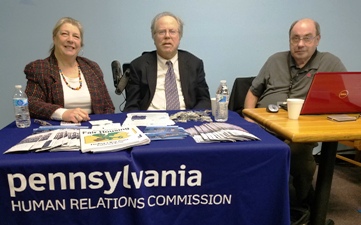 United Church of Christ Disaster Ministries continues to be at the helm of outreach to the thousands of Puerto Ricans who have sought shelter in Pennsylvania since Hurricane Maria wreaked death and destruction across their island in late September 2017.
Work that began at a Disaster Assistance Services Center in Philadelphia is now rolling out to seven other Pennsylvania cities through a series of resource fairs.
"We are partnering with local and county governments, community organizations, our faith-based colleagues, businesses and employers to bring help to the evacuees," said UCC Pennsylvania Southeast Conference Disaster Coordinator Karl Jones (at right in the photo, taken at the Harrisburg fair).
He is part of the team that is traveling to present the fairs. In January, resource fairs were held in Harrisburg, Lancaster, Lebanon, Reading, Allentown and Bethlehem. Additional fairs currently are scheduled for 2-5 p.m. February 12 at Union Lutheran Church, 20 S. Penn St., York, and for 9 a.m. to 3 p.m. February 13 at the Salvation Army, 3150 N. Mascher St., Philadelphia.
"Four months after the hurricane, the humanitarian crisis in Puerto Rico continues," Jones said. "Many people are still without electricity and struggling with shortages of food and water. Many who have evacuated lost everything to the hurricane. All are seeking a 'safe space' away from the destruction to consider their next steps.
"How we show our love for these evacuees will be a living testimony to our love for neighbor, for children, and for the earth."
The fairs have been "very busy – space limited, crowded, hot, and productive," Jones said. "We have heard people's stories and tried to connect them to the services they need. We have had some success with that task."
Help is being offered with employment, immunizations, voter registration, professional licensing, health screenings, disaster relief, housing, education (primary, secondary, and higher education), birth certificates (from Puerto Rico), banking, food/clothing vouchers, emotional, spiritual and mental health needs, and driver's licenses, he said.
"We have also helped people check on their FEMA benefits status, working closely with the FEMA Individual Assistance staff who have been in the fairs. Many times it only takes changing one check in an application to start benefits flowing. Our presence in these fairs also increased our profile with the many private and governmental agencies who are stepping up to help the evacuees," Jones said.
A grant from UCC Disaster Ministries continues to be used to provide temporary housing for evacuees as they begin to transition from Temporary Sheltering Assistance to Rental Assistance. "We are finding more and more people who have been scrubbed from the TSA roll," Jones said.
He has indicated that because of the UCC grant, UCC members have helped to respond to these and other situations:
 A family with three young children had been staying at a hotel, paid by FEMA Temporary Sheltering Assistance.  The family was scrubbed from TSA.  The UCC grant helped to provide temporary housing until a more permanent solution could be found.
 A man had been relocated by the Red Cross to Pennsylvania after the hurricane.  He could put a rental deposit on an apartment thanks to the UCC grant.
 A family with two children came from Puerto Rico on December 10 to stay with a friend, but the friend has Section 8 housing.  Therefore, the guest family had to leave. They have some income but needed a place to stay. The UCC grant helped them put a deposit on an apartment.
 A family with two children was looking for assistance with rent.  The man had started to work.  They wanted to stay in Pennsylvania. They had been staying with an aunt, but needed to move. The UCC grant helped to them place a deposit on an apartment.
"Not only are the needs for adults, more than 2,000 youth and children have also arrived," Jones said. "The education system is trying to integrate these students. Special services are required to meet these needs.
"The United Church of Christ has been responding to the needs of these new residents in the spirit of our Three Great Loves initiative – a world where all are welcomed, everyone is loved and justice is inherent. As Puerto Rico faces its most devastating situation in modern history, the United Church of Christ stands with our fellow American citizens during these challenging times. Together, we can make a difference in the lives of people who desperately need hope."
In addition to serving on the resources fair team, Jones is helping assemble resources for work with evacuees who have spiritual, emotional and/or psychological health issues, and is co-leading a team working on an integrated case management system for Pennsylvania.
"The UCC does not do case management, but we build the relationships and systems needed for quality, collaborative work," Jones said. "Toward that end, the UCC has obtained the 'Routine Use Letter' on behalf of the Pennsylvania VOAD (Voluntary Organizations Active in Disaster), which allows us work with the Red Cross to provide an integrated platform for those who are providing case management for the evacuees."
Click here to support UCC domestic disaster response
Links to earlier stories:
November 14, 2017 – UCC groups coming together in Philly to help hurricane evacuees from Puerto Rico
---
Related News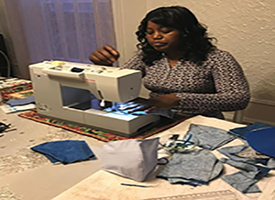 "It's so good making masks because it helps the community," said Sandra, a Congolese refugee...
Read More