UCC women's justice advocate: Abortion is never an easy decision
As Americans await a Supreme Court decision that could undermine a woman's legal and constitutional right to reproductive health care, UCC advocates are sharing commentaries and reflections around reproductive justice. This is the second article in that series.
My mother accompanied me to the clinic where I had an abortion. It was the fall of 1970 and we were in New York City, in a state that had legalized abortion care a few months earlier. Before I told my parents that I was pregnant, I had already made an appointment at the clinic and arranged for a place to stay with a family friend. I didn't want them to worry — and the first thing my mother said is, "I will meet you in New York." No judgment, just maternal concern for my well-being. I said she didn't have to come but she insisted. So I said, "OK."
I was 19 years old, a white sophomore at Oberlin College, returning there after a year off following my freshman year. I did not identify the circumstances of getting pregnant as acquaintance rape until years later, since there was not a great deal of awareness of the dynamics of this kind of violation at the time. But it was such a circumstance and a very hard way to learn that "No" means "No." When I found out that I was pregnant, I was fortunate to have a classmate who had been through the procedure who could reassure me.  
But I would not have known there was a place I could go for a legal abortion if there had not been a campus clinic which knew to refer me to someone associated with the Clergy Consultation Service. This network of clergy existed in the pre-Roe years to offer support, counseling and, if the women so determined, referrals to safe — though illegal — options for abortion. They were connected with doctors and health care workers who could and would safely terminate pregnancies during an era of extreme danger for themselves and their patients. I met with a minister in Oberlin who was part of CCS, who counseled me and then gave me information about the clinic in New York.
I think about my personal experience as the current blasts of anti-abortion laws are being passed in state after state and as we await the Supreme Court decision on Dobbs that may overturn Roe. I am extraordinarily aware of the realities of my situation in 1970, which could have been disastrous but was not because of a number of factors:
First, I trusted that I could tell my parents and not fear being rejected.
Second, I was at a college which was prepared with information about options.
Third, I was not too far from a legal clinic and traveled there over fall break in a car full of other students headed that way, making it affordable.
And fourth, I did not have any qualms, religious or moral, about my choice. I knew I did not want to have children then and have my education and life altered. And I had never heard anything in church that would suggest that God would throw me under the bus if I had an abortion. Still, it was not an easy decision. It never is.
Every woman and girl, every person who can become pregnant, deserves all the options they need to make the decision that is best for them and access to the resources to support their decision, whether that is to terminate or carry a pregnancy to term. This is about her health care, her right to privacy, her right to have the final say about what happens with her body and her life.
As far as I could tell, I was the only patient at the clinic there that day whose mother had come with her. Her presence was a gift to me in so many ways, and I will always remember what she said after the procedure was over: "Women should stop sleeping with men until there is a 100-percent effective method of birth control." Yes, there was a touch of annoyance in her voice but more importantly, there was self-determination from her, my mother, a feminist long before I was born.
Still, it was not an easy decision. It never is.

The Rev. Loey Powell, a longtime champion for women's rights, served as the last executive director of the UCC's Coordinating Center for Women before focusing on women's justice as a national staff member. She served on the national Board of Directors of the Religious Coalition for Reproductive Choice, chairing that board for four years. After her retirement in 2015, she continued her engagement on reproductive justice in numerous ways and is connected with Faith Choice Ohio, which is preparing for what might happen in Ohio if access to abortion is severely restricted.
A UCC reproductive justice working group has been compiling resources, and maintaining a Worship Ways page in anticipation of the Supreme Court decision. The UCC will be holding communal digital space on the day of that decision—whatever day that is—at 6 p.m. ET/ 5 p.m. CT/ 4 p.m. MT / 3 p.m. PT/ noon HI. Look for the registration link on social media as soon as the decision is announced.
---
Content on ucc.org is copyrighted by the National Setting of the United Church of Christ and may be only shared according to the guidelines outlined here.
---
Related News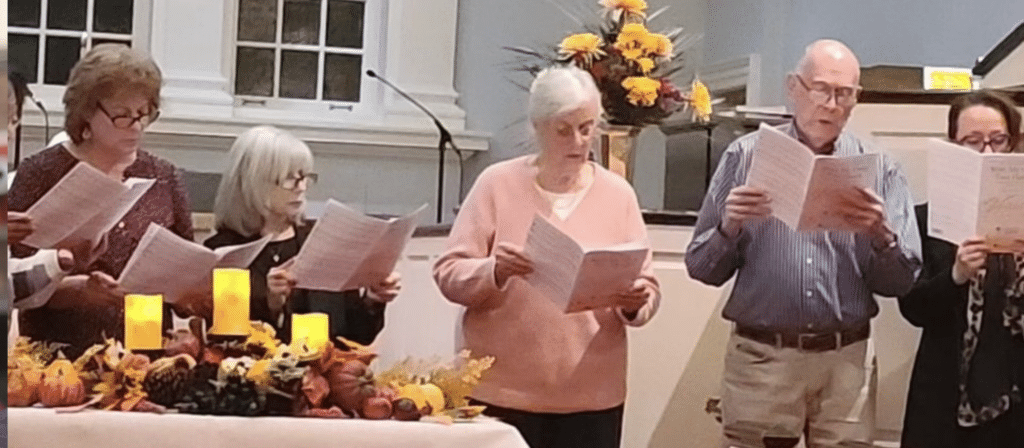 Many United Church of Christ congregations across the country participated in interfaith...
Read More