UCC-wide gifts help strengthen New Mexico church after death of founding pastor
Every year, the United Church of Christ's Strengthen the Church offering supports more than a dozen new and renewing spiritual communities through Congregational Assessment, Support and Advancement (CASA) grants.
In 2022, a grant sent to a small church in the Southwest Conference allowed the congregants to continue to minister to their community and to each other after they unexpectedly lost their founding pastor to cancer.
"There are a number of people in Taos, N.M., who are happily surprised that Taos United Community Church did not shrivel up and blow away after the death of our founding pastor in October of 2021," wrote the Rev. Julie Parmenter, a longtime hospice chaplain who stepped up to serve as the church's interim spiritual leader after the sudden loss of the Rev. Pamela Shepherd. "It is this story of how the grant and its outcomes helped to strengthen our church community after the loss of its leader that needs to be told."
Taos United Community Church (TUCC) started weekly services in 2017, striving, as its website says, to fulfill Shepherd's dream "to bring a progressive and inclusive denomination to Taos."
"We are a seven-day-a-week faith community investing our time and money and passion to create a consciousness of faith and social justice," reads the congregation's mission statement.
The church hoped to engage the greater Taos community and interfaith partners in four shared social justice ministries: the Taos Medical Debt Relief Project; the Little Free Pantries where folks in need of food could pick some items up; expanding food support to area schools; and immigrant justice actions locally and at the border.
Based on those goals, TUCC was awarded a New Spiritual Communities and ReNewing Churches grant for four years in the amount of $82,562.50.
Time to mourn
"Our church had completed year one of the CASA grant, and Pam had submitted the application for the next grant year just weeks before she died," Parmenter said. "So 2022 was the church's second grant year. I walked into that process totally without any background except for what was in the grant application.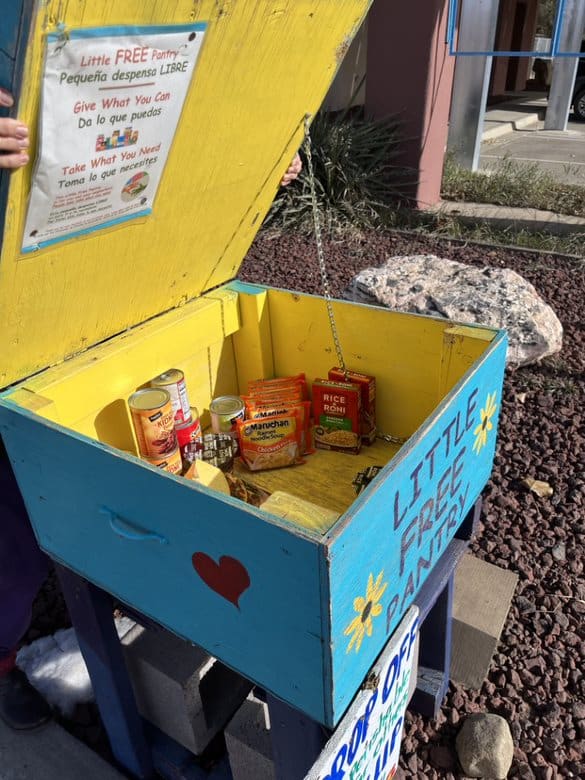 "I suddenly found myself as the spiritual leader of this community and responsible for the fulfillment of those goals while adding a few of my own related to this community's grief process," she said. "Fulfilling these goals actually helped me to give shape to what our church is called to do."
Before Shepherd's death, the Taos congregation was just slowly coming out of COVID shutdown and online-only worship. In the summer of 2021, the church found its own space to rent, and about two dozen member/partners spent time furnishing it and making it ready for services and fellowship. In the fall, Parmenter said, "we opened the space for in-house/hybrid worship, and Pam preached. That was the only time she preached with some of us in the congregation for worship."
After her sudden passing weeks after her diagnosis, members followed Shepherd's 2022 goals for the church. Parmenter added another: to allow themselves time to mourn.
"Besides worship, prayer and scripture choices, I have added a ritual or two to use as we experience our community grief," she said, noting that the church has named its fellowship space the Shepherd's Place, in honor of their late pastor. Hanging there is a rainbow banner that states "God's got us," one of Shepherd's favorite sayings.
'Powerful testimony'
As the Taos congregation forged ahead, it continued to build interfaith relationships and grew its weekly hybrid services, keeping the connection to people who only live in the community part of the year.
"We are seeing a rise in new people attending and then returning and becoming involved," Parmenter said. "Our space is open to groups looking for meeting space. We are happy that a few of the local recovery groups have found us to be welcoming. We are also ready to share our worship space if the need arises."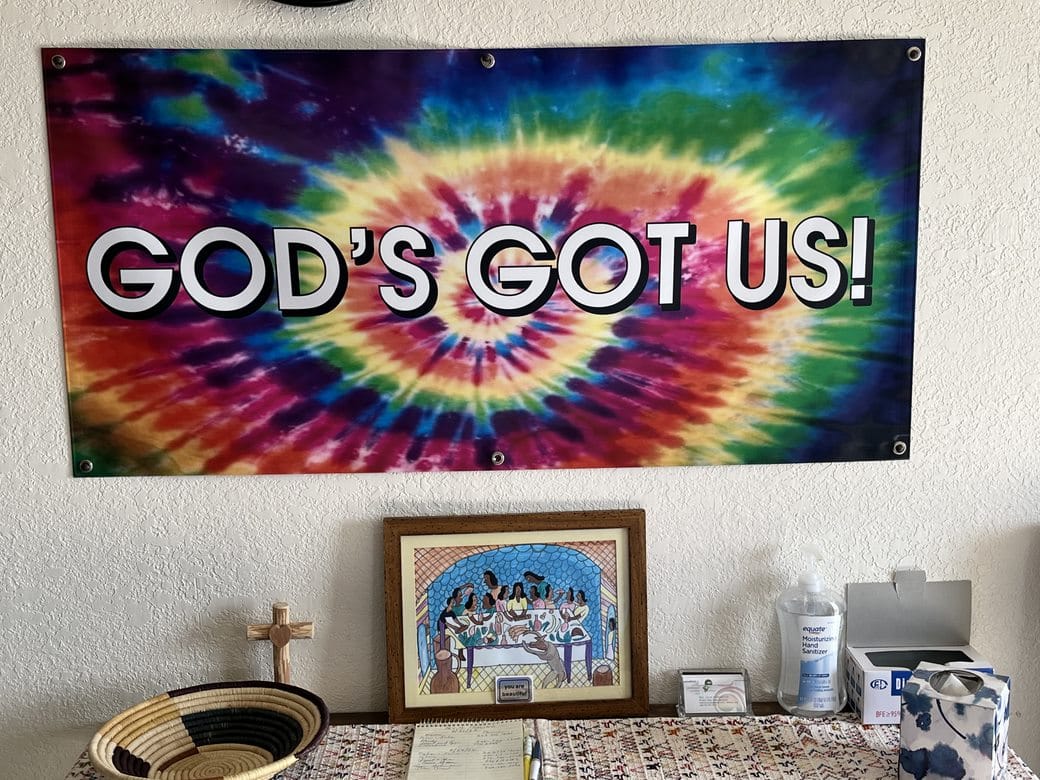 She's thankful that the grant allowed TUCC to meet its community financial obligations at a very difficult time.
"Usually, if a pastor leaves before the end of a grant year, the grant is rescinded," she said. "Because of Pam's rather sudden death, I was allowed to step into the grant as the pastor."
She added that the grant "was stabilizing for our small church," noting that the congregation continues build on its goals as it attracts new people to worship. The top goal in 2023? To call their new pastor.
"Julie's powerful testimony serves as a reminder of the profound impact that Strengthening the Church gifts can have in transforming communities and supporting churches in times of need," said the Rev. Aaron Wade, minister for congregational leadership development, granting and scholarships. "The ripple effect of such generosity extends beyond the walls of the church and into the hearts of all those who are touched by its light."
Give this Pentecost
Taos United Community Church is one of 15 spiritual communities supported last year by $225,000 in CASA grants, all made possible because of UCC members' gifts to the annual Strengthen the Church offering, taken traditionally on Pentecost. The suggested offering date this year is May 28.
"This may seem tangential to the grant, but to bring this community into the present is based a great deal on how we are and who we are in the community of Taos, the state of New Mexico, the United States and the world," Parmenter said. "You have helped us fund the ongoing work that attracts new people when they hear about Taos United Community Church."
"Generosity can be a beacon of hope, especially for new church starts, as demonstrated by the Taos church," Wade said. "The missional gifts they received not only kept the church community from closing its doors, but also aided in the healing process and allowed them to emerge even stronger from the devastating loss of their founding pastor."
---
Content on ucc.org is copyrighted by the National Setting of the United Church of Christ and may be only shared according to the guidelines outlined here.
---
Related News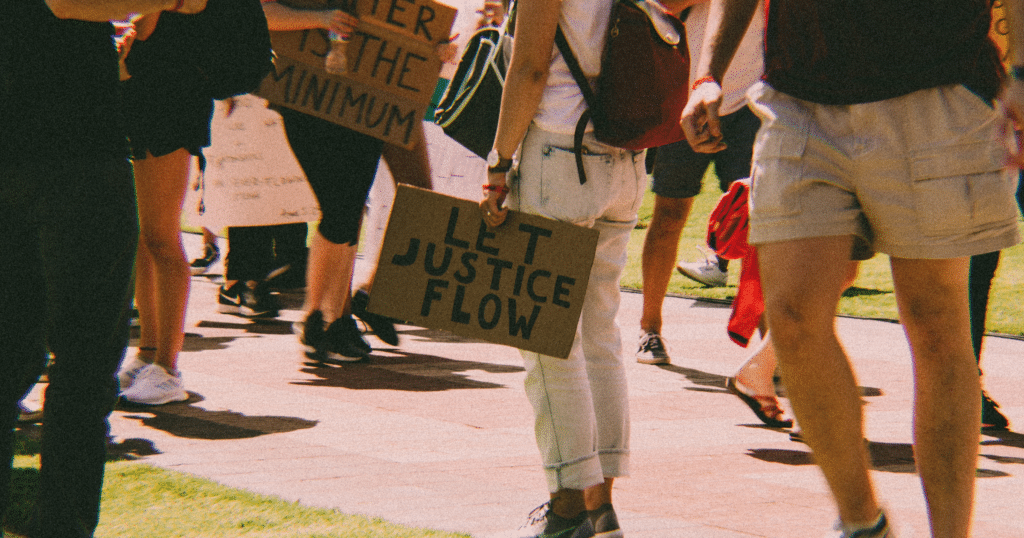 United Church of Christ leaders, in a letter to Georgia law enforcement, are condemning the...
Read More